Italy - All Red Wines
Italy is renowned worldwide for its exceptional red wines, which showcase the country's rich winemaking traditions and diverse terroir. From the iconic regions of Tuscany and Piedmont to the hidden gems of Sicily and Veneto, Italy offers an extensive selection of fine red wines that captivate the palate and leave a lasting impression.

In Tuscany, famous vineyards like Antinori, Marchesi di Frescobaldi, and Tenuta San Guido produce some of the most renowned red wines in the world. Wines such as Brunello di Montalcino, Chianti Classico, and Super Tuscans like Sassicaia and Tignanello showcase the region's mastery in crafting complex, age-worthy, and expressive wines. These wines exhibit flavors of ripe berries, elegant tannins, and a harmonious balance that reflects the unique Tuscan terroir.

Piedmont is home to legendary vineyards and wineries that produce outstanding red wines. Renowned names such as Gaja, Vietti, and Marchesi di Barolo are synonymous with excellence. The region's iconic wines, Barolo and Barbaresco, crafted from the Nebbiolo grape, epitomize power, elegance, and longevity. These wines boast flavors of red fruit, floral notes, earthy undertones, and firm tannins that develop beautifully with age.

Sicily, the largest island in the Mediterranean, offers a different yet captivating expression of Italian red wines. Vineyards like Planeta, Donnafugata, and Tasca d'Almerita craft remarkable wines from indigenous grape varieties such as Nero d'Avola and Nerello Mascalese. These wines exhibit intense fruit flavors, vibrant acidity, and a unique volcanic minerality, showcasing the island's diverse terroir.

In the Veneto region, Amarone della Valpolicella stands out as a distinctive and powerful red wine. Wineries like Allegrini, Tommasi, and Quintarelli produce exceptional Amarone wines using dried grapes, resulting in a wine with concentrated flavors of dark fruit, spices, and a velvety texture.

These are just a few examples of the remarkable red wines Italy has to offer. Whether you're indulging in a classic Tuscan Sangiovese, an elegant Piedmontese Nebbiolo, a bold Sicilian Nero d'Avola, or a robust Venetian Amarone, Italian red wines transport you to the sun-drenched vineyards and embody the passion, history, and artistry of Italian winemaking.

Experience the allure of Italian red wines and discover the immense variety and quality that make them a true treasure in the world of wine. From prestigious appellations to hidden gems, Italian red wines are sure to impress even the most discerning wine enthusiasts with their complexity, elegance, and ability to age gracefully.
Italy - All Red Wines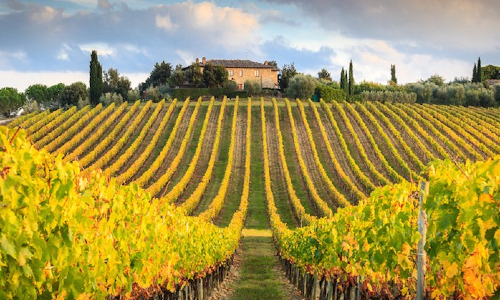 产品名
地区
数量
分数
价格

托斯卡纳
2
90 (VN)

保税价格

¥ 5,945.00

Vinous (90)

The 2004 Argentiera is sweet and layered in its dark cherries, toasted oak, earthiness and smoke. It offers notable balance, with ripe tannins that are beautifully woven into the wine's medium-bodied yet generous frame. This blend of 40% Cabernet Sauvignon, 40% Merlot and 20% Cabernet Franc spent 14 months in French oak.

More Info

托斯卡纳
1
97 (WA)

保税价格

¥ 4,645.00

Wine Advocate (97)

The 2016 Bolgheri Superiore Argentiera is 50% Cabernet Sauvignon, 40% Merlot and 10% Cabernet Franc, and the Cabernet Sauvignon logically feels and tastes most prominent. This is a dark and penetrating Tuscan red that is beautifully elevated, thanks to the extremely elegant and buoyant quality of the aromas. They lift gracefully from the glass with light-footed, almost fleeting character. However, don't underestimate the power and the concentration of the wine, because this vintage delivers both with abundance. I've had my eye on this estate since the vineyards were first planted some 20 years ago, and there is no doubt that this vintage brings Tenuta Argentiera into a new era as a Bolgheri protagonist. Some 80,000 bottles were made.

More Info

托斯卡纳
1
96 (JS)

保税价格

¥ 4,685.00

James Suckling (96)

Aromas of plums and berries with some chocolate and vanilla undertones. Full-bodied and layered with soft tannins that are bright at the end. Currants and blackberries. Currant bush, too. Love the tannin texture to this. Drink in 2025.

More Info

托斯卡纳
1
97 (WA)

保税价格

¥ 3,945.00

Wine Advocate (97)

What a beauty and what an incredible leap forward to excellence. The Tenuta Argentiera 2019 Bolgheri Superiore Argentiera shows depth and wide shoulders with soft plushness and impeccable fruit. The full-bodied wine is dialed up on all levels from perfumes, intensity, mouthfeel, texture and freshness. This bottle should hold past the 20-year mark.

More Info

托斯卡纳
2
-

保税价格

¥ 4,255.00

皮尔蒙特
1
-

保税价格

¥ 13,510.00

巴斯利卡塔
1
-

保税价格

¥ 1,535.00

Sardinia
1
-

保税价格

¥ 2,100.00

Sardinia
3
-

保税价格

¥ 924.00

Sardinia
16
-

保税价格

¥ 2,795.00

西西里岛
4
95 (WA)

保税价格

¥ 2,235.00

Wine Advocate (95)

Carlo Ferrini's Alberelli di Giodo is a newish reality on Etna that presented its first vintage in 2016, following years of Etna winemaking experience by this celebrated Tuscan consultant. He now has the 2017 Sicilia Nerello Mascalese on the market. This is an extremely elegant and expressive interpretation of Nerello Mascalese with lots of crisp energy and lively freshness. Obtaining this level of vigor is not always easy with this finicky grape, but Carlo nails it. His wine is supported by an extremely fine and silky texture, and the bouquet is impeccably clean and pure. There is a drying mineral note that reminds you of its volcanic roots and recalls the 2017 vintage heat. The vines are 80 years old and planted at 950 meters in elevation. This is Carlo's only Etna wine (for now) and he makes 7,200 bottles.

More Info

西西里岛
1
95 (JS)

保税价格

¥ 2,395.00

James Suckling (95)

The purity of fruit is all here with strawberry, lemon-peel and floral undertones. Goes to cranberries. It's medium -bodied with firm tannins and a bright, vivid and linear finish that keeps your palate clean.

More Info

西西里岛
8
96 (WA)

保税价格

¥ 2,645.00

Wine Advocate (96)

The Alberelli di Giodo 2019 Sicilia Nerello Mascalese is a wine true to its volcanic roots. This elegant grape variety reveals a tight embroidery of aromas with wild rose, sour cherry, white pepper and campfire ash. The tannins are polished and long, and this deftly made Nerello Mascalese is endowed with plenty of natural freshness and tart berry flavors that drive a long, nuanced finish. This is another super star bottle from winemaker Carlo Ferrini.

More Info

皮尔蒙特
1
90 (VN)

保税价格

¥ 5,510.00

Vinous (90)

The 2013 Barolo Capalot Vecchie Viti packs a good bit of punch as well as persistence. It would be nice to see a little more freshness. Even so, there is quite a bit to admire. The dark cherry, smoke, leather, cedar and tobacco flavors show good delineation. This is certainly a fine debut, and hopefully a sign of better things to come. I would prefer to drink the 2013 sooner rather than later.

More Info

皮尔蒙特
19
92 (VN)

保税价格

¥ 942.00

Vinous (92)

The 2016 Barolo Capalot Vecchie Viti is dark, beguiling and very pretty. Rose petal, orange peel, cinnamon, kirsch, sweet red cherry and sweet pipe tobacco give the Capalot striking aromatic nuance and a real sense of exoticism that is quite inviting. Medium in body and constantly changing in the glass, the Capalot captures all of the complexities that make Nebbiolo and Barolo so fascinating. The tannins need time to soften, but there is plenty to look forward to once that happens.

More Info

皮尔蒙特
9
92 (VN)

保税价格

¥ 1,885.00

Vinous (92)

The 2016 Barolo Capalot Vecchie Viti is dark, beguiling and very pretty. Rose petal, orange peel, cinnamon, kirsch, sweet red cherry and sweet pipe tobacco give the Capalot striking aromatic nuance and a real sense of exoticism that is quite inviting. Medium in body and constantly changing in the glass, the Capalot captures all of the complexities that make Nebbiolo and Barolo so fascinating. The tannins need time to soften, but there is plenty to look forward to once that happens.

More Info

皮尔蒙特
98
92 (VN)

保税价格

¥ 2,825.00

Vinous (92)

The 2016 Barolo Capalot Vecchie Viti is dark, beguiling and very pretty. Rose petal, orange peel, cinnamon, kirsch, sweet red cherry and sweet pipe tobacco give the Capalot striking aromatic nuance and a real sense of exoticism that is quite inviting. Medium in body and constantly changing in the glass, the Capalot captures all of the complexities that make Nebbiolo and Barolo so fascinating. The tannins need time to soften, but there is plenty to look forward to once that happens.

More Info

皮尔蒙特
30
94 (VN)

保税价格

¥ 924.00

Vinous (94)

The 2017 Barolo Capalot Vecchie Viti is another fabulous wine from Burzi. Dark, mysterious and beautifully layered in the glass, the Capalot is just captivating from the very first taste. Macerated black cherry, lavender, sage, spice, coffee and leather are some of the many notes that open over time in a Barolo that is deep yet also wonderfully transparent. The 2017 is so nuanced, so complex, so beautiful. It is also easily the best wine I have tasted from Burzi.

More Info

皮尔蒙特
15
94 (VN)

保税价格

¥ 1,860.00

Vinous (94)

The 2017 Barolo Capalot Vecchie Viti is another fabulous wine from Burzi. Dark, mysterious and beautifully layered in the glass, the Capalot is just captivating from the very first taste. Macerated black cherry, lavender, sage, spice, coffee and leather are some of the many notes that open over time in a Barolo that is deep yet also wonderfully transparent. The 2017 is so nuanced, so complex, so beautiful. It is also easily the best wine I have tasted from Burzi.

More Info

皮尔蒙特
99
94 (VN)

保税价格

¥ 2,780.00

Vinous (94)

The 2017 Barolo Capalot Vecchie Viti is another fabulous wine from Burzi. Dark, mysterious and beautifully layered in the glass, the Capalot is just captivating from the very first taste. Macerated black cherry, lavender, sage, spice, coffee and leather are some of the many notes that open over time in a Barolo that is deep yet also wonderfully transparent. The 2017 is so nuanced, so complex, so beautiful. It is also easily the best wine I have tasted from Burzi.

More Info

皮尔蒙特
1
92 (VN)

保税价格

¥ 3,420.00

Vinous (92)

Burzi's 2019 Barolo Capalot Vecchie Viti is a very pretty, statuesque wine. It offers up dark-toned fruit, spice, leather, tobacco and incense, all in a broad, ample style that is quite appealing. There's good depth and plenty of resonance that builds with time in the glass. The Capalot is the most potent wine in the range. This is nicely done.

More Info

利亚
5
-

保税价格

¥ 1,695.00

皮尔蒙特
11
92 (VN)

保税价格

¥ 2,295.00

Vinous (92)

The 2016 Barbaresco is a gorgeous entry-level wine in this range. Dark and fleshy, the 2016 offers terrific depth as well as plenty of character, which is great to see in its peer group. Black cherry, plum, mocha, leather, spice and licorice all meld together. One of the more open wines in the range, the Barbaresco will also give readers an idea of what to expect. This is an absolutely delicious wine in its peer group and price range. The straight Barbaresco is a blend from Meruzzano and young vine fruit from Ronchi.

More Info

皮尔蒙特
1
-

保税价格

¥ 4,580.00

皮尔蒙特
14
-

保税价格

¥ 6,875.00

皮尔蒙特
1
-

保税价格

¥ 3,530.00

皮尔蒙特
1
94 (VN)

保税价格

¥ 3,165.00

Vinous (94)

The 2016 Barbaresco Cottà shows all the density and power that is typical of this site in Neive, qualities that are further amplified by the smaller cask used for this tiny production bottling. Dark cherry, plum, graphite, licorice, spice and menthol add to an impression of gravitas in this powerful, muscular Barbaresco from Albino Rocca.

More Info

皮尔蒙特
1
93 (VN)

保税价格

¥ 2,635.00

Vinous (93)

The 2018 Barbaresco Cottá shows the mid-palate pliancy and depth that is typical of this site, but in the gracious, understated style that defines the Rocca Barbarescos today, especially in this vintage. Succulent dark cherry, plum, spice and leather all flesh out in the glass. Give it a few years to soften.

More Info

皮尔蒙特
1
-

保税价格

¥ 2,570.00

皮尔蒙特
1
94 (VN)

保税价格

¥ 2,700.00

Vinous (94)

The 2018 Barbaresco Ovello Vigna Loreto marries depth, energy and the pedigree of this site. There is real intensity here. Firm Ovello tannins wrap around sweet red cherry, leather, spice, menthol and licorice. Bright saline notes and piercing young Nebbiolo tannins extend the finish effortlessly. This is a super-classic expression of Ovello.

More Info