Sicily
Sicily, the largest island in the Mediterranean Sea, is not only known for its breath-taking landscapes and rich history but also for producing exceptional fine wines. With its sunny climate, volcanic soils, and coastal influences, Sicily offers a unique terroir that results in a diverse range of high-quality wines. The region is home to several renowned vineyards and wineries that have gained global recognition for their excellence.

One of the most famous vineyards in Sicily is Planeta, a family-owned winery that produces a wide range of wines across different terroirs. Their wines, such as Cerasuolo di Vittoria and Nero d'Avola, capture the essence of Sicily with their bold flavors, vibrant acidity, and expressive aromatics. Another prominent vineyard is Donnafugata, known for its premium wines like Mille e Una Notte and Ben Ryé, which showcase the region's indigenous grape varieties and winemaking traditions.

Sicily is renowned for its red wines, and Nero d'Avola is the most emblematic grape varietal of the region. It produces full-bodied red wines with rich dark fruit flavors, hints of spice, and velvety tannins. Vineyards like Tasca d'Almerita and Feudo Maccari excel in crafting exceptional Nero d'Avola wines that reflect the unique Sicilian terroir.

The island is also gaining recognition for its white wines, particularly those made from the indigenous grape variety, Grillo. These wines are known for their crisp acidity, citrus flavors, and floral aromatics. Notable vineyards like Planeta and Firriato produce outstanding Grillo wines that capture the vibrant and refreshing characteristics of Sicily.

Additionally, Sicily's warm climate is ideal for producing sweet wines. The Passito di Pantelleria, made from Zibibbo grapes, is a luscious and aromatic dessert wine. The famous vineyard of Marco De Bartoli is known for its exceptional Passito di Pantelleria wines, which display the island's mastery in producing exquisite sweet wines.

Sicily's fine wines truly represent the island's beauty, history, and passion for winemaking. Whether you are savoring a robust Nero d'Avola, a crisp Grillo, or a delightful Passito di Pantelleria, Sicilian wines offer a captivating journey of flavors that showcase the unique terroir and winemaking expertise of the region.
Sicily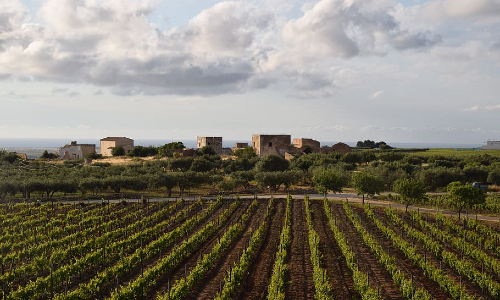 产品名
地区
数量
分数
价格

西西里岛
1
97 (DC)

保税价格

¥ 19,720.00

Decanter (97)

This definitive wine of pure Carricante is given extensive contact on the lees, without wood, taking its structure from the grapes and terroir. Pale with golden highlights, it offers iodised notes on the expressive nose and an almost shy (still very young) palate that builds slowly in the mouth to a finale of energy and length.

More Info

西西里岛
6
-

保税价格

¥ 3,090.00

西西里岛
4
95 (WA)

保税价格

¥ 2,235.00

Wine Advocate (95)

Carlo Ferrini's Alberelli di Giodo is a newish reality on Etna that presented its first vintage in 2016, following years of Etna winemaking experience by this celebrated Tuscan consultant. He now has the 2017 Sicilia Nerello Mascalese on the market. This is an extremely elegant and expressive interpretation of Nerello Mascalese with lots of crisp energy and lively freshness. Obtaining this level of vigor is not always easy with this finicky grape, but Carlo nails it. His wine is supported by an extremely fine and silky texture, and the bouquet is impeccably clean and pure. There is a drying mineral note that reminds you of its volcanic roots and recalls the 2017 vintage heat. The vines are 80 years old and planted at 950 meters in elevation. This is Carlo's only Etna wine (for now) and he makes 7,200 bottles.

More Info

西西里岛
1
95 (JS)

保税价格

¥ 2,395.00

James Suckling (95)

The purity of fruit is all here with strawberry, lemon-peel and floral undertones. Goes to cranberries. It's medium -bodied with firm tannins and a bright, vivid and linear finish that keeps your palate clean.

More Info

西西里岛
8
96 (WA)

保税价格

¥ 2,645.00

Wine Advocate (96)

The Alberelli di Giodo 2019 Sicilia Nerello Mascalese is a wine true to its volcanic roots. This elegant grape variety reveals a tight embroidery of aromas with wild rose, sour cherry, white pepper and campfire ash. The tannins are polished and long, and this deftly made Nerello Mascalese is endowed with plenty of natural freshness and tart berry flavors that drive a long, nuanced finish. This is another super star bottle from winemaker Carlo Ferrini.

More Info

西西里岛
1
97 (JS)

保税价格

¥ 2,870.00

James Suckling (97)

Stand back as this extremely intense and vibrant Etna dry white arrives! As many herbal and positively vegetal aromas as white fruit and citrus. Super-sleek and focused palate with a dangerous amount of mineral energy and samurai sword acidity. The finish lasts for minutes! Enormous aging potential. Drink or hold.

More Info

西西里岛
1
97 (JS)

保税价格

¥ 1,750.00

James Suckling (97)

It's time to taste the volcano! Although this is still very young, it has an amazingly refined nose that reminds us of top-class red Burgundy. Quite full-bodied, but super-elegant and transparent, with very fine tannins that build to a stunning crescendo at the mineral finish. Patience will be rewarded! Drinkable now, but best from 2023.

More Info

西西里岛
4
-

保税价格

¥ 1,795.00

西西里岛
4
88 (VN)

保税价格

¥ 1,870.00

Vinous (88)

The 2020 Etna Bianco is sweetly floral with notes of chamomile, crushed apples and hints of flint. It impresses with a combination of ripeness and inner tension, offering citrus-tinged orchard fruits and a steely minerality that comes forward toward the close. Hints of lime and sour melon linger as this wraps up with cheek-puckering freshness; it also leaves a bit of an odd green botanical note that seems out of place.

More Info

西西里岛
2
87 (VN)

保税价格

¥ 1,480.00

Vinous (87)

The 2019 Etna Rosso is savory in the glass with dried strawberries, dusty rose and hints of wet stone forming a slightly understated bouquet. It's fleshy in feel, yet balance is maintained through a blend of tart red berries and brisk acidity. This leaves a staining of primary concentration, along with a bitter twang of cherry pits that linger. The 2019 is a serviceable Etna Rosso, yet it lacks momentum.

More Info

西西里岛
10
-

保税价格

¥ 1,400.00

西西里岛
10
95 (VN)

保税价格

¥ 15,645.00

Vinous (95)

The 2015 Etna Rosso Rovittello Riserva is coy and understated, offering up hints of black cherry, dusty rose and flowery undergrowth. It's silky yet youthfully dense in feel and quite savory, the salty minerals and spice taking center stage, while black fruits and grippy tannins come forward more toward the finish, and finishes youthfully dry and structured, allowing only nuances of currant and purple-tinged florals to resonate. This new Rovittello Riservais sourced from a small parcel of pre-phylloxera vines on Etna's northern slope. After a long maceration, the wine spends 24 months refining in large, 15-hectoliter French oak casks. There's certainly a lot of potential here, and it will be very interesting to follow the wine's development over time.

More Info

西西里岛
1
94 (VN)

保税价格

¥ 4,420.00

Vinous (94)

Ashen stone and animal musk give way to dusty florals, spiced citrus and dried black cherries, as the 2015 Etna Rosso Serra della Contessa Riserva dramatically opens up in the glass. It's deceptively soft and juicy in feel, casting a pure display of ripe red and black fruits across a core of zesty acids, yet with fine tannins that slowly saturate toward the finale. This finishes with persistence, but also with a hulking structure that will require years to resolve, as inner rose notes and tart woodland berries linger longer. This is the inaugural vintage of the Serra della Contessa Riserva, a single-parcel selection of pre-phylloxera vines.

More Info

西西里岛
1
94 (VN)

保税价格

¥ 17,930.00

Vinous (94)

Ashen stone and animal musk give way to dusty florals, spiced citrus and dried black cherries, as the 2015 Etna Rosso Serra della Contessa Riserva dramatically opens up in the glass. It's deceptively soft and juicy in feel, casting a pure display of ripe red and black fruits across a core of zesty acids, yet with fine tannins that slowly saturate toward the finale. This finishes with persistence, but also with a hulking structure that will require years to resolve, as inner rose notes and tart woodland berries linger longer. This is the inaugural vintage of the Serra della Contessa Riserva, a single-parcel selection of pre-phylloxera vines.

More Info

西西里岛
2
-

保税价格

¥ 5,545.00

西西里岛
4
-

保税价格

¥ 5,425.00

西西里岛
1
-

保税价格

¥ 1,885.00

西西里岛
4
-

保税价格

¥ 1,445.00

西西里岛
3
-

保税价格

¥ 1,945.00

西西里岛
3
-

保税价格

¥ 1,720.00

西西里岛
1
-

保税价格

¥ 2,935.00

西西里岛
1
-

保税价格

¥ 2,605.00

西西里岛
1
-

保税价格

¥ 2,605.00

西西里岛
2
95 (VN)

保税价格

¥ 2,465.00

Vinous (95)

The entrancing 2019 Munjebel Rosso FM (Feudo di Mezzo Sottana) blossoms in the glass, with a dusty mix of sweet minty herbs and bright cherry complemented by a hint of cinnamon sugar. Its textures are like pure silk slowly draped across the palate, creamy, smooth, yet lifted and refined, delivering ripe red and hints of blue fruit under an air of lavender and violets. A pleasant inner sweet lingers on, along with a coating of fine tannins, as residual acids and hints of sour citrus maintain a lovely balance. The word "radiant" comes to mind and stays with me throughout the entire experience. Bravo. The Munjebel FM is a 100% Nerello Mascalese produced from the lower elevations of the Feudo di Mezzo cru. This is pure class.

More Info

西西里岛
1
-

保税价格

¥ 2,605.00

西西里岛
1
94 (JA)

保税价格

¥ 1,320.00

Jane Anson Inside Bordeaux (94)

Pale but vibrant ruby in colour, from 6.5ha of 45 year old vines on the northern slopes of Etna at 750m. So fragrant it's crazy, soft raspberry and cranberry fruits, this is far more intense on the nose than you expect from the colour. Very approachable, easy to enjoy, fragrant with rolling waves of summer fruits, orange peel and earthy dried herbs. No need to wait to drink this, although you feel gentle tannins guiding your way through the palate. Easy to recommend this wine from Davide Rosse (originally from Piedmont, and you can see something of the delicacy of nebbiolo here, the whisper of a variety that specialises in gentle persuasion). Aged in an array of differently sized French oak barrels and casks. Got to be the best value wine of the September Releases.

More Info

西西里岛
1
95 (JA)

保税价格

¥ 1,255.00

Jane Anson Inside Bordeaux (95)

Beautiful jewel-like ruby colour, vibrant and expressive, this is just so moreish, with a beautiful grip that holds the sour cherry and fresh raspberry fruits in place. Gentle tannins also, with a subtle intensity. Excellent quality, this is one to shout about and share with friends. A perfect wine for the heat of summer, it has sweetness on the nose but finishes extremely dry with a refreshing signoff. Got to be the best value wine in the September Releases, and shows just what an exciting category Etna Rosso is right now. A 6.5ha estate on the northern slopes of Etna sat at 750m, winemaker Andrea Delpiano is based in Piedmont, but is in Sicily every month. A must buy.

More Info

西西里岛
29
94 (VN)

保税价格

¥ 1,345.00

Vinous (94)

Depths of black cherry, plum sauce, sage and clove are grounded by animal musk as the 2019 NeroBaronj smolders up from the glass. It flows across the palate like pure silk, refined and seamless in feel, with ripe wild berry fruits and exotic citrus tones that add contrast toward the close. The 2019 finishes long yet closes in upon itself with youthful poise, allowing fine tannins to resonate. Sour cherry notes stick around for a bit. This is elegance personified.

More Info

西西里岛
29
96 (VN)

保税价格

¥ 1,925.00

Vinous (96)

Dark and earthy in the glass, the 2019 NeroBufaleffj opens with a burst of crushed ashen stones and earth tones before giving way to dusty black currants and blood orange. It's deeply textural, with silken waves of ripe red and black fruit that swirl throughout. Vibrant acidity maintains a sensation of boundless energy. The 2019 finishes remarkably fresh, yet staining and long, with edgy tannins that resonate as hints of spiced citrus fade. While gorgeous today, the NeroBufaleffj is built for the cellar.

More Info

西西里岛
28
95 (VN)

保税价格

¥ 1,925.00

Vinous (95)

A blend of crushed plums, rose petals, lavender and Violette pastille creates a deeply seductive bouquet as the 2019 NeroSanloré blossoms in the glass. This is a model of grace and elegance with silky textures, vividly ripe red and blue fruits elevated by sour citrus and a core of stimulating acidity. It finishes long and staining, with sweet tannins that frame the experience beautifully as tangerine and blackberry fade. The 2019 NeroSanloré is to die for; what a gorgeous Nero d'Avola.

More Info