Bid for Wine Online
Buy Fine Wines & Spirits for Less
Find & Buy wine below market price
0% buyers fees on bids
Place Bids on 15,000+ wines & spirits
24/7 automated trading
30 days of FREE professional storage on all orders
SEARCH FOR WINES NOW
Bid for Wine Online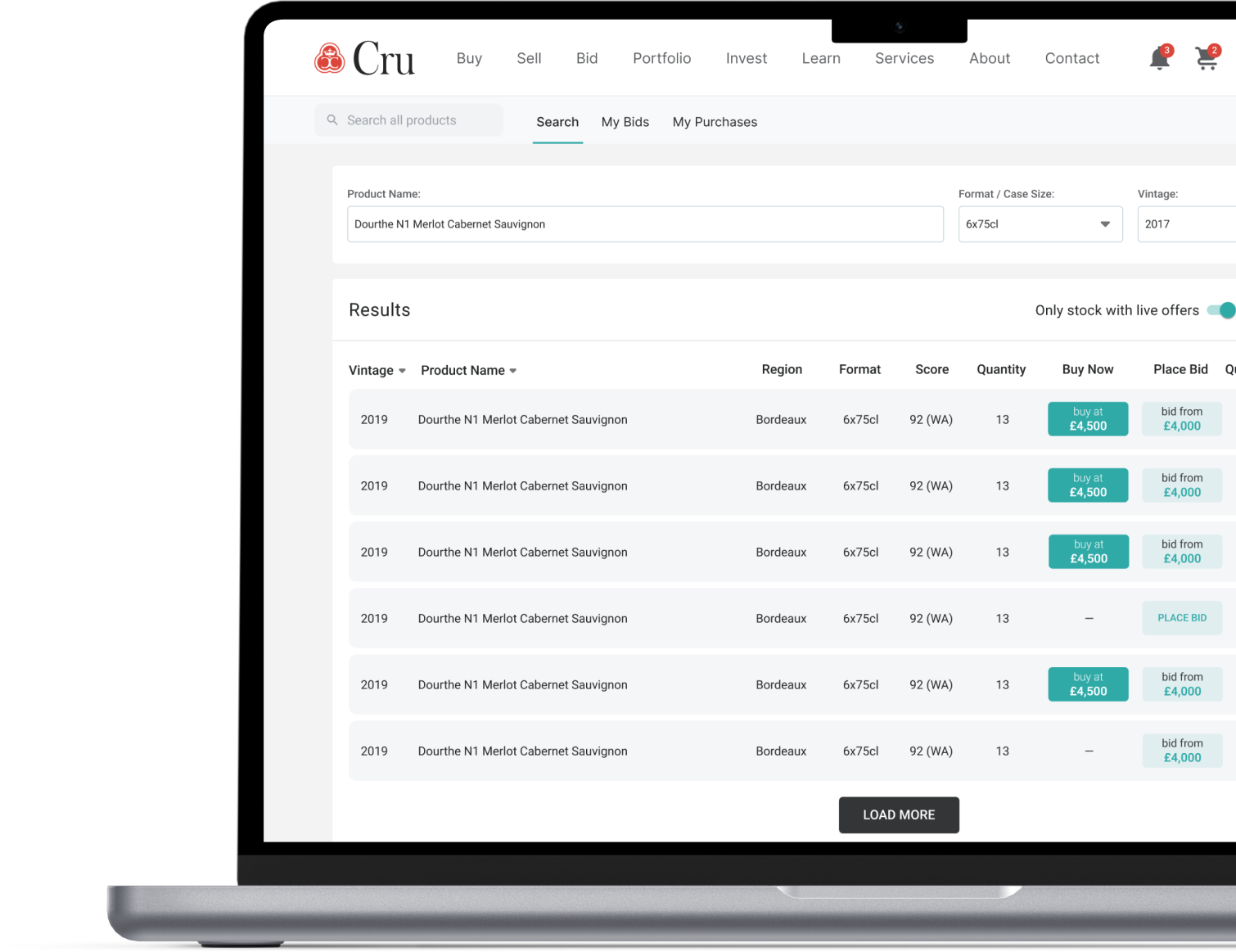 How to start bidding on wine
Complete the following 3 steps to enable live bids on your account
1
Log in or create an account
To place live bids on our wines you will need to be logged in to an active Cru account.

To step up a FREE account you just need your name and email. To start bidding you need to add a billing address and payment details too.
LOGIN / CREATE ACCOUNT
2
Add a credit card or store credit
You need to add a credit card or have store credit to bid on wines. When a bid is successfully matched we will create a sales order instantly & automatically charge your credit card or store credit for the agreed bid amount. All bids are final & are binding.
ADD CREDIT CARD / FUNDS
3
Start bidding on 15,000+ wines
Once the previous steps are complete you will now be ready to start bidding. Click the button to try our dedicated bid for wine tool. You can also search, edit & manage your live bids on your account - Live Bids.
BID FOR WINE NOW
How to place bids on wine
Find your favourites wines and spirits for even better prices
1

Once you've found a wine or spirit that you want to place a bid on, click the 'PLACE A BID' button to reveal the pop-up screen.

2

Decide how many units you would like to purchase and confirm your bid price per unit.

3

Read and accept our terms and conditions by ticking the box. Then when you're ready click the 'PLACE BID' button to place your bid. You can view all of your live and matched bids in your online Cru account.
BID FOR WINE NOW
How to place bids on wine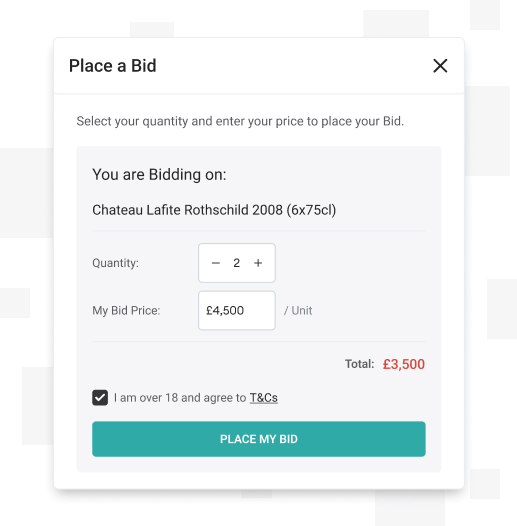 Don't have an account with us yet?
No problem...
All you need to start is your name and email address.

30 days FREE storage & FREE delivery or transfer for orders over £500
Competitive rates on storage for all our global warehouses
Access to allocations & offers on rare or hard to source products
Bid on 15,000+ of wines & spirits with our online platform
Use our state-of-the-art online portfolio management system
CREATE AN ACCOUNT NOW
No obligation to buy or bid
Want to store with Cru?
Starting with 30 days of FREE storage on all purchases, we offer the most competitive rates at all of our global storage locations.
MORE ON STORAGE
Want to store with Cru?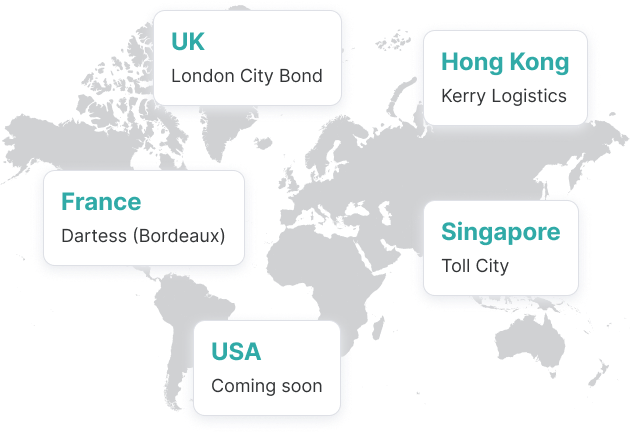 What happens after your bid is accepted?
Trade or sell your wine instantly | transfer or deliver your wine.

Live updates on your account
When a bid is matched you will be notified by email & it will show on your Cru account. From there you can decide to sell your wine, keep it or have it arranged for delivery once it arrives with us.

Global Supply Network
Once the bid is confirmed your order is placed with our global supply network. We will take payment automatically & your wine will be instantly allocated & shown online.

Arrival at a local warehouse
Where applicable, your order arrives at one of our 4 global warehouses to be confirmed & processed into your account. All purchases receive 30 days FREE storage & FREE delivery is available for orders over £500.

Ready for delivery/transfer
Now available in your Cru account, you will be notified that your order is ready to arrange delivery or transfer. Taxes & delivery charges may apply.
MORE ON DELIVERY & TRANSFER