Piedmont
Piedmont, located in northwest Italy, is renowned for producing some of the world's most exquisite fine wines. With its breath-taking landscapes, diverse terroir, and a rich winemaking heritage, Piedmont offers a captivating range of wines that captivate the senses. The region is home to legendary vineyards and wineries that have gained global recognition for their exceptional quality.

One of the most famous vineyards in Piedmont is Gaja, a family-owned winery that has played a pivotal role in elevating the region's wines to international acclaim. Their wines, such as Barbaresco and Barolo, are synonymous with excellence and showcase the complexity and elegance of Piedmontese wines. Another esteemed vineyard is Vietti, known for its iconic Barolo wines that beautifully reflect the region's terroir and winemaking traditions.

Piedmont is renowned for its red wines, particularly Barolo and Barbaresco, both made from the Nebbiolo grape. Barolo is often referred to as the "King of Wines" due to its full-bodied structure, intense aromatics, and potential for aging. Notable vineyards like Bruno Giacosa, Giacomo Conterno, and Paolo Scavino craft outstanding Barolo wines that capture the essence of the region. Barbaresco, a neighboring appellation, offers equally exceptional wines with a slightly softer and more approachable character. Renowned vineyards such as Produttori del Barbaresco and Gaja produce remarkable Barbaresco wines that exemplify the region's winemaking prowess.

Piedmont is also famous for its white wine, Moscato d'Asti, a sweet and aromatic wine made from the Moscato grape. Producers such as Michele Chiarlo and Saracco offer delightful Moscato d'Asti wines that are loved for their fragrant bouquet and refreshing sweetness.

Additionally, the region produces other notable wines, including Barbera d'Alba, Dolcetto d'Alba, and Gavi. These wines exhibit unique characteristics that reflect the local terroir and grape varieties.

Piedmont's fine wines are a true expression of artistry and tradition, showcasing the region's commitment to excellence. Whether you're savoring a prestigious Barolo, an elegant Barbaresco, or a delightful Moscato d'Asti, Piedmont's wines offer a remarkable journey of flavors and a glimpse into the rich winemaking heritage of this captivating region.
Piedmont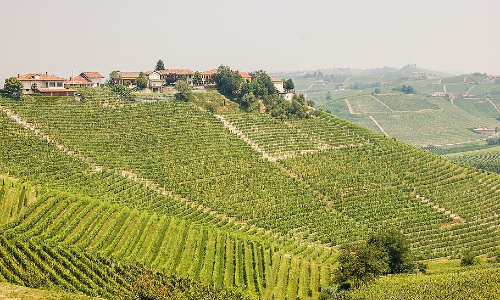 产品名
地区
数量
分数
价格

皮尔蒙特
1
-

保税价格

¥ 13,510.00

皮尔蒙特
1
90 (VN)

保税价格

¥ 5,510.00

Vinous (90)

The 2013 Barolo Capalot Vecchie Viti packs a good bit of punch as well as persistence. It would be nice to see a little more freshness. Even so, there is quite a bit to admire. The dark cherry, smoke, leather, cedar and tobacco flavors show good delineation. This is certainly a fine debut, and hopefully a sign of better things to come. I would prefer to drink the 2013 sooner rather than later.

More Info

皮尔蒙特
19
92 (VN)

保税价格

¥ 942.00

Vinous (92)

The 2016 Barolo Capalot Vecchie Viti is dark, beguiling and very pretty. Rose petal, orange peel, cinnamon, kirsch, sweet red cherry and sweet pipe tobacco give the Capalot striking aromatic nuance and a real sense of exoticism that is quite inviting. Medium in body and constantly changing in the glass, the Capalot captures all of the complexities that make Nebbiolo and Barolo so fascinating. The tannins need time to soften, but there is plenty to look forward to once that happens.

More Info

皮尔蒙特
9
92 (VN)

保税价格

¥ 1,885.00

Vinous (92)

The 2016 Barolo Capalot Vecchie Viti is dark, beguiling and very pretty. Rose petal, orange peel, cinnamon, kirsch, sweet red cherry and sweet pipe tobacco give the Capalot striking aromatic nuance and a real sense of exoticism that is quite inviting. Medium in body and constantly changing in the glass, the Capalot captures all of the complexities that make Nebbiolo and Barolo so fascinating. The tannins need time to soften, but there is plenty to look forward to once that happens.

More Info

皮尔蒙特
98
92 (VN)

保税价格

¥ 2,825.00

Vinous (92)

The 2016 Barolo Capalot Vecchie Viti is dark, beguiling and very pretty. Rose petal, orange peel, cinnamon, kirsch, sweet red cherry and sweet pipe tobacco give the Capalot striking aromatic nuance and a real sense of exoticism that is quite inviting. Medium in body and constantly changing in the glass, the Capalot captures all of the complexities that make Nebbiolo and Barolo so fascinating. The tannins need time to soften, but there is plenty to look forward to once that happens.

More Info

皮尔蒙特
30
94 (VN)

保税价格

¥ 924.00

Vinous (94)

The 2017 Barolo Capalot Vecchie Viti is another fabulous wine from Burzi. Dark, mysterious and beautifully layered in the glass, the Capalot is just captivating from the very first taste. Macerated black cherry, lavender, sage, spice, coffee and leather are some of the many notes that open over time in a Barolo that is deep yet also wonderfully transparent. The 2017 is so nuanced, so complex, so beautiful. It is also easily the best wine I have tasted from Burzi.

More Info

皮尔蒙特
15
94 (VN)

保税价格

¥ 1,860.00

Vinous (94)

The 2017 Barolo Capalot Vecchie Viti is another fabulous wine from Burzi. Dark, mysterious and beautifully layered in the glass, the Capalot is just captivating from the very first taste. Macerated black cherry, lavender, sage, spice, coffee and leather are some of the many notes that open over time in a Barolo that is deep yet also wonderfully transparent. The 2017 is so nuanced, so complex, so beautiful. It is also easily the best wine I have tasted from Burzi.

More Info

皮尔蒙特
99
94 (VN)

保税价格

¥ 2,780.00

Vinous (94)

The 2017 Barolo Capalot Vecchie Viti is another fabulous wine from Burzi. Dark, mysterious and beautifully layered in the glass, the Capalot is just captivating from the very first taste. Macerated black cherry, lavender, sage, spice, coffee and leather are some of the many notes that open over time in a Barolo that is deep yet also wonderfully transparent. The 2017 is so nuanced, so complex, so beautiful. It is also easily the best wine I have tasted from Burzi.

More Info

皮尔蒙特
1
92 (VN)

保税价格

¥ 3,420.00

Vinous (92)

Burzi's 2019 Barolo Capalot Vecchie Viti is a very pretty, statuesque wine. It offers up dark-toned fruit, spice, leather, tobacco and incense, all in a broad, ample style that is quite appealing. There's good depth and plenty of resonance that builds with time in the glass. The Capalot is the most potent wine in the range. This is nicely done.

More Info

皮尔蒙特
11
92 (VN)

保税价格

¥ 2,295.00

Vinous (92)

The 2016 Barbaresco is a gorgeous entry-level wine in this range. Dark and fleshy, the 2016 offers terrific depth as well as plenty of character, which is great to see in its peer group. Black cherry, plum, mocha, leather, spice and licorice all meld together. One of the more open wines in the range, the Barbaresco will also give readers an idea of what to expect. This is an absolutely delicious wine in its peer group and price range. The straight Barbaresco is a blend from Meruzzano and young vine fruit from Ronchi.

More Info

皮尔蒙特
1
-

保税价格

¥ 4,580.00

皮尔蒙特
14
-

保税价格

¥ 6,875.00

皮尔蒙特
1
-

保税价格

¥ 3,530.00

皮尔蒙特
1
94 (VN)

保税价格

¥ 3,165.00

Vinous (94)

The 2016 Barbaresco Cottà shows all the density and power that is typical of this site in Neive, qualities that are further amplified by the smaller cask used for this tiny production bottling. Dark cherry, plum, graphite, licorice, spice and menthol add to an impression of gravitas in this powerful, muscular Barbaresco from Albino Rocca.

More Info

皮尔蒙特
1
93 (VN)

保税价格

¥ 2,635.00

Vinous (93)

The 2018 Barbaresco Cottá shows the mid-palate pliancy and depth that is typical of this site, but in the gracious, understated style that defines the Rocca Barbarescos today, especially in this vintage. Succulent dark cherry, plum, spice and leather all flesh out in the glass. Give it a few years to soften.

More Info

皮尔蒙特
1
-

保税价格

¥ 2,570.00

皮尔蒙特
1
94 (VN)

保税价格

¥ 2,700.00

Vinous (94)

The 2018 Barbaresco Ovello Vigna Loreto marries depth, energy and the pedigree of this site. There is real intensity here. Firm Ovello tannins wrap around sweet red cherry, leather, spice, menthol and licorice. Bright saline notes and piercing young Nebbiolo tannins extend the finish effortlessly. This is a super-classic expression of Ovello.

More Info

皮尔蒙特
1
96 (WE)

保税价格

¥ 2,860.00

Wine Enthusiast (96)

Iris, rose and baking spice aromas take center stage on this beautiful red. It's young and tight but already delicious, featuring ripe red cherry, star anise and ground clove set against a backbone of bright acidity and noble tannins. It will age well for years. Drink 2029–2039.

More Info

皮尔蒙特
6
-

保税价格

¥ 2,310.00

皮尔蒙特
1
93-95 (VN (ST))

保税价格

¥ 2,320.00

Vinous - Stephen Tanzer (93-95)

Deep ruby color. Less forthcoming aromas of black fruits, grilled nuts, violet and an exotic suggestion of apricot. Thick and concentrated; conveys an almost salty impression of extract. Very backward. Finishes with a strong tannic spine. Very strong juice, but doesn't yet offer the smoky complexity of the '96.

More Info

皮尔蒙特
3
94 (VN)

保税价格

¥ 1,730.00

Vinous (94)

Full ruby-tinged red. Cool, complex aromas of black cherry, currant, camphor, tar, mint and violet. Sweet, dense and packed with fruit; large-scaled and lush, given shape by ripe acidity. More powerful than the Loreto, but the big, broad tannins are also extremely well buffered. Less expressive on the back end than the Loreto but shows outstanding length. Like the '97, this wine does not come across as especially oaky due to its sheer material.

More Info

皮尔蒙特
1
92+ (VN)

保税价格

¥ 1,850.00

Vinous (92+)

(from 60+-year-old vines facing southeast; aging included 20% new barriques Good full red. Spicy redcurrant aroma lifted by a note of rose petal. Juicy, spicy and aromatic in the mouth, with lovely cut and intensity and a firm tannic spine. Less lush today than the Loreto, and showing less early sweetness, but this elegant, juicy wine projects lovely nebbiolo perfume and has the structure for a graceful evolution in bottle. Rocca told me this vineyard features the family's own clones and was planted by his grandfather.

More Info

皮尔蒙特
1
96 (VN)

保税价格

¥ 1,970.00

Vinous (96)

The 2019 Barbaresco Ronchi is a deep, potent wine. In this tasting, the Ronchi impresses with its stature, aromatic presence and textural intensity. Dark red cherry, red plum, cinnamon, rose petal and dried flowers emerge with a bit of coaxing, but the Ronchi is one of the least giving wines in the range today. I would cellar it for at least a few years. It is another wine where elegance and power meld together.

More Info

皮尔蒙特
2
-

保税价格

¥ 2,505.00

皮尔蒙特
6
-

保税价格

¥ 5,325.00

皮尔蒙特
3
93 (JS)

保税价格

¥ 3,140.00

James Suckling (93)

On the nose this may not be a dramatic wine, but it's fresh and floral. It has a quiet confidence that is missing in many of the 2014 Barolos. On the palate, the turbocharger kicks in. The wine's impressive tannic power leaves most of the competition behind it, but there's real finesse at the long finish. Drink after 2020.

More Info

皮尔蒙特
1
96 (JS)

保税价格

¥ 3,780.00

James Suckling (96)

Gorgeous aromas of dark berries, cedar and very ripe fruit that follow through to a full body, deep and dense tannins and a long, flavorful finish. Plush. Drink in 2022 and beyond.

More Info

皮尔蒙特
1
-

保税价格

¥ 2,870.00

皮尔蒙特
2
-

保税价格

¥ 3,830.00

皮尔蒙特
3
-

保税价格

¥ 3,885.00