France - All White Wines
France is revered for its exceptional white wines, which showcase the country's rich winemaking heritage, diverse terroirs, and unwavering commitment to quality. Today, let us embark on a journey through the best white wines that France has to offer, exploring renowned vineyards and the regions that give birth to these extraordinary expressions.

In Burgundy, the appellations of Chablis, Meursault, Puligny-Montrachet and Chassagne-Montrachet stand tall as the epitome of excellence in white wine production. Wineries such as Domaine Raveneau, Domaine Dauvissat, and Domaine Leflaive craft mesmerizing Chardonnays that capture the essence of the region's unique Kimmeridgian limestone soils. These wines exhibit precision, purity, and a remarkable balance of mineral notes, citrus flavors, and vibrant acidity.

Moving to the Loire Valley, the vineyards of Sancerre and Pouilly-Fumé are celebrated for their exceptional Sauvignon Blancs. Domaine Vacheron, Domaine Didier Dagueneau, and Domaine Pascal Jolivet create expressive and terroir-driven wines that showcase the region's distinct flinty minerality, zesty citrus, and herbaceous undertones.

Further northeast in France, in the region of Alsace, vineyards such as Domaine Zind-Humbrecht, Domaine Trimbach, and Domaine Weinbach produce stunning white wines from varietals like Riesling, Gewürztraminer, and Pinot Gris. These wines display remarkable depth, aromatic complexity, and a balance between sweetness and acidity, reflecting the region's unique microclimates and granite-rich soils.

In Bordeaux, the region of Graves is renowned for its white wines, particularly those crafted from the classic grape varieties of Sauvignon Blanc and Sémillon. Château Haut-Brion, Château Pape Clément, and Domaine de Chevalier are esteemed vineyards that produce rich and age-worthy white Bordeaux wines. These wines exhibit a beautiful interplay of tropical fruit flavors, vibrant acidity, and a touch of toasty oak.

Finally, in the Rhône Valley, the appellation of Condrieu shines as a beacon of excellence in Viognier production. Renowned vineyards such as Domaine Georges Vernay and Domaine Yves Cuilleron create remarkable Viognier wines that seduce the senses with their exotic aromas of apricot, peach, and delicate floral notes. These wines showcase richness, elegance, and a silky texture that lingers on the palate.
France - All White Wines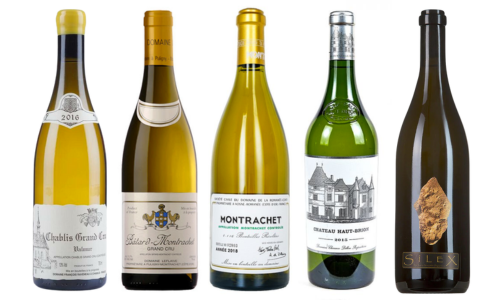 产品名
地区
数量
分数
价格

罗纳河
1
95-96 (VN)

保税价格

¥ 6,590.00

Vinous (95-96)

Light, green-tinged yellow. A powerful scented bouquet evokes violet, ripe citrus and orchard fruits, which are complicated by hints of dusty minerals and saffron. Juicy and concentrated on the palate, offering densely packed pear nectar, orange pith and honeysuckle flavors that show outstanding clarity and mineral lift. The floral and mineral notes persist on the incisive finish, which hangs on with superb tenacity.

More Info

罗纳河
1
-

保税价格

¥ 5,260.00

勃艮第
2
95-96 (WA)

保税价格

¥ 20,245.00

Wine Advocate (95-96)

From the Puligny side of that cru, Jadot's 2006 Batard-Montrachet from both purchased juice and grapes delivers vivid scents of saffron, jasmine, vanilla, musk, brown spices, and ripe peach. Vibrant – virtually electric – on the palate, yet all the while creamy in texture, here is a wine to make one firmly believe in the house proclivity to retain some malic acid. Blind, I might have imagined – at least until further reflection, and recognition of this wine's sheer power – that I was drinking the Marcobrunn Riesling of my dreams. The persistence of fruit and spice here are as formidable as the foregoing features led one to hope.

More Info

勃艮第
2
17+ (JR)

保税价格

¥ 23,415.00

Jancis Robinson (17+)

Cask sample. Very rich and concentrated on the nose. Big and muscular at first but actually with real tautness and acidity on the end – almost unexpectedly! Not the most thrilling example from this appellation I have been lucky enough to taste but it's certainly an attempt to give it tension. Almost too much so!

More Info

勃艮第
2
17+ (JR)

保税价格

¥ 11,005.00

Jancis Robinson (17+)

Cask sample. Very rich and concentrated on the nose. Big and muscular at first but actually with real tautness and acidity on the end – almost unexpectedly! Not the most thrilling example from this appellation I have been lucky enough to taste but it's certainly an attempt to give it tension. Almost too much so!

More Info

勃艮第
1
17+ (JR)

保税价格

¥ 22,670.00

Jancis Robinson (17+)

Cask sample. Very rich and concentrated on the nose. Big and muscular at first but actually with real tautness and acidity on the end – almost unexpectedly! Not the most thrilling example from this appellation I have been lucky enough to taste but it's certainly an attempt to give it tension. Almost too much so!

More Info

勃艮第
6
97-99 (JMO)

保税价格

¥ 9,770.00

Jasper Morris Inside Burgundy (97-99)

Pale lemon colour. Very little nose as yet, too early perhaps for a wine of this potential power – which it certainly has on the palate, and very good acidity as well. The immense square of fruit in the mouth doesn't yet show specific flavours but everything hangs together impressively for what will be an imposing Bâtard. Tasted: November 2021

More Info

勃艮第
1
95-97 (JMO)

保税价格

¥ 11,655.00

Jasper Morris Inside Burgundy (95-97)

From the Puligny side of the appellation. Clear beautiful yellow colour. The nose is discreet but very classy, then this huge wealth of fruit expands across the palate. We can wait for the nose. This is beautifully poised, a little wood, a slight youthful bitterness, but both add to the grip. Long and fine. Drink from 2028-2035. Tasted: October 2022

More Info

勃艮第
1
95-97 (JMO)

保税价格

¥ 23,980.00

Jasper Morris Inside Burgundy (95-97)

From the Puligny side of the appellation. Clear beautiful yellow colour. The nose is discreet but very classy, then this huge wealth of fruit expands across the palate. We can wait for the nose. This is beautifully poised, a little wood, a slight youthful bitterness, but both add to the grip. Long and fine. Drink from 2028-2035. Tasted: October 2022

More Info

勃艮第
4
-

保税价格

¥ 11,652.00

勃艮第
1
92-94 (WA)

保税价格

¥ 25,730.00

Wine Advocate (92-94)

Aromas of waxy citrus rind, marzipan, white flowers and warm pastry introduce the 2018 Bienvenues-Bâtard-Montrachet Grand Cru (Maison Louis Jadot), a full-bodied, ample and enveloping wine that's layered, textural and lively, concluding with a nicely defined finish.

More Info

勃艮第
2
90-92 (VN)

保税价格

¥ 10,455.00

Vinous (90-92)

The 2020 Bienvenues-Bâtard-Montrachet Grand Cru has a fragrant nose with apple blossom, granite and light citrus aromas, though it needs just a little more energy. The palate is well balanced with well integrated oak, fine depth, yet the finish feels a little richer than I would have liked and when juxtaposed against Jadot's other Grand Crus. Enjoyable, but not intellectual. Closure: Diam

More Info

勃艮第
1
16 (JR)

保税价格

¥ 1,700.00

Jancis Robinson (16)

Cask sample. Quite sweet and ripe on the nose. I'm not sure I would pick this as a Chablis blind! Really quite rich with a streak of green and it finishes rather suddenly. It certainly has weight… A big Chablis.

More Info

勃艮第
10
-

保税价格

¥ 1,659.00

勃艮第
8
-

保税价格

¥ 1,703.00

勃艮第
10
-

保税价格

¥ 1,659.00

勃艮第
10
-

保税价格

¥ 3,586.00

勃艮第
1
87 (VN)

保税价格

¥ 2,695.00

Vinous (87)

The 2019 Chablis Les Clos Grand Cru has a lot of new oak on the nose that, like the Blanchot, renders it rather predictable. The palate is balanced but fat in the mouth, with low acidity and a rather crowd-pleasing but simple finish. So-so.

More Info

勃艮第
10
-

保税价格

¥ 3,586.00

勃艮第
19
-

保税价格

¥ 2,062.00

勃艮第
3
90-92 (VN)

保税价格

¥ 3,835.00

Vinous (90-92)

The 2020 Chassagne-Montrachet La Grande Montagne 1er Cru has a fresh and vibrant nose, clearly a level up from the Village Cru this year with more mineralité and tension. The palate is well balanced with a fine bead of acidity, taut and fresh with a vibrant and poised, apricot and nectarine tinged finish. This will be delicious. Closure: Diam

More Info

勃艮第
1
92+ (VN)

保税价格

¥ 6,840.00

Vinous (92+)

Pungent, very ripe aromas of spiced apple, marzipan, honey and hazelnut. Large-scaled, round and impressively rich, but with slightly disjointed flavors of superripe fruits, nuts and fresh herbs. Very full but not heavy. This seemed to harmonize a bit with aeration and should be superb with extended bottle aging, but I wouldn't broach a bottle now (if you do, pour it into a carafe). From the Chassagne side and thus a bit less vibrant, especially in the 2005 vintage.

More Info

勃艮第
2
94-95 (WA)

保税价格

¥ 41,535.00

Wine Advocate (94-95)

Representing 9 barrels, all from purchased fruit grown on the Chassagne side of the cru, Jadot's 2006 Montrachet smells decadently of heliotrope, fading lilies, over-ripe peach, and grilled pineapple; comes to the palate predictably full and rich yet surprisingly fresh and invigorating; and lays down a plush, faintly warm, rich but not especially fine-grained carpet of flavor in the finish. While less dramatic than the Batard or mysterious than the Chevalier, this is nonetheless truly grand, and surely capable of at least a decade's fascinating evolution.

More Info

勃艮第
1
93-95 (BH)

保税价格

¥ 16,210.00

Burghound (93-95)

This is all but mute today and still notably primary as only aggressive swirling can coax the reluctant aromas of pear, honey, white peach, oak and floral scents to reveal themselves. In the same fashion as the nose, the big, opulent and ultra-intense broad-shouldered flavors also remain extremely backward and tight yet the palate staining finish is hugely persistent and already offers unusually fine complexity for a young Montrachet. This too is extremely impressive but note well that it's built-to-age and is going to need at least 5 to 7 years first.

More Info

勃艮第
1
94-97 (JMO)

保税价格

¥ 7,375.00

Jasper Morris Inside Burgundy (94-97)

Mid yellow in colour. The nose hints at majesty while keeping its powder dry. This takes time to build on the palate, it is more in yellow fruit than most of the Jadot wines, with a little sucrosity, and still the lemon citrus inflection which makes these 2020 whites work so well, and the expected length. Tasted: November 2021

More Info

勃艮第
2
94-97 (JMO)

保税价格

¥ 16,210.00

Jasper Morris Inside Burgundy (94-97)

Mid yellow in colour. The nose hints at majesty while keeping its powder dry. This takes time to build on the palate, it is more in yellow fruit than most of the Jadot wines, with a little sucrosity, and still the lemon citrus inflection which makes these 2020 whites work so well, and the expected length. Tasted: November 2021

More Info

勃艮第
1
94-96 (VN)

保税价格

¥ 23,775.00

Vinous (94-96)

There is just one barrel of the 2021 Montrachet Grand Cru this year. This oak comes through quite strongly at the moment, especially compared to the Chevalier alongside, though there is obviously real power and intensity here. The palate is very well-balanced and multi-layered with gorgeous yellow fruit, crushed stone and hints of lemongrass toward the finish. This seems to really fill the mouth with flavour, though it deserves four to five years in bottle. Maybe I just prefer the more nuanced Chevalier.

More Info

勃艮第
4
-

保税价格

¥ 22,407.00

勃艮第
1
94 (TA)

保税价格

¥ 3,530.00

Tim Atkin MW (94)

A regal Puligny with high-toned aromatics, sweet spice undercurrents and dignified concentration, these 85-year-old vines always make a distinguished, concentrated Puligny. This is beautifully textured with a light waxiness that is wiped from the palate by exuberant acidity on the lingering finish. 2022-30

More Info

勃艮第
2
90-92 (VN)

保税价格

¥ 4,510.00

Vinous (90-92)

The 2021 Puligny-Montrachet La Garenne 1er Cru has an attractive nose with touches of slate and a slight fumé scent that complements the malic aromas. This gains precision in the glass. The palate is well-balanced with a crisp bead of acidity. A stem ginger note hides in the background, whilst the finish feels reassuringly persistent. This should age well in bottle.

More Info