Bordeaux
Bordeaux is arguably the most famous wine region in the world, renowned for producing some of the finest wines on the planet. We offer an exceptional selection of Bordeaux wines, ranging from the grand crus to the more affordable but still delicious options.
Located in the southwestern part of France, Bordeaux has a rich history that dates back centuries. Some of the most popular estates in the region include Château Margaux, Château Lafite Rothschild, Château Latour, and Château Mouton Rothschild. These estates produce some of the most sought-after wines in the world.
Bordeaux is home to many famous appellations, including Saint-Émilion, Pauillac, Margaux, and Saint-Julien. Each appellation has its own unique terroir and characteristics, which contribute to the distinct flavor and aroma of the wines. The grapes used in Bordeaux wines vary by region, but the most common varieties include Cabernet Sauvignon, Merlot and Cabernet Franc.
Our Bordeaux collection includes wines from all the major appellations and chateaux, ensuring that you can find your favorite wine or discover new ones. We take pride in offering the best selection of Bordeaux wines in town, all carefully sourced and curated by our expert wine buyers.
Whether you are a seasoned wine connoisseur or just starting to explore the world of wine, our Bordeaux collection has something for everyone. Shop our Bordeaux collection today and experience the unparalleled quality and taste of these exceptional wines.
Bordeaux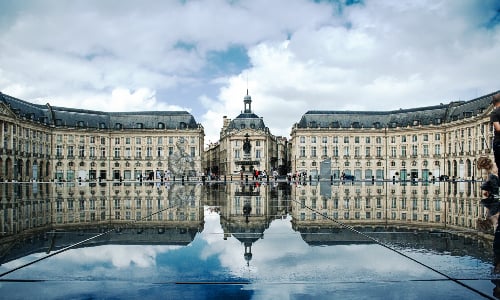 产品名
地区
数量
分数
价格

波尔多
1
91 (VN (NM))

保税价格

¥ 6,080.00

Vinous - Neal Martin (91)

The 2015 Aile d'Argent Blanc has a lively, quite fresh bouquet with scents of pear, melon and touches of yellow flowers; there is plenty of energy here. The palate is well balanced with a spicy, lemongrass-tinged opening, not deep or voluminous but displaying a pleasant sharpness toward the finish. Enjoy this over the next decade, or possibly more. Tasted blind at the Southwold 2015 Bordeaux tasting.

More Info

波尔多
3
95-96 (JS)

保税价格

¥ 6,645.00

James Suckling (95-96)

This is full-bodied with layers of fruit. Ripe and flavorful. Lots going on with a fleshy feel. No malolactic this year. Sweet peach, honeysuckle and citrus. Contrastive. 52% sauvignon blanc, 14% sauvignon gris and 34% semillon.

More Info

波尔多
5
96 (JA)

保税价格

¥ 1,815.00

Jane Anson Inside Bordeaux (96)

Beautiful intensity and grip through the palate, this shows white pear, juicy citrus, and slate-filled salinity on the finish. Great stuff, with teasingly drawn out flavours, lift and tension, and hidden depths. Some frost meant the yields were lower than normal at 32hl/h. 15% malolactic fermentation to soften the acidities, with Sauvignon Gris vines included within the Sauvignon Blanc count, and no Muscadelle in the blend as the vines have now been uprooted, giving a slight break in style (for the better in my opinion). 3.25ph, 45% new barrels for ageing. First year with Jean-Emmanuel Danjoy as director from beginning to end of the growing season, after Philippe Dhaulluin's retirement.

More Info

波尔多
2
96 (JA)

保税价格

¥ 6,155.00

Jane Anson Inside Bordeaux (96)

Beautiful intensity and grip through the palate, this shows white pear, juicy citrus, and slate-filled salinity on the finish. Great stuff, with teasingly drawn out flavours, lift and tension, and hidden depths. Some frost meant the yields were lower than normal at 32hl/h. 15% malolactic fermentation to soften the acidities, with Sauvignon Gris vines included within the Sauvignon Blanc count, and no Muscadelle in the blend as the vines have now been uprooted, giving a slight break in style (for the better in my opinion). 3.25ph, 45% new barrels for ageing. First year with Jean-Emmanuel Danjoy as director from beginning to end of the growing season, after Philippe Dhaulluin's retirement.

More Info

波尔多
1
94 (JS)

保税价格

¥ 16,930.00

James Suckling (94)

Made next to the great Haut-Brion. Aromas of cocoa and milk chocolate with dark fruits. Full body, with silky tannins and a polished finish. Very refined tannins. So long and pretty. Class. Try in 2017.

More Info

波尔多
2
92 (WS)

保税价格

¥ 13,310.00

Wine Spectator (92)

This is super for a second wine. Fantastic aromas of chocolate, berry and coffee. Yet very classy and subtle. Full-bodied, with a reserved rich and caressing texture. Loads of ripe and wonderful fruit in this. Second wine of Château Palmer. Best after 2006. -JS

More Info

波尔多
1
94 (JS)

保税价格

¥ 7,895.00

James Suckling (94)

This is amazing for the second wine with incredible white truffle, stone and currant character. Purity of fruit on the nose. Full-bodied, silky and refined. Fantastic length. Better in 2018 but almost impossible to resist now. Incredible.

More Info

波尔多
1
94 (JS)

保税价格

¥ 5,500.00

James Suckling (94)

This is amazing for the second wine with incredible white truffle, stone and currant character. Purity of fruit on the nose. Full-bodied, silky and refined. Fantastic length. Better in 2018 but almost impossible to resist now. Incredible.

More Info

波尔多
11
94-95 (JS)

保税价格

¥ 8,440.00

James Suckling (94-95)

Very solid and powerful with dried mushroom and wet earth aromas and flavors. Complex. Full and chewy yet so polished and long. Spicy, meat and gorgeous. Most serious Alter Ego ever. More inner Ego now!. 52% merlot, 41% cabernet sauvignon, and petit verdot 6%.

More Info

波尔多
2
94-95 (JS)

保税价格

¥ 4,715.00

James Suckling (94-95)

Very solid and powerful with dried mushroom and wet earth aromas and flavors. Complex. Full and chewy yet so polished and long. Spicy, meat and gorgeous. Most serious Alter Ego ever. More inner Ego now!. 52% merlot, 41% cabernet sauvignon, and petit verdot 6%.

More Info

波尔多
1
95-96 (JS)

保税价格

¥ 4,735.00

James Suckling (95-96)

This is very concentrated yet soft and fresh in texture. Full-bodied and round and mouth-filling. So impressive how it fills your mouth yet remains fresh. It's so framed.

More Info

波尔多
1
94 (JS)

保税价格

¥ 3,340.00

James Suckling (94)

This is a delicious and savory wine with beautiful, ripe and creamy tannins, as well as chocolate and plum character. Full body. The flavors turn to wet earth and mushrooms with some leather. A blend of 53% merlot, 41% cabernet sauvignon and 6% petit verdot. Lovely finish. Try after 2021.

More Info

波尔多
1
95 (DC)

保税价格

¥ 3,340.00

Decanter (95)

Gorgeous rich dark purple in the glass. Quite jammy and concentrated on the nose, heady and perfumed with a lovely delicate florality to it too. Great freshness on the palate, juicy but a dark blackcurrant and cherry fruit juice. Beautifully balanced with integrated tannins and oak. Well defined fruit, generous and quite abundant against softly grippy, velvety tannins that just give support to the overall frame. It's serious but with a lightness of touch and playfulness - energetic and lively but still with depth. A great Alter Ego and confident winemaking on show.

More Info

波尔多
2
17+ (JR)

保税价格

¥ 3,420.00

Jancis Robinson (17+)

50% Cabernet Sauvignon, 46% Merlot, 4% Petit Verdot. Cask sample. Very much in the Alter Ego mould – lively, fruit-driven with that vineyard-fresh feel but with a little more structure than previous years. Pure and appetising but will age. (JL) 13.7%

More Info

波尔多
3
17+ (JR)

保税价格

¥ 3,225.00

Jancis Robinson (17+)

50% Cabernet Sauvignon, 46% Merlot, 4% Petit Verdot. Cask sample. Very much in the Alter Ego mould – lively, fruit-driven with that vineyard-fresh feel but with a little more structure than previous years. Pure and appetising but will age. (JL) 13.7%

More Info

波尔多
25
94-95 (JS)

保税价格

¥ 3,420.00

James Suckling (94-95)

Savory black and salted-olive character with oyster shells and black licorice. Fine, almost powdery yet firm tannins. Medium body. Excellent density and structure for the vintage. Second wine of Palmer. 60% cabernet sauvignon, 32% merlot and 8% petit verdot. From biodynamically grown grapes.

More Info

波尔多
9
90 (WA)

保税价格

¥ 4,685.00

Wine Advocate (90)

Medium to deep garnet-purple colored, the 2016 Amiral de Beychevelle offers up compelling red and black cherry scents with a core of blackcurrants and blackberries plus wafts of lavender, wild sage and cumin seed. Medium-bodied with a firm, chewy frame, it has lovely freshness and purity, finishing on a mineral note.

More Info

波尔多
1
-

保税价格

¥ 3,040.00

波尔多
1
-

保税价格

¥ 19,620.00

波尔多
1
-

保税价格

¥ 25,780.00

波尔多
1
-

保税价格

¥ 25,595.00

波尔多
1
18.5 (JR)

保税价格

¥ 10,455.00

Jancis Robinson (18.5)

Magnum. Dropped the l' on the label. 50% Cabernet Franc, 50% Merlot. Aromatic, quite rich and a little raisiny. Sweet and fluid. Pretty. Long and rather floral and perfumed. Dense.

More Info

波尔多
1
92 (WS)

保税价格

¥ 29,080.00

Wine Spectator (92)

Angélus continues its hot streak. Super color and concentration for the vintage. Exotic aromas of berries, red fruits, toasted oak and minerals. Full-bodied, with full, silky tannins and a long minty, fruity finish. Fine for drinking now. Best after 1999. 10,000 cases made. -JS

More Info

波尔多
1
92 (WS)

保税价格

¥ 13,205.00

Wine Spectator (92)

Coffee bean, berry and spice aromas, almost raisiny, follow through to a full body, with lots of rich fruit and a tobacco, cedar, berry and toasty oak finish. Loads going on. Opulent for the vintage. Chewy tannins too. Serious. Still needs some time.¿'89/'99 Bordeaux blind retrospective (2009). Best after 2011. 4,165 cases made. -JS

More Info

波尔多
1
99 (WA)

保税价格

¥ 51,485.00

Wine Advocate (99)

Approaching perfection, this wine is inky, bluish/purple-colored to the rim, offering up notes of incense, blueberry and blackberry liqueur, licorice, graphite and spring flowers. A touch of roasted espresso bean is also present. The wine has great concentration, a magnificent, full-bodied mouthfeel, stunning purity, and well-integrated acidity, tannin, alcohol and wood. This beauty seems to be in mid-adolescence with at least 25-30 years of life ahead.

More Info

波尔多
1
99 (WA)

保税价格

¥ 28,405.00

Wine Advocate (99)

Approaching perfection, this wine is inky, bluish/purple-colored to the rim, offering up notes of incense, blueberry and blackberry liqueur, licorice, graphite and spring flowers. A touch of roasted espresso bean is also present. The wine has great concentration, a magnificent, full-bodied mouthfeel, stunning purity, and well-integrated acidity, tannin, alcohol and wood. This beauty seems to be in mid-adolescence with at least 25-30 years of life ahead.

More Info