France - All Red Wines
France stands as the epitome of excellence when it comes to crafting red wines that showcase the diversity of terroirs, grape varieties, and winemaking traditions.

In Bordeaux, the renowned Left Bank vineyards of Château Lafite Rothschild, Château Margaux, Château Latour, and Château Haut-Brion epitomize the artistry of winemaking. These prestigious estates craft red wines that blend Cabernet Sauvignon, Merlot, Cabernet Franc, Petit Verdot, and Malbec, resulting in wines of depth, structure, and complexity. The wines from the Right Bank, such as those from Pétrus, Château Ausone, and Château Cheval Blanc, offer elegance, refinement, and a focus on Merlot as the dominant grape variety.

In Burgundy, the Côte de Nuits and Côte de Beaune regions are home to iconic vineyards like Domaine de la Romanée-Conti, Domaine Leroy, and Domaine Armand Rousseau. These vineyards produce world-renowned Pinot Noir wines that showcase finesse, complexity, and a captivating expression of their unique terroirs.

The Rhône Valley boasts appellations such as Hermitage, Côte-Rôtie, and Châteauneuf-du-Pape. In Hermitage, producers like Jean-Louis Chave and Domaine Jean-Louis Grippat craft powerful and age-worthy Syrah-based wines with immense structure and complexity. Côte-Rôtie is known for its elegant and perfumed Syrah wines, while Châteauneuf-du-Pape combines a blend of Grenache, Syrah, and Mourvèdre to create bold and full-bodied wines.

Moving to the Loire Valley, the vineyards of Chinon and Saumur-Champigny shine with exceptional Cabernet Franc wines. Producers such as Charles Joguet and Domaine Guiberteau showcase the region's ability to craft wines of finesse, with notes of red fruits, spice, and a characteristic herbal undertone.

Finally, in the south, the Languedoc-Roussillon region is celebrated for its bold and robust red wines. Vineyards like Mas de Daumas Gassac and Domaine Gauby produce powerful and expressive wines that highlight the region's warm climate and diverse terroirs.
France - All Red Wines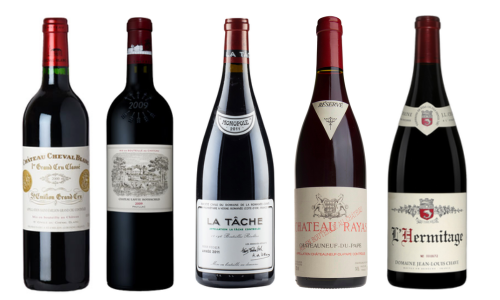 产品名
地区
数量
分数
价格

勃艮第
1
92 (VN)

保税价格

¥ 10,415.00

Vinous (92)

Bright medium red. Sexy perfume of redcurrant, dark cherry, dried herbs and spices. Spicy, juicy and very dry but shows more floral lift than the Volnay Clos des Chènes. Precise and penetrating thanks to its strong mineral energy. Finishes with noble tannins that avoid the toughness of the Clos des Chènes and slowly building, savory persistence. Bouley told me that 55% of the crop was lost to hail and that partly for this reason he destemmed all of his fruit.

More Info

罗纳河
1
-

保税价格

¥ 8,760.00

罗纳河
4
-

保税价格

¥ 3,005.00

罗纳河
1
91 (VN)

保税价格

¥ 2,155.00

Vinous (91)

(aged in one-third new oak): Bright purple. Ripe black and blue fruits, incense, candied flowers and smoky minerals on the perfumed nose. Smooth, palate-coating cherry and blueberry flavors show very good focus and vivacity thanks to juicy acidity and a jolt of peppery spices. Finishes sweet, broad and very long, with velvety tannins coming on late.

More Info

罗纳河
1
91 (VN)

保税价格

¥ 13,695.00

Vinous (91)

(aged in one-third new oak): Bright purple. Ripe black and blue fruits, incense, candied flowers and smoky minerals on the perfumed nose. Smooth, palate-coating cherry and blueberry flavors show very good focus and vivacity thanks to juicy acidity and a jolt of peppery spices. Finishes sweet, broad and very long, with velvety tannins coming on late.

More Info

罗纳河
1
91 (VN)

保税价格

¥ 11,525.00

Vinous (91)

Inky ruby. A highly perfumed, expansive bouquet evokes dark fruits, incense and olive, and a sexy floral nuance adds complexity. Broad, seamless and appealingly sweet in the mouth, offering intense blueberry and black raspberry flavors that fan out steadily on the back half. Candied violet and star anise nuances come up on a very long, sappy finish that's given shape by smooth tannins.

More Info

罗纳河
1
94 (VN)

保税价格

¥ 12,585.00

Vinous (94)

Glass-staining ruby. A highly perfumed bouquet evokes fresh blackberry and boysenberry, pungent flowers and smoky minerals. Intense, palate-staining black and blue fruit and floral pastille flavors are complicated by powerful spice and mineral notes that gain strength with air. Closes on a youthfully tannic note, showing excellent delineation, strong, mineral-driven persistence and lingering floral character.

More Info

罗纳河
5
94 (VN)

保税价格

¥ 2,470.00

Vinous (94)

Saturated magenta. Expansive aromas of ripe red and blue fruit, potpourri, incense and smoky minerals pick up a spicy nuance as the wine opens up. Broad and seamless in the mouth, displaying fine delineation to the sappy, mineral-drenched black raspberry, boysenberry, violet pastille and spicecake flavors. Shows a distinctly elegant character and finishes extremely long and sweet, with discreet tannins framing lingering blue fruit and floral notes.

More Info

罗纳河
2
95-96 (VN)

保税价格

¥ 6,590.00

Vinous (95-96)

Mineral- and smoke-accented red and dark berries, candied licorice and pungent flowers on the intensely perfumed nose. Densely packed, appealingly sweet cherry, blueberry, mulberry and spicecake flavors are supported by an undercurrent of smoky minerality that provides back-end lift and cut. Shows a suave floral quality on the impressively persistent finish, which is shaped by smooth tannins. There's a deft mix of power and finesse here.

More Info

罗纳河
1
100 (DC)

保税价格

¥ 7,950.00

Decanter (100)

To attempt to describe the aroma, star anise and sandalwood would be suitable descriptors - but this is so pure and harmonious that this really smells of nothing other than itself. Perfectly weighted, perfectly balanced, with the most incredibly elegant tannins. This wine gave me goosebumps to taste, it's hauntingly beautiful, the soul of Côte-Rôtie in a glass. It has everything you could hope for in a Côte-Rôtie, it's pure perfection. It's rare for young wines to deliver such emotion.

More Info

罗纳河
2
96 (VN)

保税价格

¥ 5,555.00

Vinous (96)

Opaque ruby color. Highly perfumed red and dark berry, botanical herb and floral scents show superb clarity and pick up a smoky mineral accent with air. Juicy and penetrating on the palate, offering intense bitter cherry, boysenberry, candied violet and mocha flavors that are braced by a core of juicy acidity. Finishes sweet, lively and extremely long, with an echo of candied violet and well-judged tannins.

More Info

勃艮第
1
91-94 (VN)

保税价格

¥ 10,295.00

Vinous (91-94)

Red-ruby. Superripe aromas of black cherry and smoked meat; smells concentrated! Then sweet and quite penetrating on the palate, with a slightly tart and reserved character to its fruit, due in large part to the wine's rather powerful acidity. Finishes very pure and long, with plenty of flesh. This reminded me of a much more suave version of the Latricieres.

More Info

勃艮第
1
93-95 (BH)

保税价格

¥ 14,435.00

Burghound (93-95)

A cool and highly restrained nose of spice, plum, underbrush and animale notes displays an ample amount of wood influence. The driving minerality of the openly muscular and hugely proportioned flavors is patently obvious and it continues onto the mouth coating and breathtakingly long finish. I very much like the balance here and while it can't quite match the sheer depth of material evidenced by the Chapelle, it's close and like the Chapelle I would suggest that this is very definitely not a good candidate for early consumption.

More Info

勃艮第
1
92-94 (VN)

保税价格

¥ 7,415.00

Vinous (92-94)

The 2017 Chambertin Grand Cru has more amplitude on the nose compared to the Clos-de-Bèze, offering layers of red berry fruit, briar, tobacco and light roasted chestnut aromas. This is beautifully defined. The palate is medium-bodied with grippy tannin on the entry. Like the Clos-de-Bèze, the fruit is a little backward at the moment, though there is substance here. It feels tightly coiled, but the structure and density on the finish suggest that it should develop in bottle. Maybe a little more persistence on the aftertaste would not have gone amiss, though that is the leitmotif of the vintage.

More Info

勃艮第
1
92-94 (VN)

保税价格

¥ 14,610.00

Vinous (92-94)

The 2017 Chambertin Grand Cru has more amplitude on the nose compared to the Clos-de-Bèze, offering layers of red berry fruit, briar, tobacco and light roasted chestnut aromas. This is beautifully defined. The palate is medium-bodied with grippy tannin on the entry. Like the Clos-de-Bèze, the fruit is a little backward at the moment, though there is substance here. It feels tightly coiled, but the structure and density on the finish suggest that it should develop in bottle. Maybe a little more persistence on the aftertaste would not have gone amiss, though that is the leitmotif of the vintage.

More Info

勃艮第
3
94-96 (VN)

保税价格

¥ 9,605.00

Vinous (94-96)

The 2018 Chambertin Grand Cru has a harmonious, powerful bouquet of layers of red berry fruit laced with crushed stone and pressed rose petal aromas. The palate is medium-bodied with supple tannins and a fine bead of acidity. Hints of wild mint and star anise infuse the finish, which fans out gloriously. This is a step ahead of the Clos-de-Bèze this year.

More Info

勃艮第
1
96-98 (VN)

保税价格

¥ 9,250.00

Vinous (96-98)

The 2020 Chambertin Grand Cru has a magnificent bouquet with delineated redcurrant, raspberry and strawberry scents, quite pixelated in style, very focused and shimmering with tension. The palate is extremely well balanced with fine but firm tannins that frame some exquisite red fruit with real mineralité that just floods through on the finish. Brilliant.

More Info

勃艮第
1
93-95 (VN)

保税价格

¥ 14,120.00

Vinous (93-95)

The 2021 Chambertin Grand Cru offers a touch more complexity and nuance than the Clos-de-Bèze with red berry fruit, orange rind, crushed stone and wilted rose petals. It's a little more delineated and focused. The palate is medium-bodied with supple tannins, again, quite creamy in texture with a bit of new oak on the finish (though there is a prudent use of new wood - one new barrel out of three). Quite seductive, this should age well in bottle, though afford it four to five years at least.

More Info

勃艮第
4
-

保税价格

¥ 10,577.00

勃艮第
2
91+ (VN)

保税价格

¥ 2,250.00

Vinous (91+)

Good full red. Pure, sappy aromas of red fruits, minerals, spices and flowers. Creamy on entry, then dense and sweet but rather backward in the middle, offering excellent focus but a distinctly restrained character. This smoky, minerally wine boasts a fairly substantial structure and will require patience.

More Info

勃艮第
2
-

保税价格

¥ 7,200.00

勃艮第
2
90-92 (VN)

保税价格

¥ 7,355.00

Vinous (90-92)

Bright full red. Spicy redcurrant, tobacco and earth on the nose. Plump and sweet in the middle, but with good chalky lift to the cherry and spice flavors. A touch dry on the finish, suggesting energetic extraction. This was is made from purchased wine.

More Info

勃艮第
6
90-92 (VN)

保税价格

¥ 7,810.00

Vinous (90-92)

Bright full red. The nose offers reticent, rather cool aromas of dark cherry and herbs but lacks the floral lift of most of Jadot's Gevrey premier crus. Very ripe, creamy and concentrated but can't match the Clos Saint-Jacques for definition or inner-mouth tension. A substantial 2016 but I don't find grand cru class or distinction here. Finishes with serious tannins that will require patience.

More Info

勃艮第
1
94-96 (VN)

保税价格

¥ 10,415.00

Vinous (94-96)

The 2020 Charmes-Chambertin Grand Cru has a very seductive, quintessential nose with plush blueberry and black cherry fruit, well defined, sumptuous in style. The palate is medium-bodied with sappy black fruit, fine acidity, dense and grippy with an almost Mazis-like structure on the finish. Excellent, but it will require time in bottle.

More Info

勃艮第
2
-

保税价格

¥ 6,230.00

勃艮第
3
88-91 (VN)

保税价格

¥ 8,695.00

Vinous (88-91)

Medium red. Soil-driven aromas of smoke, mocha and earth. Suave and smoky, with a strong element of flinty minerality dominating the palate today. All about terroir, and yet I'd like to have seen more early treble tones.

More Info

勃艮第
2
92-95 (WA)

保税价格

¥ 8,385.00

Wine Advocate (92-95)

The 2009 Clos de la Roche comes across as big, powerful and a touch heavy-handed. This shows tons of richness and depth but lacks the sheer excitement of the estate's finest wines. The Clos de la Roche is made from purchased wine. Anticipated maturity: 2019-2034.

More Info

勃艮第
3
94 (WA)

保税价格

¥ 7,605.00

Wine Advocate (94)

The 2011 Clos de la Roche has a wonderful, vibrant, generous bouquet that is actually more akin to a Bonnes-Mares with its precocious, effervescent red fruit. The palate is medium-bodied with fine tannins on the opening, supple in the mouth, well-balanced with great precision on the finish. This is one of the best 2011s from Louis Jadot. Drink 2014-2026.

More Info

勃艮第
1
93 (BH)

保税价格

¥ 11,790.00

Burghound (93)

A pungently earthy nose also offers supporting aromas of gentle wood, spice and both red and dark fruit components. There is excellent richness and body to the large-scaled, mineral-inflected and openly powerful flavors that possess plenty of tannin-buffering dry extract before terminating in a striking long finish. This is a robust and very serious effort that possesses excellent cellaring potential and note well that it will need it as this is presently a bruiser.

More Info

勃艮第
1
94-96 (WA)

保税价格

¥ 8,910.00

Wine Advocate (94-96)

The 2013 Clos de la Roche Grand Cru has an inviting, warm and enveloping bouquet that seems to surround the senses and give them a big hug. The palate is well balanced with fine tannins, animated citrus fruit underlying the black cherries and wild strawberry notes. There is really quite wonderful precision and focus on the finish. This is one of Jadot's best 2013s.

More Info