Cru's Great Value List: Fine Wines with the Best Score for Price
Looking for fine wine that offers excellent value for money? Look no further than our selection of wines with the best price to score ratio. We've scoured the globe to bring you a collection of wines that offer serious quality at an affordable price tag.
Our selection includes wines from both the old world and new world, featuring both familiar names and emerging labels. We're passionate about offering our customers a diverse range of wines to choose from, ensuring that there's something for every taste and budget.
So whether you're a seasoned wine collector or just starting out on your wine journey, our selection of fine wines with the best price to score ratio is sure to impress. You don't have to break the bank to enjoy a great bottle of wine - with our collection, you can enjoy excellent quality at an affordable price. Explore our selection today and discover the best value fine wines on offer.
Cru's Great Value List: Fine Wines with the Best Score for Price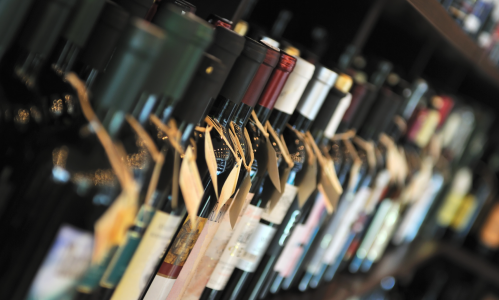 产品名
地区
数量
分数
Price
Per Point
价格

朗格多克
225
86 (WA)

¥0.79

保税价格

¥ 814.00

Wine Advocate (86)

At this age, the 2016 Le Clos is redolent of mocha and blueberries but edgy and tannic. This medium to full-bodied blend of 45% Merlot, 20% Carignan, 20% Grenache and 15% Cabernet Sauvignon deserves a year or two in the cellar to settle down, after which the texture should become more appealing and the oak more integrated.

More Info

托斯卡纳
1
93 (JS)

¥1.01

保税价格

¥ 564.00

James Suckling (93)

Fresh and vivid aromas of fruit, bark, mushrooms and crushed stones. Medium body with very fine tannins and lots of fresh cherry and orange peel on the finish. Crunchy. 90% sangiovese, 5% ciliegiolo and 5% alicante.

More Info

波尔多
1
92-93 (JS)

¥1.15

保税价格

¥ 1,330.00

James Suckling (92-93)

A linear and polished young red with compact, silky tannins that are polished and beautiful. Lots of blackberry, blackcurrant, mushroom and spice character. Very solid wine from here.

More Info

西开普省
1
90 (VN)

¥1.25

保税价格

¥ 673.00

Vinous (90)

Light yellow. Deep, sexy scents of lemon drop, peach, white plum, honeysuckle and earth, complicated by a nutty leesy quality. Fat and deceptively sweet on entry, then citrus peel and mineral flavors give definition and energy to the middle palate and grip to the finish. The initial sensation of plushness disappeared in an instant but then returned with aeration. This is ultimately a firm, well-delineated, mineral-driven Chenin with spine and some aging potential. In fact, I'd give it another year to knit--and to lose its nagging slight hardness.

More Info

波尔多
9
92-93 (JS)

¥1.31

保税价格

¥ 729.00

James Suckling (92-93)

A linear and polished young red with compact, silky tannins that are polished and beautiful. Lots of blackberry, blackcurrant, mushroom and spice character. Very solid wine from here.

More Info

皮尔蒙特
17
89 (VN)

¥1.31

保税价格

¥ 1,400.00

Vinous (89)

The 2019 Barbera d'Alba is a fabulous every-day wine. Floral aromatics and red berry fruit grace this airy yet flavorful Barbera from Fratelli Alessandria. The 2019 is not a powerhouse, but it is supremely delicious and very easy to like.

More Info

皮尔蒙特
20
91 (VN)

¥1.36

保税价格

¥ 1,480.00

Vinous (91)

The 2019 Dolcetto d'Alba is a standout. Readers will find a bold, juicy red done in a style that leans towards the savory, pungent end of the spectrum. Plum, olive tapenade, game and licorice give this Dolcetto a somewhat wild personality.

More Info

波尔多
2
94 (JA)

¥1.38

保税价格

¥ 986.00

Jane Anson Inside Bordeaux (94)

This is an excellent vintage of Montlandrie, with smoked coffee and cocoa bean, a ton of salinity, powerful blue and red fruits, super juicy on the finish. Enticing curled woodsmoke as it comes out of the glass, slate finish with a scrape of minerality. 40% new oak. Harvest September 30 to October 10.

More Info

里奥哈
1
95 (TA)

¥1.40

保税价格

¥ 1,595.00

Tim Atkin MW (95)

Pujanza wasn't hit by the hail that affected Rioja in 2017, but this is still a pretty concentrated number, made entirely from Tempranillo grown at 630 metres and aged in 25% new wood. Chalky, dense and youthful, it's a wine that's made to mature in bottle, combining intensity with focus, freshness and serious tannins

More Info

马尔堡
2
95 (DC)

¥1.42

保税价格

¥ 1,615.00

Decanter (95)

Seductive bouquet of wild flowers and minerals, a fine leesy complexity and fresh aromas and flavours of citrus, peach tea and sweet hay. Crisp, refreshing, fruity and dry with fine texture. Just enough concentration of flavour to contrast the fresh herb notes and salivating acidity. Well made and long.

More Info

伦巴第
13
17+ (JR)

¥1.43

保税价格

¥ 807.00

Jancis Robinson (17+)

Field blend of Chiavennasca (Nebbiolo), Rossola, Pignola, Brugnola and Negrera, all rare local varieties. Fermented in stainless steel with indigenous yeast without added SO2 (which is added only at bottling). Total of 20 days on the skins. Part of the wine was aged on the fine lees in stainless steel and part in concrete. 'We macerate for a shorter time in warm years, but longer in cooler years to get softer tannins. In warmer years there is just no need and with longer maceration in warm years you lose freshness.' Cask sample 1: Youthful mid ruby. Pure and focused red-fruit nose with a little lift and a hint of raw meat. Succulent and a little vibrant on the attack. Savoury, sappy, red-fruit finish with soft, coating tannins. Refreshing and original. Cask sample 2: Just mid ruby. A little deeper with minerally, earthy notes and hints of iron. Vibrant, lifted raspberry fruit and sandpapery tannins. Truly complementary to cask sample 1. (WS)

More Info

里奥哈
2
95 (DC)

¥1.45

保税价格

¥ 825.00

Decanter World Wine Awards (95)

This is an immensely satisfying mouthful of wine with sweet vanilla oak, black/red cherry fruit, cassis and blackberry scents. The palate has polished black fruit appeal, sleek oak layering, sandy-grained tannins and a pulsating refined finish. A magnificent wine that will doubtlessly develop slowly and surely.

More Info

波尔多
2
94 (JA)

¥1.46

保税价格

¥ 1,065.00

Jane Anson Inside Bordeaux (94)

Exceptionally good, there is such heart to this wine, with rugged-textured tannins, edges of slate and salted black chocolate, sculpted blueberry fruits, touch of sage and fresh earth. Great stuff from owners and winemakers Jean-Claude and Jeff Berrouet. Will soften over next few years, but no need to wait too long to get going on this lovely wine. 20% new oak.

More Info

波尔多
1
91-93 (WA)

¥1.50

保税价格

¥ 829.00

Wine Advocate (91-93)

Deep garnet-purple colored, the 2020 Marjosse comes barreling out of the glass with rambunctious scents of cassis, crushed blackberries and black plum preserves, followed by hints of dark chocolate, anise and tar, plus a fragrant waft of lavender. The medium-bodied palate is soft, juicy and wonderfully refreshing, delivering wonderful poise and expression with a fun burst of pure black fruit on the finish. Delicious!

More Info

海岸产区
1
94 (VN)

¥1.51

保税价格

¥ 852.00

Vinous (94)

The 2022 Chenin Blanc comes from the two old blocks planted in 1974 and 1976. It is whole bunch pressed, but unlike the Sauvignon Blanc, it is not settled and matured in foudres and used 300-liter oak, where it stayed for ten months on the lees. It has a very delineated bouquet with Granny Smith scents and light sea spray aromas, a very Zen-like Chenin that expresses the granitic terroir. The well-balanced palate has a slight viscosity on the entry, a little richer than previous vintages but without compromising tension, with hints of peach skin and yellow plum towards the finish. Excellent.

More Info

皮尔蒙特
15
90+ (WA)

¥1.55

保税价格

¥ 1,680.00

Wine Advocate (90+)

I absolutely have a soft spot for the Pelaverga grape that achieves such beautiful, but unusual, characteristics when given the chance. The 2018 Verduno Pelaverga Speziale is a happy and cheerful wine destined for easy-drinking occasions like with pizza or wood-fire flatbread with spicy sausage and broccoli. Native to Verduno in Piedmont, the grape typically shows a strong layer of freshly milled white pepper. That's exactly what you get in this cool and balanced vintage. This is a lean-bodied red to drink within the next 18 months.

More Info

罗纳河
1
90-92 (WA)

¥1.56

保税价格

¥ 850.00

Wine Advocate (90-92)

An 80-20 blend of Grenache and Mourvèdre, the 2019 Cotes du Rhone Villages Plan de Dieu Vieilles Vignes is an excellent option for consumers who don't want to spend the extra money for the Saurel family's Gigondas bottlings. The garrigue on the nose is a bit more subtle than normal this year, with the bulk of the aromatics being super ripe cherries and berries. Full-bodied and intense, with a helping of firm tannins that keep the jamminess in check, it finishes dusty and savory, with ample length. This is a big wine, yet one I suspect will mature relatively quickly; drink it over the next 5-6 years.

More Info

尼尔森
1
95 (DC)

¥1.57

保税价格

¥ 897.00

Decanter (95)

Seifried was established in Nelson in 1973 by Austrian-born Hermann Seifriedand his New Zealand wife Agnes, and their Aotea series represents specially selected, single- vineyard wines. The fruit for the 2020 Sauvignon Blanc comes from the stony, free-draining soils of the Brightwater Vineyard, just 15km from the coast. It was de-stemmed and pressed immediately after harvest, before undergoing cool fermentation in stainless steel.
Roger Jones: Savoury, with herbaceous notes and textured spice. Some age coming through to give it legs. Clean and focused, this will impress people, especially when served with food.
Melanie Brown: Tropical hints on the nose, with subtle floral nuances flowing across the palate. Poised and elegant, with fresh and lively acidity that feels balanced.
Rebecca Palmer: This has a light, delicate aromatic profile with some lime/lime leaf characters. Drink 2022-2025 Alc 13%

More Info

海岸产区
2
90 (VN)

¥1.58

保税价格

¥ 852.00

Vinous (90)

The 2018 Cat's Cradle is pure Chenin Blanc that offers beeswax, yellow plum, a touch of butter and a slight adhesive scent on the nose. The palate is fresh and vibrant, with crisp acidity, a slightly waxy texture, and a light marine influence and a touch of salinity toward the finish. Fine.

More Info

卢瓦尔河
2
93 (WA)

¥1.61

保税价格

¥ 897.00

Wine Advocate (93)

Beautifully fresh in its purple color, the 2015 Anjou Cabernet Franc opens with ripe and fleshy cherry fruit on the nose. On the palate, this is a highly elegant, finessed and concentrated red with crunchy but ripe tannins and refreshing mineral acidity that leads to a long and linear finish. This is a concentrated and elegant Cabernet Franc with remarkable finesse. I'd keep it for another couple of years, though, and then you can surely enjoy it for up to two or more decades.

More Info

海岸产区
2
93+ (GS)

¥1.62

保税价格

¥ 910.00

Greg Sherwood MW (93+)

The wine is so effortless, brimming full of energy, and really shows off Reenen Borman's extensive winemaking expertise. Drink this wine now or over 3 to 8 years as it develops more forest floor and savoury bramble berry spice nuances.

More Info

波尔多
1
92-93 (JS)

¥1.62

保税价格

¥ 1,795.00

James Suckling (92-93)

A linear and polished young red with compact, silky tannins that are polished and beautiful. Lots of blackberry, blackcurrant, mushroom and spice character. Very solid wine from here.

More Info

西开普省
6
97 (CE)

¥1.62

保税价格

¥ 942.00

Christian Eedes (97)

32% Roussanne, 29% Semillon, 19% Chardonnay, 16% Chenin Blanc and 4% Clairette Blanche sourced from the Cape winelands. Sensational aromatics of green, white and yellow fruit, flowers, herbs and spice plus a touch of flinty reduction – very expressive but not at all vulgar or overwrought. The palate has great fruit definition, a lovely line of acidity and finish that is long and dry. Precisely made, the whole very much more than the sum of the parts.

More Info

艾米利亚-罗马涅
1
92+ (VN)

¥1.64

保税价格

¥ 911.00

Vinous (92+)

The 2020 Sangiovese Romagna Predappio is spicy and deep, with sweet rose and dusty black cherries accentuated by hints of ash and mint. This is undeniably elegant in feel, washing silken waves of ripe wild berries across the palate that leave a mineral staining, along with sweet inner herbal tones. It finishes with a lingering concentration and super-fine tannins as tobacco and cocoa notes slowly fade. The 2020 will require a bit more time in bottle to soften its contours, but it's packed full of potential. It's hard to think of this as Chaira Condello's entry-level wine.

More Info

门多萨
1
92 (WA)

¥1.64

保税价格

¥ 904.00

Wine Advocate (92)

The excellent and floral 2019 Catena Malbec shows the typicity of the grape, violets and red berries, and the freshness of the year. It has the textbook aromas and a soft and velvety mouthfeel, with very fine grainy tannins. 2.1 million bottles produced.

More Info

5
94 (TA)

¥1.64

保税价格

¥ 924.00

Tim Atkin MW (94)

Sold as a Coastal red because it includes fruit from the Swartland as well as Darling - the vineyards are only two kilometres apart - this is a delicate, yet focused red with some whole bunch spices and sap, black cherry and raspberry fruit, nuanced tannins and a floral, tapering finish. 2022-27

More Info

托斯卡纳
1
17.5 (JR)

¥1.67

保税价格

¥ 1,885.00

Jancis Robinson (17.5)

Barberino Tavernelle. 82% Sangiovese, 15% Canaiolo, 3% Syrah. Lustrous mid ruby. A concentrated cherry nose loaded with dark spice. Succulent, tangy cherry fruit with a mint oak note. Building up in concentration on the finish but without losing its freshness or elegance. A wine that never disappoints, regardless of vintage.

More Info

门多萨
1
95 (JS)

¥1.68

保税价格

¥ 957.00

James Suckling (95)

This is very smoky and earthy with dried mushrooms and wet earth. Dried-citrus undertone. Medium-bodied, super long and fine. Meaty and fluid and gorgeous. Drink now. 3,000 bottles made from a small parcel of old vines.

More Info

勃艮第
10
92 (DC)

¥1.68

保税价格

¥ 930.00

Decanter (92)

William Fevre own 46ha of AP Chablis but there was lots of frost damage in 2021 - the yield was just 18hl/ha! Lovely floral notes here, very precise and focussed. This is already appealing although the acidity is certainly evident. Lingering spice notes on the finish. From a tank sample, with bottling due in November. Drink from next year and for many years.

More Info