Spain - All Rosé Wines
Spain, a country renowned for its diverse and exceptional wines, also offers a captivating range of fine rosé wines. With its varied terroir and grape varieties, Spain produces rosé wines that are vibrant, refreshing, and bursting with flavor.
One of the most famous vineyards in Spain for rosé wines is Muga, located in Rioja. Their renowned Muga Rosado showcases the region's expertise in crafting exquisite rosé wines. Made from a blend of Garnacha and Tempranillo grapes, Muga Rosado exhibits a beautiful pink hue, delicate aromas of red berries, and a crisp, elegant palate.
Spain's rosé wines beautifully reflect the country's winemaking diversity, from the crisp and refreshing styles of Rioja and Navarra to the sparkling delights of Penedès. With their vibrant colors, aromatic profiles, and lively acidity, Spanish rosé wines offer a delightful alternative for wine lovers seeking a lighter and more delicate experience. Indulge in the allure of Spain's fine rosé wines and discover the exceptional quality, distinct character, and the region's dedication to crafting remarkable wines. Whether you're savoring a vibrant Rioja rosado, a refreshing Navarra pink, or a sparkling Penedès delight, Spanish rosé wines promise a journey of flavors that capture the essence of this enchanting wine country.
Spain - All Rosé Wines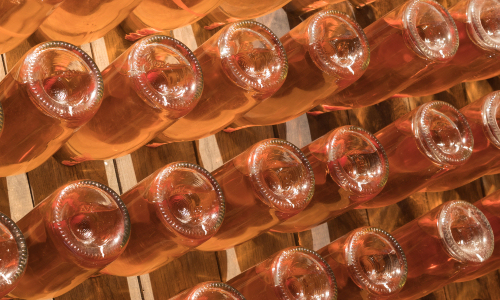 产品名
地区
数量
分数
价格

里奥哈
1
96+ (WA)

保税价格

¥ 5,675.00

Wine Advocate (96+)

The 2010 Viña Tondonia Rosado Gran Reserva was hitting on all cylinders. It was produced with 60% Garnacho (they use the masculine of the name here), 30% Tempranillo and 10% white Viura from vines averaging 91 years of age. Like all the wines, it fermented with indigenous yeasts (they have never used selected yeasts) in the 142 oak vats they have used since the beginning and then matured in old American oak barrels for four years. There is tons of complexity and nuance here; it's super elegant and layered, and as the wine sat in the glass, it developed more and more complex aromas, a subtle combination of balsam, red acid berries, a hint of medicine, fennel and wet chalk, a diesel-like touch, old wood and mushroom (beetroot?), licorice and yellow flowers, sweet spices... There's a lot more of everything. It's clean and crystalline, fresh and long, with terrific balance and depth. This has to be the finest rosado of recent times... 25,000 bottles produced. It was bottled in April 2016. The Gran Reserva wines from López de Heredia come back to the market with the heralded 2001 vintage. Otherwise, when I asked them about news, the answer was "We continue making Viña Tondonia as we have always done." Basically, they are against change... From their 170 hectares of vineyards, 124 are currently in production, from which they produce around 400,000 bottles. They are the most traditional among Rioja traditionalists.

More Info

里奥哈
1
-

保税价格

¥ 2,700.00

Deep amber in colour, this is always such a unique wine. Hardly surprisingly given its oxidative ageing process, it has a significant hint of Jerez about it on the nose with notes of roasted almonds and a light hint of marmite, with a sweet suggestion of caramelised shallots behind, all of this topped off with a definite touch of strawberries and vanilla. The palate astonishes with its fine, elegant, almost searing freshness. Everything is in such wonderful balance – it is completely glorious. The texture is light yet with a slight oak tannin grip. Sweet strawberries lie in the background but that acidity has an almost tart tangerine quality to it, it is so refreshing. The wine has a beautiful finish of red apple and lemon pith mixing with the touch of almonds. This is a very fine, extremely fresh and absolutely incomparable ten-year-old rosé. Oh delicious. Drink 2021 to 2038.

More Info

里奥哈
1
-

保税价格

¥ 2,690.00

卡斯蒂利亚-莱昂
1
94+ (WA)

保税价格

¥ 3,140.00

Wine Advocate (94+)

I also tasted the 2019 Pícaro del Águila Clarete, a wine produced with a blend of red and white grapes as if it was a red, aging it in French oak barrels for 15 months. 2019 was a warmer and riper year in the region, and the wine is powerful but has kept very good freshness, which means a pH of 3.16. This is a rounder vintage sustained by very good acidity, in a way more like a cooler year like 2016. This is young and tender and doesn't yet have the depth they gain with further time in bottle. There is more white here (like in 2015 and 2016), and the wine is a little paler, which also helps with the freshness. The wine feels quite subtle and elegant and more in line with the 2016, which was a warmer year. It's tasty and balanced, with a chalky sensation and a very fresh finish. This is a real jewel and, in fact, one of the best vintages for clarete. But these wines are never about ephemeral fruit aromas and flavors. There is depth and complexity here. It should pay back if you can refrain for pulling the cork now... 7,785 bottles and 179 magnums were filled in January 2021.

More Info

卡斯蒂利亚-莱昂
1
95 (WA)

保税价格

¥ 3,810.00

Wine Advocate (95)

Jorge Monzón considers 2020 to be an almost prefect vintage—cool and fresh, reminiscent of the great 2016. The pink 2020 Pícaro del Águila Clarete was produced with 35% Tempranillo, 35% Albillo Mayor and the rest other local grape varieties (Garnacha, Bobal, Bruñal, Monastrell, Tempranillo Gris, other Albillos, Garnacha Blanca, Pirules, Jaén, Moscatel, Malvasías...) found in the old vineyards. This is very different from your average rosé, more like a serious light red or powerful white that slowly fermented during 11 months and matured in barrel for 18 months. The orange-ish/pink wine is still young and lively, with some notes of toasted sesame seeds and a faint flinty reduction a little à la Coche-Dury, reminiscent of some vintages of their superb white. This was bottled without being racked, and perhaps that's why it has this nice reduction and could be the finest vintage to date. It has a strong chalky aftertaste from the limestone-rich soils, which makes it a terroir white, but it's also very marked by the style (which they updated from the traditional wines in Aranda in the old times) of a unique wine. It's balanced and mellow but not a shy wine, with 14% alcohol and a pH of 3.26. I've tasted 15+-year-old bottles of wines of this style, and they were still lively, so this one should not be shorter lived. Unique. Given my experience with past vintages, I'd wait a little before pulling the cork here. 8,358 bottles and 151 magnums produced. It was bottled in February 2022.

More Info