Rioja
Rioja, one of Spain's most esteemed wine regions, is renowned for its exceptional fine wines. With a winemaking tradition that spans centuries, Rioja is celebrated for its unique terroir, diverse grape varieties, and the artistry of its winemakers. Situated in northern Spain, Rioja produces wines that embody the rich history and passion of Spanish winemaking.

One of the most famous vineyards in Rioja is Bodegas Marqués de Riscal, a historic winery that has been producing wines since 1858. Their wines, including the iconic Marqués de Riscal Reserva and Marqués de Riscal Gran Reserva, are renowned for their elegance, complexity, and age-worthiness.

Another esteemed vineyard is Bodegas López de Heredia Viña Tondonia, known for its traditional winemaking practices and long-aged wines. Their Viña Tondonia Reserva and Viña Tondonia Gran Reserva are highly sought-after by wine enthusiasts seeking the classic Rioja style.

Rioja is primarily known for its red wines, which are crafted predominantly from the Tempranillo grape variety. Notable vineyards such as Bodegas Muga, Bodegas Roda, and Bodegas CVNE (Compañía Vinícola del Norte de España) produce exceptional red wines that showcase the region's unique characteristics. These wines display flavours of ripe red fruit, subtle oak influence, well-integrated tannins, and a remarkable balance.

Rioja also offers notable white wines, mainly made from the Viura grape variety. Bodegas Riojanas, Bodegas Ontañón, and Bodegas Valdemar are among the renowned vineyards that produce exquisite white wines with vibrant acidity, citrus flavours, and a refreshing crispness.

The region's wines are often classified into four categories: Rioja, Crianza, Reserva, and Gran Reserva, indicating the aging process and quality level. This classification system ensures consistent quality and allows wine lovers to choose wines based on their preferred style and maturity.

Rioja's fine wines beautifully capture the essence of the region, showcasing a harmonious balance between tradition and innovation. Whether you're savouring a well-aged Reserva, a vibrant Crianza, or a complex Gran Reserva, Rioja's wines promise an unforgettable experience that reflects the region's winemaking heritage and dedication to excellence.
Rioja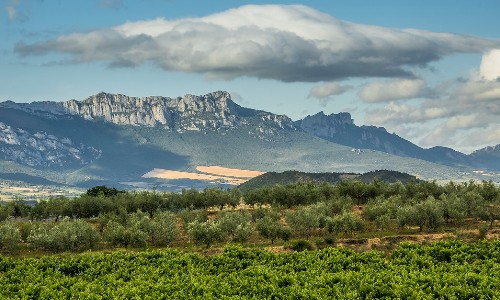 产品名
地区
数量
分数
价格

里奥哈
1
96 (WA)

保税价格

¥ 4,445.00

Wine Advocate (96)

The 2015 El Carretil is nothing short of phenomenal, one of the best vintages for this pure Tempranillo, which comes from a vineyard in the village of Laguardia on soils that have a very high content of active limestone. Even if in 2014 it had been taken out of barrel a little earlier than in the previous year, the élevage was shortened even further in 2015, to nine months. It's super expressive and open, with a captivating nose, pretty much enclosing the Artadi style, clean, floral, serious, with good ripeness but without excess and with generous oak but a lot less than in the past. The palate combines power with elegance, great balance and super fine tannins. This is a great vintage for El Carretil. 6,500 bottles produced.

More Info

里奥哈
1
97+ (WA)

保税价格

¥ 7,935.00

Wine Advocate (97+)

The bottled 2018 El Carretil was phenomenal. It comes from a plot of 3.64 hectares planted at three different times—1930, 1975 and 1988—on limestone, sandstone and silt soils with up to 18% active limestone. Its Tempranillo grapes aged in barrel and then were racked back to stainless steel, where it was left to mature until it was bottled. It's mineral and balsamic, expressive, open and fresh, with beautiful elegance. It's classical with even a Bordeaux twist. It shows pretty much like the sample I tasted 12 months ago, expressive and open, aromatic and perfumed, with great freshness and balance, vibrant and energetic, juicy with fine-grained tannins and with terrific balance and purity. 5,000 bottles were filled in June 2020.

More Info

里奥哈
1
99 (JS)

保税价格

¥ 7,620.00

James Suckling (99)

A complete, fresh and complex Artadi single-plot wine with lovely subtlety. Spanish cigars, mineral, cocoa powder, some fine herbs, mussels and spices, with a background of fresh yet ripe, concentrated fruit showing crushed blackberries and blueberries. Tight, powerful but still dynamic and silky, with a mineral tinge to the supple fruit core in the middle. Not trying too hard. Impeccable balance with finesse! Tempranillo. From organically grown grapes. Already drinkable now, but better hold for a few years. Best from 2025.

More Info

里奥哈
1
-

保税价格

¥ 7,080.00

里奥哈
2
-

保税价格

¥ 5,140.00

里奥哈
1
-

保税价格

¥ 4,035.00

里奥哈
2
-

保税价格

¥ 3,080.00

里奥哈
1
95-96 (WA)

保税价格

¥ 4,440.00

Wine Advocate (95-96)

The tank sample of the 2018 San Lázaro, which was the final blend after some eight months in barrique, showed really well and confirmed my idea that this could be the third single-vineyard wine in quality after El Pisón and El Carretil. It's a wine of finesse and perfume, of subtleness and length but without lacking power or concentration. It has a beautiful combination of violets and cassis with very fine tannins. It has inner strength and tension, a recurring note when it comes to these 2018s. Very promising, in line with the superb 2016. They expected to fill some 2,000 bottles in the summer of 2020.

More Info

里奥哈
1
97 (WA)

保税价格

¥ 4,480.00

Wine Advocate (97)

The bottled 2019 San Lázaro delivered what the sample promised back in January. It comes from one of my favorite vineyards, a 1.62-hectare plot in Laguardia just below Bodegas Palacio that was planted in 1956 on limestone and sand soils that produce elegant wines. In the past, the vineyard contributed to the Pagos Viejos blend that has been bottled separately since 2016 and has quickly taken a leading position in the Artadi hierarchy. The wine is complex and nuanced, serious and insinuating, with fine aromas of herbs and flowers and a lively and balanced palate with ultra fine, abundant and chalky tannins. Superb! 2,000 bottles were filled in June 2021.

More Info

里奥哈
1
-

保税价格

¥ 3,995.00

里奥哈
1
-

保税价格

¥ 2,110.00

里奥哈
1
100 (WA)

保税价格

¥ 29,220.00

Wine Advocate (100)

The 2004 El Pison stands out from its peers. It has a deeper color than the 2007 with a splendid nose that jumps from the glass. Notes of espresso, balsamic, Asian spices, pain grille, mineral, and black cherry lead to a velvety, mouth-filling, deep wine that effortlessly combines elegance with power. It should easily drink well for another 30-40 years. It simply does not get any better.

More Info

里奥哈
1
97 (WA)

保税价格

¥ 15,240.00

Wine Advocate (97)

The 2008 Vina el Pison comes from a single vineyard planted in 1945 on pure limestone. It is the epitome of elegance with a sensual bouquet, a silky texture, already complex flavors, and a lengthy, pure finish. It will offer at least a 20 year lifespan, just long enough for the 2009 to be hitting its stride.

More Info

里奥哈
1
94 (WA)

保税价格

¥ 10,760.00

Wine Advocate (94)

The 2009 Vina El Pison is born from 67-year-old vines within a real clos rather than the fictitious ones that abound. I could be pedantic and separate it from Juan Carlos- wines under the Artadi umbrella, but like my predecessor, I will include it here. The 2009 has a fresh, floral, Margaux-like bouquet with fine delineation and intensity. The palate is full-bodied with an almost impenetrable carapace of licorice-tinged black fruits, minerals, citrus peel and a powerful, sensual finish. Perhaps impressive more than pleasurable (at the moment), this behemoth will need a decade in the cellar before it will shine. Drink 2022-2040.

More Info

里奥哈
1
-

保税价格

¥ 12,950.00

里奥哈
1
99 (WA)

保税价格

¥ 10,760.00

Wine Advocate (99)

The flagship single-vineyard 2018 Viña El Pisón has to be one of the finest vintages for this bottling. It's named after a plot of 2.4 hectares planted in 1945 in the village of Laguardia. The vineyard is an amphitheater with changing soils of limestone, clay and sandstone with a deep combination of limestone and silt. The grapes underwent a 24- to 48-hour cold soak and fermented with indigenous yeasts in oak vats for 10-12 days, during which time the grapes were foot trodden twice per day. It matured in French oak barrels for nine months. There's something mysterious about this Pisón; it's subtle and elegant, a little austere and reticent at first. The palate is seamless, silky with very refined tannins, with gobsmacking balance and a very long, clean and precise finish. This is superb. 6,600 bottles were filled in June 2020.

More Info

里奥哈
1
99 (GPN)

保税价格

¥ 12,100.00

Guía Peñín (99)

Style: complex, with personality. Colour: bright cherry. Aroma: expressive, characterful, red berry notes, ripe fruit, spicy, balanced, chalk, new oak. Flavour: flavourful, long, chalky, spicy, ripe fruit, round tannins, complex.

More Info

里奥哈
5
-

保税价格

¥ 10,500.00

里奥哈
4
93 (WA)

保税价格

¥ 2,220.00

Wine Advocate (93)

This terrific winery's 2003 Vinas de Gain is a 100% old vine Tempranillo from their high altitude vineyard sites in Rioja Alavesa. A superb entry level effort, it reminded me of the famed Pomerol, l'Evangile. Wonderful scents of black raspberries, sweet cherries, smoke, truffles, and earth soar from the glass of this dense ruby/purple-hued 2003. Ripe and elegant, with beautiful purity, superb intensity, and a long, smooth finish, it is a glorious Rioja to enjoy over the next 5-7 years.

More Info

里奥哈
1
94 (JS)

保税价格

¥ 1,370.00

James Suckling (94)

Impressive, rich, dark-cherry and blackberry aromas with nicely cut oak influence. The palate has a sleek, smooth-honed feel with such impressive freshness and depth. Stunning, vibrant finish. 100% tempranillo from several plots around Laguardia. Drink or hold.

More Info

里奥哈
1
94 (TA)

保税价格

¥ 1,370.00

Tim Atkin MW (94)

Finca de Los Locos is a single, 2.8-hectare parcel in Baños de Ebro, planted with Tempranillo, 20% Graciano and 2% Viura. Paler in colour than some of the other Artuke wines, it has subtle, stony reduction, refreshing black cherry and raspberry fruit and nicely understated oak. Long and well balanced with almost no oak influence. 2024-32

More Info

里奥哈
1
94 (TA)

保税价格

¥ 1,390.00

Tim Atkin MW (94)

A vineyard doesn't have to be old to make great wines, as this 3.9-hectare parcel, planted at 720 metres in Samaniego as recently as 2013 demonstrates. Balanced, chalky, racy and refreshing, with chiselled acidity, understated oak influence, bramble, blackberry and cranberry fruit and a long, tapering finish. 2024-32

More Info

里奥哈
1
91 (TA)

保税价格

¥ 888.00

Tim Atkin MW (91)

I like new wood less and less," says Arturo de Miguel, who uses none whatsoever on this cuvée of Tempranillo with 13% Graciano from the villages of Ábalos, Samaniego, San Vicente and Villabuena. Sappy, crunchy and refreshing, with lots of bramble and red cherry fruit and a hint of stony reduction. 2024-27

More Info

里奥哈
1
-

保税价格

¥ 13,205.00

里奥哈
3
-

保税价格

¥ 12,160.00

里奥哈
1
95 (WA)

保税价格

¥ 14,185.00

Wine Advocate (95)

A real blockbuster, the 2003 La Vina de Andres Romeo (100% Tempranillo) is exquisite, but, again, a mere 200 bottles will make it to America. Lucky readers who run across a bottle, and have the financial resources to purchase it, are in for a decadent treat.

More Info

里奥哈
2
98 (WA)

保税价格

¥ 3,910.00

Wine Advocate (98)

The 2005 La Vina de Andres Romeo is a bit more brooding and backward. Opaque purple/black, it has an alluring nose of toasty oak, pencil lead, scorched earth, espresso, truffle, and blackberry. Tightly wound but beautifully balanced, this is an opulent effort that requires patience. Give it 10-12 years of further aging and drink it from 2020 through 2040.

More Info

里奥哈
10
-

保税价格

¥ 2,720.00

里奥哈
15
95 (VN)

保税价格

¥ 3,285.00

Vinous (95)

(100% tempranillo, sourced from a single 3.5-hectare vineyard that reportedly yielded 10 hectoliters per hectare; fermented in a single open-top wooden tank; 15% alcohol): Opaque purple. Intoxicating scents of black raspberry, boysenberry, incense and violet, along with notes of black pepper and anise. Lush, spicy and expansive, offering powerful red and dark berry compote and vanilla flavors and an exotic candied floral quality. Clings impressively on the endless, subtly tannic finish, energized by zesty acidity.

More Info

里奥哈
2
96 (TA)

保税价格

¥ 797.00

Tim Atkin MW (96)

Malvasía Riojana, or Rojal, is a very rare grape that's only found in old co-planted field blends as a rule. But here it takes centre stage in a brilliant wine that's fermented and aged on its lees in concrete eggs. Saline, focused and refined, with jasmine and wet stone aromas, a creamy mid palate and a long, focused, pithy finish. A stunning debut. 2021 – 2026.

More Info