Navarra
Navarra, a charming wine region in northern Spain, is renowned for its exceptional fine wines. With a winemaking tradition dating back centuries, Navarra offers a captivating range of wines that showcase the region's unique terroir and winemaking expertise. From the lush vineyards nestled between the Pyrenees and the Ebro River, Navarra produces wines that captivate the senses and leave a lasting impression.

One of the most famous vineyards in Navarra is Bodegas Chivite, a family-owned winery with a prestigious history that spans over 11 generations. Their wines, such as Gran Feudo and Colección 125, are highly regarded for their quality and character, exemplifying the essence of Navarra winemaking.

Navarra is known for its diverse range of wines, including red, white, and rosé. The region is renowned for its red wines made from native grape varieties like Tempranillo, Garnacha, and Graciano. Notable vineyards such as Bodegas Ochoa, Bodegas Nekeas, and Bodegas Príncipe de Viana craft exceptional red wines with a perfect balance of fruit, structure, and elegance.

Navarra's white wines, often made from Viura, Chardonnay, and Moscatel grapes, are equally impressive. Bodegas Marco Real, Bodegas Otazu, and Bodegas Camilo Castilla are among the notable vineyards that produce exceptional white wines with vibrant acidity, enticing aromatics, and a crisp, refreshing character.

The region is also famous for its rosé wines, which have gained popularity worldwide. Bodegas Vega del Castillo, Bodegas Castillo de Monjardín, and Bodegas Azul y Garanza create delightful rosé wines that exhibit a beautiful pale pink color, aromatic complexity, and a perfect balance between fruitiness and freshness.

Navarra's fine wines beautifully reflect the region's diverse landscape, from the high-altitude vineyards of Valdizarbe to the warmer areas around the Ebro River. Whether you're indulging in a bold and robust red, a crisp and aromatic white, or a refreshing and elegant rosé, Navarra's wines offer a journey of flavors that capture the essence of this picturesque Spanish wine region.
Navarra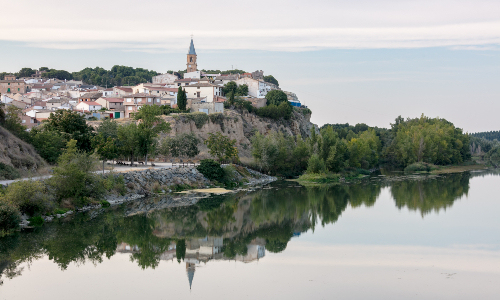 产品名
地区
数量
分数
价格

纳瓦拉
1
94 (WA)

保税价格

¥ 1,435.00

Wine Advocate (94)

The 2017 Santa Cruz de Artazu is a lighter style, more elegant with better freshness (it has a very good pH), keeping the typicity of the Garnacha from the zone. This comes from small plots planted with old vines that survived the "concentración parcelaria" (a land consolidation exercise that destroyed the majority of old vineyards). It has a fine palate with vibrant flavors, great purity and very integrated oak. Really great showing for this bottling, one of the best I remember. It matured in 500-liter oak barrels for 10 months. It's very drinkable. 6,000 bottles were filled in September 2019.

More Info

纳瓦拉
4
95 (WA)

保税价格

¥ 875.00

Wine Advocate (95)

Both wines from 2018 showed very fresh and young, younger than you'd have anticipated. The 2018 El Terroir follows the path of previous vintages and is a Garnacha selection of their organic and biodynamically farmed plots (but not certified), fermented with indigenous yeasts and matured in barrel for 18 months. It's clean and aromatic and has herbal freshness, a certain leafiness that even makes me think of Mencía. The oak is neatly integrated and folded into the wine, which comes through as balanced and elegant, with a Mediterranean twist that is characteristic from San Martín. It has a medium to full-bodied palate with very fine, chalky tannins. 24,000 bottles produced. It was bottled in October 2022.

More Info

纳瓦拉
1
97 (WA)

保税价格

¥ 1,570.00

Wine Advocate (97)

No 2017 was produced, so after the 2016 I tasted a while ago, we jump to the 2018 La Dama, vinified by Enrique Basarte and Elisa Úcar and blended and bottled by Raúl Pérez, the new owner of the project. They always look for a more delicate expression of Garnacha from selected stonier plots of old head-pruned and dry-farmed vines in the village of San Martín de Unx that are worked organically and biodynamically but are not certified. The wine is stunning, elegant and aromatic, with depth, complexity and grip. It's incredibly young and expressive and doesn't show its age at all; it has a refined nose and is quite fruit-driven and floral, with very integrated oak (like never before), supple flavors and very fine tannins. It has good ripeness and contained alcohol (13.8%) and good freshness and acidity (with a pH of 3.46 and 6.3 grams of tartaric). 10,000 bottles were filled in October 2022.

More Info

纳瓦拉
3
-

保税价格

¥ 1,400.00

纳瓦拉
1
90 (JD)

保税价格

¥ 536.00

Jeb Dunnuck (90)

The 2017 El Chaparral De Vega Sindoa comes from very old Grenache vines (ungrafted and some pre-phylloxera) and was brought up in a mix of new and used barrels. Ripe cherries, orange blossom, underbrush, and white pepper notes all flow to a beautifully elegant, complex Garnacha that has good acidity, plenty of fruit, and a clean finish

More Info

纳瓦拉
2
96 (WA)

保税价格

¥ 2,190.00

Wine Advocate (96)

The 2021 Señora de Las Alturas comes from an ancient plot on the gravel and silt soils on the banks of the Alhama River that they call Pontigos that also produces their wine Lecciones de Vuelo that is a collaboration with a different winemaker every year. It fermented in open 1,000-liter pools with 5% Garnacha Blanca followed by malolactic and 15 months' élevage in second use 500-liter French oak barrels. It has moderate ripeness, a medium-bodied palate, moderate alcohol (13.66%) and very fine tannins. There is a turn toward finesse and elegance in all the wines, and it is also noticeable here. This is a wine that feels very consistent too. It's serious and balanced, with elegant notes of flowers, berries and herbs and super fine gained tannins. Superb, and as with many wines, this is their finest vintage to date. 2,000 bottles produced. It was bottled in January 2023.

More Info

纳瓦拉
2
95+ (RP)

保税价格

¥ 3,140.00

Wine Advocate - Robert Parker (95+)

The 2019 Punto de Fuga Corral del Mate is from their joint venture with Matías Michelini from Argentina. It comes from a 0.53-hectare plot within the paraje Corral de los Altos on limestone, schist and alluvial soils and was fermented with 100% full clusters in 1,000-liter vats and matured in a used 500-liter oak barrel for 15 months. It has the finesse of the Lecciones de Vuelo and the ripeness and depth of the Señora de las Alturas, so it's quite complete with the purity and freshness that seems to define their style, with imperceptible oak and varietal character but with great complexity and nuance. It's medium-bodied and reveals very fine, chalky tannins and terrific balance, finishing dry with the limestone sensation. A wine to convince terroir deniers... Only 660 bottles of this low-yielding vintage were filled in July 2021.

More Info