Catalonia
Catalonia, located in north-eastern Spain, is a vibrant and diverse wine region celebrated for its exceptional fine wines. With a rich winemaking heritage that dates back centuries, Catalonia offers a captivating array of wines that highlight the region's unique terroir and winemaking traditions.

One of the most famous vineyards in Catalonia is Bodegas Torres, a renowned winery with a long-standing tradition of producing exceptional wines. Their wines, including Mas La Plana and Gran Coronas, showcase the region's commitment to quality and innovation. Catalonia is known for its red wines, with the Priorat and Penedès regions standing out as premier wine-producing areas. Vineyards such as Clos Mogador, Alvaro Palacios, and Mas Doix produce exceptional red wines that embody the power, complexity, and elegance for which Priorat is renowned. Penedès, on the other hand, is celebrated for its Cava sparkling wines, with renowned producers like Freixenet and Codorníu leading the way.

The region is also known for its white wines, with the Penedès and Empordà regions producing notable examples. Vineyards such as Parés Baltà, Gramona, and Can Ràfols dels Caus craft exceptional white wines that exhibit freshness, complexity, and a distinctive expression of their terroir.

Catalonia's fine wines beautifully reflect the region's diverse landscapes, from the coastal areas of Alella and Empordà to the inland regions of Priorat and Penedès. The wines of Catalonia showcase a harmonious balance between tradition and innovation, with winemakers embracing both indigenous and international grape varieties.
Catalonia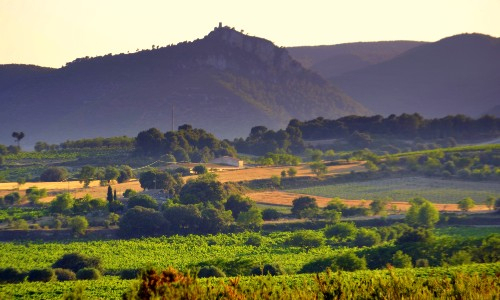 产品名
地区
数量
分数
价格

Priorat
1
97-100 (WA)

保税价格

¥ 7,890.00

Wine Advocate (97-100)

I also tasted the very young barrel sample of the 2021 Quiñón de Valmira, a year with stress and small berries with a very mild summer that resulted in a wine with great concentration and finesse, with a pH of 3.46 and six grams of acidity (higher than the average). The wine is still a baby (six months old!), but it feels quite balanced and is not oaky at all; it is harmonious, clean and quite expressive, even if it has lots of concentration and a big structure. This is a great vintage of Valmira in the making, super balanced, perhaps the finest ever? They expect to fill some 4,300 bottles around April 2023.

More Info

Priorat
1
97 (DC)

保税价格

¥ 7,890.00

Decanter (97)

Quiñón de Valmira is not just a wine. As Palacios' top Rioja it leads the transformation of Rioja Baja, now known as Rioja Oriental; puts the overlooked Garnacha back centre stage; and highlights the Sierra de Yerga as a fine vineyard origin. The palate is very appealing: succulent with a resounding red fruit and dark cherry ripeness, plus a lift of orange zest. Vivid, penetrating and long. Alvaro Palacios says Valmira is 'all about the aftertaste and the length'. Viñedo singular. 5,552 bottles produced.

More Info

加泰罗尼亚
1
-

保税价格

¥ 2,065.00

加泰罗尼亚
2
96 (JS)

保税价格

¥ 1,850.00

James Suckling (96)

Subtle nose of dried rose petals, slate and hints of red cherries. Full body, a beautiful structure and a dense and harmonious texture. Single vineyard. So delicious now. Why wait?

More Info

加泰罗尼亚
1
96 (JS)

保税价格

¥ 4,375.00

James Suckling (96)

Subtle nose of dried rose petals, slate and hints of red cherries. Full body, a beautiful structure and a dense and harmonious texture. Single vineyard. So delicious now. Why wait?

More Info

加泰罗尼亚
3
97 (JS)

保税价格

¥ 2,120.00

James Suckling (97)

This is a very tight and fine-grained red with a compressed mouthfeel. The fruit comes through to a class and elegance. Such length. Ethereal structure. Unique. Drink or hold.

More Info

加泰罗尼亚
1
97 (JS)

保税价格

¥ 4,190.00

James Suckling (97)

This is a very tight and fine-grained red with a compressed mouthfeel. The fruit comes through to a class and elegance. Such length. Ethereal structure. Unique. Drink or hold.

More Info

加泰罗尼亚
1
96+ (WA)

保税价格

¥ 2,065.00

Wine Advocate (96+)

The origin of everything here and the first single-vineyard red, the 2018 Finca Dofí excels in 2018. Those 10 hectares planted 20 years ago in the village of Gratallops are mostly Garnacha, but the wine also has some 8% Cariñena and 2% white grapes. They all fermented after being destemmed and lightly crushed in oak vats with indigenous yeasts. The wine matured in large oak barrels (bocoyes and foudres) for 16 months. This is the refined version of the Gratallops (the vineyard is in the village!) but with an extra degree of depth and complexity, especially nuance and elegance, showcasing the captivating finesse and harmony of the vintage, which is a little in the style of the 2016 with more energy. I see that these 2018s are quite transparent and show the style of the zone, the iron soils, the dusty roads and the warmth of the soils; it's round and lush, spherical but with a spike of freshness. The élevage has been polished so as to render it almost invisible. This is drinkable now, and I think it's also going to age nicely in bottle and drink nicely throughout its life. 29,540 bottles produced. It was bottled in March 2020.

More Info

加泰罗尼亚
1
96+ (WA)

保税价格

¥ 3,505.00

Wine Advocate (96+)

The origin of everything here and the first single-vineyard red, the 2018 Finca Dofí excels in 2018. Those 10 hectares planted 20 years ago in the village of Gratallops are mostly Garnacha, but the wine also has some 8% Cariñena and 2% white grapes. They all fermented after being destemmed and lightly crushed in oak vats with indigenous yeasts. The wine matured in large oak barrels (bocoyes and foudres) for 16 months. This is the refined version of the Gratallops (the vineyard is in the village!) but with an extra degree of depth and complexity, especially nuance and elegance, showcasing the captivating finesse and harmony of the vintage, which is a little in the style of the 2016 with more energy. I see that these 2018s are quite transparent and show the style of the zone, the iron soils, the dusty roads and the warmth of the soils; it's round and lush, spherical but with a spike of freshness. The élevage has been polished so as to render it almost invisible. This is drinkable now, and I think it's also going to age nicely in bottle and drink nicely throughout its life. 29,540 bottles produced. It was bottled in March 2020.

More Info

加泰罗尼亚
1
97 (WA)

保税价格

¥ 4,080.00

Wine Advocate (97)

The single-vineyard red 2019 Finca Dofí comes from the 14 hectares of vines planted across three parajes (lieu-dits) in Gratallops. This year, it's 87% Garnacha, 12% Cariñena and 1% white grapes (Garnacha Blanca and Macabeo. It fermented in oak vats with indigenous yeasts and matured in large oak barrels (bocoyes and foudres) for 14 months. It's classy, elegant and fresh with very clean aromas and flavors, not lacking concentration or power. There is superb definition and purity here; it has to be the finest and most elegant Dofí to date. It has finer tannins and more elegance than La Baixada this year. The 2018 was fragrant and this has more clout but superb balance. These two vintages have been great for Dofí. I still remember the 2005, hard as nails then and what the wine is now—spherical and velvety. Dofí on a roll... It was bottled in May 2021, and 21,146 bottles were produced.

More Info

加泰罗尼亚
1
-

保税价格

¥ 1,705.00

加泰罗尼亚
1
96-98 (WA)

保税价格

¥ 1,525.00

Wine Advocate (96-98)

The more backward of the 2021s was the 2021 Finca Dofí, which was very primary and smelled almost like the fermentation vessels, and it took time in the glass to open up. The blend is higher in Garnacha, and they couldn't use the Picapoll as it didn't work well that cool year, so it's 90% Garnacha, 9% Cariñena and 1% white grapes. It achieved 14.5% alcohol but kept better freshness than in 2020, a constant in the 2021 wines. Very promising. They expect 24,000 bottles. It should be bottled around April 2023.

More Info

加泰罗尼亚
1
96-98 (WA)

保税价格

¥ 3,135.00

Wine Advocate (96-98)

The more backward of the 2021s was the 2021 Finca Dofí, which was very primary and smelled almost like the fermentation vessels, and it took time in the glass to open up. The blend is higher in Garnacha, and they couldn't use the Picapoll as it didn't work well that cool year, so it's 90% Garnacha, 9% Cariñena and 1% white grapes. It achieved 14.5% alcohol but kept better freshness than in 2020, a constant in the 2021 wines. Very promising. They expect 24,000 bottles. It should be bottled around April 2023.

More Info

加泰罗尼亚
1
93 (VN)

保税价格

¥ 2,460.00

Vinous (93)

Bright violet color. Allspice, anise and woodsmoke aromas complement vibrant red fruits and floral pastille. Juicy, tightly focused raspberry and bitter cherry flavors expand and sweeten with air, as hints of cola and spicecake develop in the glass. The very long finish shows outstanding focus, supple tannins and a lingering floral quality.

More Info

加泰罗尼亚
1
94-96 (WA)

保税价格

¥ 2,100.00

Wine Advocate (94-96)

The blend of the 2021 Gratallops was higher in Cariñena than in the 2020 (25%), which resulted in a wine with a lower pH (3.37), the tendency that makes the 2021s more vibrant. They used some 40% full clusters for the fermentation (rather than adding the stems like in the past). The wine has acid berry freshness; and right now it's a bit difficult with the tannins and the acidity, but one more year of élevage should make it more polished. It should be long-lived and fresh. The expect some 17,300 bottles to be filled around April 2023.

More Info

加泰罗尼亚
1
91-93 (VN)

保税价格

¥ 5,415.00

Vinous (91-93)

Bright ruby. Highly nuanced aromas of blackcurrant, pungent minerals and spicy, toasty oak. Large-scaled yet light on its feet. Terrific fruit carries through to a very long, ripely tannic aftertaste. Kept fresh and lively by a flavor of licorice and very good acidity. A great showing for a vintage with a modest reputation for red wine in Spain. Palacios used more heavily toasted barrels following the rainy harvest of '97, but eschews charred oak in richer years like '98.

More Info

加泰罗尼亚
1
99 (WA)

保税价格

¥ 43,450.00

Wine Advocate (99)

The 2010 L'Ermita is approximately 90% Garnacha, 8% Carinena and 2% white grapes, mainly Garnacha Blanca, since that is the mix found in the vineyard, and it has been like this since the 2006 harvest. Every year the grapes are hand-picked and then the 45-odd people that take part in the harvest sit down and go through each and every bunch removing the grapes that are not pristine. So even if the harvest is late, there is no over ripeness in the wine, as all the raisined fruit is removed. The bunches, which are very small and loose, go through a sorting table and the selection is stricter. Nothing less than perfect makes it into the fermentation vats. I saw a beautiful video of the 2013 harvest, which happened later than ever, on November 5, which was breathtaking. Going back to the 2010, the grapes were picked on October 29, and the final yield was a tiny 7.8 hectoliters per hectare, which resulted in 1,254 bottles and a bunch of magnums (and bigger-sized bottles) from the 1.40 hectares of vines. The grapes fermented in oak vats and then aged for 16 months in new French oak barrels. The wine presents itself with an incredible freshness, the nose full of citric notes of blood orange (Alvaro talks about grapefruit), Mediterranean herbs, licorice, violets and aniseed, pure elegance and subtly, with electric, lively acidity (according to the technical data, it has a pH of 3.3, a figure far more common in whites than in reds), pungent flavors, and very good grip. Graceful, elegant, vibrant. The oak is imperceptible, fully integrated into the wine, both in the nose and the palate, as only the very best grapes in the world can do: this is a truly world-class wine, and one of the best (if not the best) L'Ermita ever produced. It's approachable now, but it should age and improve slowly and for a very long time. Drink 2014-2025+.

More Info

加泰罗尼亚
1
97-100 (WA)

保税价格

¥ 23,090.00

Wine Advocate (97-100)

As I saw in some of the other wines, there is a lot more Cariñena in the still unbottled 2016 L'Ermita than in the 2015. The varietal breakdown was approximately 85% Garnacha, 14% Cariñena and 1% white grapes—Garnacha Blanca, Macabeo and PX. The grapes are manually sorted and destemmed by the team that picks them and are put to ferment in an oak vat with the natural yeasts from the grapes. Malolactic was in barrique, which is where the wine was maturing when I tasted it. It has electric acidity that makes it vibrant, even if the nose might be a bit shy. I don't remember a vintage of L'Ermita with this concentration and acidity. We have to see how the élevage rounds it out, but this could be a very important vintage for L'Ermita. The expectation is to bottle some 2,000 bottles of this in May/June 2018.

More Info

加泰罗尼亚
2
99 (WA)

保税价格

¥ 19,720.00

Wine Advocate (99)

The flagship 2018 L'Ermita is already classified as Gran Vinya Classificada, the new category of grand cru vineyards from the Priorat appellation of origin. Like the 2017, the blend here is mostly Garnacha with about 20% Cariñena (the highest for this wine) and 2% of white grapes. It fermented with indigenous yeasts in oak vats with a maceration of 56 days and matured in oak barrels of different sizes for 14 months. The grapes were picked quite late but on the same date as the previous year, the 17th of October, because the vineyard is so regular. The wine is aromatic, intense and elegant, with a lifted nose and a high-pitched note of violet pastille, more refined than the Aubaguetes and Baixada. It is classical and proportioned, with contained and complex aromas and flavors and lots of energy, light in its feel but with inner power and strength. As with most great wines, it should develop nicely and for a long time in bottle but will drink well throughout its life. Grand vin, yes. 2,440 bottles were filled in April 2020.

More Info

加泰罗尼亚
1
-

保税价格

¥ 26,220.00

加泰罗尼亚
1
99-100 (WA)

保税价格

¥ 21,515.00

Wine Advocate (99-100)

The 2021 L'Ermita is a legend in the making, with 13.9% alcohol, the lowest ever, mind-boggling finesse and detail, purity, symmetry, elegance and great freshness that makes it vibrant with a low pH of 3.31 and 6.18 grams of acidity. These parameters should make it long-lived, and the wine is always going to be vibrant and develop citrus nose of grapefruit and orange peel. It's a powerful wine with plenty of energy, abundant tannins, even more fine and elegant than those from the 2020 I tasted next to it, and with great balance. It has a high percentage of Cariñena, much higher than the 2020, and comes down to 75% Garnacha, 24% Cariñena and 1% whites. Prices will be increased around 16%. They expect to produce some 2,800 bottles of this 2021 in April 2023.

More Info

加泰罗尼亚
1
-

保税价格

¥ 1,510.00

加泰罗尼亚
4
-

保税价格

¥ 2,940.00

加泰罗尼亚
1
-

保税价格

¥ 3,580.00

加泰罗尼亚
4
-

保税价格

¥ 2,645.00

加泰罗尼亚
10
-

保税价格

¥ 1,850.00

加泰罗尼亚
10
-

保税价格

¥ 1,795.00

加泰罗尼亚
1
96 (DC)

保税价格

¥ 3,825.00

Decanter (96)

A village wine in the Priorat classification, taken from five parcels of very old vines at different elevations and slopes in Gratallops. Fermented in open-top 225L barrels and aged in French new oak. In a vertical of 2017, 2014 and 2012, the 2014 shone: very dark fruit, a powerful impression, then a delicious lift of orange zest, fresh herbs, eucalyptus. Wonderfully complex. Textured, with fine grain and a long, satisfying finish. Drinking Window 2021 - 2027

More Info

加泰罗尼亚
6
90 (VN)

保税价格

¥ 777.00

Vinous (90)

(100% garnacha) Ruby-red. Nose dominated by nutty oak. Fat and sweet in the mouth, with highly concentrated flavors of red fruits and nuts. A tad dry on the end, though the tannins are not especially pronounced. I'd like to have seen a bit more nuance and length here. Perhaps best suited for drinking over the next few years. (European Cellars, Charlotte NC

More Info

加泰罗尼亚
1
-

保税价格

¥ 5,370.00