Austria
Austria is renowned for its top-quality wines that boast distinctive flavour profiles and are crafted using traditional winemaking methods. This Central European nation produces a diverse range of wines, from refreshing whites to robust reds, each with its own individual style and taste.

Grüner Veltliner, a dry white wine renowned for its zesty acidity, tangy citrus notes, and herb-infused undertones, is one of Austria's most celebrated wines. Other popular grape varieties in Austria include Riesling, Blaufränkisch, and Zweigelt.

Austrian winemakers are recognized for their expertise in utilizing traditional winemaking techniques such as ageing wines in oak barrels and using indigenous grape varieties. This approach results in wines that exhibit unique flavours and aromas that are distinct to the region.

With its diverse terroir and winemaking techniques, there is always something new and exciting to explore. Some of the top wineries worth mentioning include Domane Wachau, FX Pichler, Hirsch, and Kracher, which have earned a reputation for producing some of the finest wines in Austria. View below to explore our curated selection from Austria. 
Austria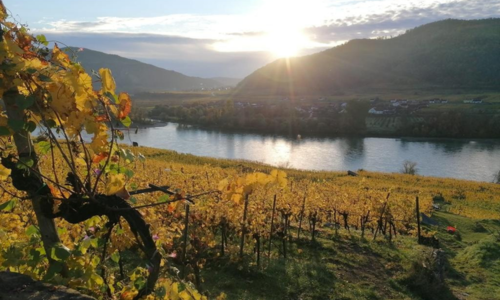 产品名
地区
数量
分数
价格

下奥地利
1
95 (TWF)

保税价格

¥ 3,590.00

The Wine Front (95)

Curious, as my mind went to Jura pretty quickly, then came back to more citrusy things, but saline for sure, sea spray, heaps, nuttiness, yep. What a treat! A serious, serious white wine of depth, insane freshness, mouth puckering tang and freshness. It's a wine that sets you back in your seat a bit; big impact, not a big wine. So much detail here in texture, layers of fruit and savouriness, minerality and vibrancy. Wildly delicious too. Length for days as well.It's a wine that sets you back in your seat a bit; big impact, not a big wine.

More Info

下奥地利
1
97 (WE)

保税价格

¥ 2,255.00

Wine Enthusiast (97)

Only the most subtle notions of wet oakmoss, citrus peel and yeast escape on the shy nose. This is absolutely honed and taut, but time in the glass allows salty miso and crushed fennel aromas to shine through. A glint of ripe pear joins in but the utter, precise, stony freshness will take a while to unravel. This is indeed a wine to be treasured for decades. Drink 2025–2050.

More Info

下奥地利
1
-

保税价格

¥ 3,280.00

The case contains one bottle each of: Grüner Veltliner Smaragd Ried Axpoint 2017 (90 Points, Wine Advocate) Grüner Veltliner Smaragd Ried Achleiten 2017 (95 Points, Wine Enthusiast) Grüner Veltliner Smaragd Ried Kellerberg 2017 (95 Points, Wine Enthusiast) Grüner Veltliner Smaragd Ried Kirnberg 2017 Riesling Smaragd Ried Achleiten 2017 (96 Points, Wine Enthusiast) Riesling Smaragd Ried Kellerberg 2017 (91 Points, Wine Advocate) Riesling Smaragd Ried Loibenberg 2017 (92 Points, Wine Enthusiast) Riesling Smaragd Ried Singerriedel 2017 (94 Points, Wine Advocate) Roter Traminer Reserve Ried Setzberg 2017 ABV's: - Grüner Veltliner Smaragd Ried Axpoint 2017 - 13.5% - Grüner Veltliner Smaragd Ried Achleiten 2017 - 14.5% - Grüner Veltliner Smaragd Ried Kellerberg 2017 - 14.0% - Grüner Veltliner Smaragd Ried Kirnberg 2017- 13.5% - Riesling Smaragd Ried Singerriedel 2017- 13.5% - Riesling Smaragd Ried Achleiten 2017 - 14.0% - Riesling Smaragd Ried Kellerberg 2017 - 14.0% - Riesling Smaragd Ried Loibenberg 2017 - 13.5% - Roter Traminer Reserve Ried Setzberg 2017- 13.0%

More Info

下奥地利
1
-

保税价格

¥ 2,735.00

下奥地利
1
96 (WE)

保税价格

¥ 2,765.00

Wine Enthusiast (96)

A subtle but pure note of Mandarin orange rises from the glass. On the palate, a far more lemony flavor takes over, reminiscent as much of fresh, ripe Amalfi lemon peel as of candied lemon. It is pervasive and driven, filling mouth and mind with its citrus richness and allure. There is drive, concentration, ripeness and zest. The finish is long, dry and very appetizing.

More Info

下奥地利
1
98 (WE)

保税价格

¥ 1,720.00

Wine Enthusiast (98)

A gentle hint of ripe tangerine peel immediately hits the nose. With more air, this unfolds to include notions of ripe blood orange and Mandarin, too. The palate comes in with steely concentration that speaks as much of absolute freshness as of glorious ripeness. The flavors are pristine, contoured by immense raciness. There is something steely and stony at the very core that radiates utter freshness. Drink by 2050.

More Info

下奥地利
1
100 (JS)

保税价格

¥ 4,170.00

James Suckling (100)

Super-concentrated and super-elegant, this is as refined as dry riesling can be. And after you've taken in the ravishing beauty of the peachy fruit, the lime freshness and what they do for each other, comes a tidal wave of crushed-rock minerality that sweeps you away. From organically grown grapes. Vegan. Drink or hold.

More Info

下奥地利
2
-

保税价格

¥ 3,420.00

下奥地利
1
100 (WA)

保税价格

¥ 15,345.00

Wine Advocate (100)

Fermented and aged in 500-liter tonneaux, the 2018 Grüner Veltliner Unendlich is intense in its radiant lemon yellow color. Aged on the full lees for a year and assembled about four weeks prior to bottling, the 2018 opens with a very intense, complex and finely oaky bouquet of concentrated pineapples, ripe stone fruits and some dashes of fresh lemon juice. Full-bodied, rich and round on the palate, with remarkably fine acidity and precision, this is a very intense, powerful and creamy-textured Unendlich with tropical and hedonistic fruit aromas but this precise and sharp Kellerberg acidity that cuts through like a laser sword. The 2018 Unendlich is incredibly long but keeps the focus and precision and finishes not only fresh but also finessed. Incredible. The 500-liter Meursault barrels were just perfect for this wine and deliver not only an aromatic spiciness and warm complexity but also very fine tannins and this transparency that stainless steel would never would have caused. This is amazing wine. Wine lovers of the world, unite and take over! The nose is very intense and stimulating, but there is nothing vulgar. The finish is enormously intense, rich and sweet but with sharp crystalline acidity that brings the wine back home to the Wachau after excursions into the Rhône and Meursault. 15.5% alcohol. Tasted at the domain in June 2021.

More Info

布尔根兰州
1
-

保税价格

¥ 3,475.00

下奥地利
3
98 (JS)

保税价格

¥ 1,730.00

James Suckling (98)

This comes very close to realizing my dream of gruner veltliner! An entire microcosm of herbal, peppery and sweet vegetal (think snow peas) aromas, then a stunning mouth feel on the concentrated palate that's at once creamy yet invigorating with a ton of mineral freshness pushing the finish out in the direction of infinity. And only 13% alcohol. From biodynamically grown grapes. Drink or hold. Screw cap.

More Info

下奥地利
1
98 (JS)

保税价格

¥ 2,230.00

James Suckling (98)

The super deep, herbal nose pulls you inexorably into this very suave and complex gruner that's first succulent, then profoundly mineral, retaining a wonderful lightness of touch through the extremely long, subtle finish. From biodynamically grown grapes. Drink or hold. Screw cap.

More Info

布尔根兰州
4
-

保税价格

¥ 4,335.00

布尔根兰州
4
-

保税价格

¥ 3,310.00

布尔根兰州
3
-

保税价格

¥ 3,475.00

布尔根兰州
1
98 (JS)

保税价格

¥ 3,165.00

James Suckling (98)

A fabulously concentrated and beautifully balanced TBA, this is like diving into a fjord of tropical fruit (both fresh and dried), the vibrant acidity and salty minerality exactly counterbalancing the lushness. Very long, creamy and complete finish. A truly grand cuvee of 60% welschriesling and 40% chardonnay. Drink or hold.

More Info

布尔根兰州
1
-

保税价格

¥ 4,500.00

布尔根兰州
1
-

保税价格

¥ 3,040.00

布尔根兰州
10
-

保税价格

¥ 2,010.00

布尔根兰州
1
93 (WA)

保税价格

¥ 2,355.00

Wine Advocate (93)

The 2013 Blaufränkisch Burgenland Reserve is sourced from limestone soils and was bottled July 2015 (thus eight months longer in barrels than the regular Blaufränkisch). With a dark cherry color, the wine opens with an intense and ripe, lovely spicy dark ripe cherry flavor and a touch of cassis. Intense and more meaty on the palate than the more crystalline and charming regular 2013 Blaufränkisch, this is a full-bodied, fruit-intense, fleshy and more tannic but fresh and still pure red with a spicy finish. It should age for at least 4 or 5 years, and be matched with braised meat and red cabbage with spices like cloves and pimento. The finish is juicy and intense and the tannins become finer and finer the more aeration the wines gets. The purity and silkiness from the limestone soils shine through better now. This is still a completely introverted wine at the moment but – perhaps – the bigger, more structured and masculine Blaufränkisch next to the the "regular" one with more mealy tannins.

More Info

布尔根兰州
10
-

保税价格

¥ 2,045.00

布尔根兰州
1
96+ (WA)

保税价格

¥ 4,160.00

Wine Advocate (96+)

The Blaufränkisch Burgenland 2020 Lutzmannsburg Alte Reben comes from the oldest vines in Lutzmannsburg, which includes not only the three crus that had been singled out in 2019 but also other crus here that are too small to market them separately. This wine delivers all the ripeness, fruit intensity and concentration that Moric has been known for for almost 20 years. The wine is less precise or transparent compared to the crus, but it's dense and complex on the nose (and palate), which is ethereal and spicy and immediately begs for a decanter. Here, the wine is rich, textured and elegant, unfolding its greatness only on the finish that leaves the concentration and power of the first palate for purity, mineral freshness and endless salinity. Tannins, acidity and phenolics as well as body and concentration are in great balance here, yet at this early stage, the wine needs a lot of space and time to breathe and reveal its secrets step by step. This is definitely a wine to cellar for years, just like Clos Nouveau Bourgueil from Gauthier. That means this old-vines Lutzmannsburger may reach an even greater drinking experience in 10 years. I wouldn't miss it. 13.5% stated alcohol. Tasted in Lech in December 2022.

More Info

下奥地利
6
-

保税价格

¥ 2,185.00

下奥地利
1
-

保税价格

¥ 2,490.00

下奥地利
1
95 (JS)

保税价格

¥ 2,475.00

James Suckling (95)

An extremely subtle gruner veltliner with so much herbal complexity and mountain freshness. Ripe and racy, with so much mineral energy. Very long and precise finish that's neatly supported by the very fine tannins. From a high-altitude vineyard planted in 1979 with more than 100 clones. Drink or hold.

More Info

下奥地利
4
-

保税价格

¥ 2,370.00

下奥地利
1
97 (JS)

保税价格

¥ 2,645.00

James Suckling (97)

Superbly cool, restrained and refined, this austere, beautiful dry riesling is a slow-burn masterpiece that's only just beginning to reveal its complex white-peach, white-tea, wild-herb and dark-berry character. Super-long and mineral finish. Drink or hold.

More Info

下奥地利
3
-

保税价格

¥ 2,635.00

下奥地利
1
18+ (GM)

保税价格

¥ 2,605.00

Gault & Millau (18+)

Cool and delineated. Nuanced herbal spice. A matured wine with depth and substance.

More Info

下奥地利
1
98 (WE)

保税价格

¥ 1,730.00

Wine Enthusiast (98)

Stony savor swings as a vestige alongside the zesty citrus on the wine's closed nose. The palate starts off tight and taut, right now it is all sleek and stony. Time in the glass allows glimpses of what still lies deeply buried: a rich, profound yeastiness reverberating with peppery, salty depth. This is an astonishingly concentrated package that, may just be a time capsule that survives us. Drink 2030–2050.

More Info