Campania
Welcome to the enchanting region of Campania, a land of ancient viticulture and extraordinary wines. As an expert with a discerning palate, you possess a deep appreciation for the rich history, unique terroir, and exceptional quality that define Campania wines. Join us on a journey to explore the finest expressions of this captivating region, where illustrious vineyards, indigenous grape varieties, and winemaking expertise converge.

Campania is blessed with a diverse range of vineyards, each offering its own distinctive charm and producing exceptional wines. Among the most renowned vineyards is Mastroberardino, an esteemed estate that has been preserving Campania's winemaking heritage for centuries. Known for its meticulous vineyard practices and commitment to indigenous grape varieties, Mastroberardino crafts wines that reflect the region's authenticity and terroir.

Another prominent vineyard in Campania is Feudi di San Gregorio, a visionary estate that combines tradition and innovation to create wines of outstanding quality. With a focus on indigenous grape varieties such as Fiano, Greco di Tufo, and Aglianico, Feudi di San Gregorio showcases the unique character of Campania's terroir in its elegant and expressive wines.

Other notable vineyards in Campania include Villa Matilde, celebrated for its Aglianico-based wines of depth and complexity, and Terredora di Paolo, known for its commitment to organic farming and the production of exceptional Greco di Tufo and Aglianico wines. Cantine Antonio Caggiano and Azienda Vinicola Contrade di Taurasi are also esteemed estates, recognized for their dedication to crafting wines that epitomize the essence of Campania.

Campania's diverse terroir, volcanic soils, and Mediterranean climate provide the ideal conditions for cultivating indigenous grape varieties. Aglianico, Fiano, Greco di Tufo, and Falanghina are among the region's iconic grapes, each contributing to the unique character and personality of Campania wines.

Campania wines captivate the senses with their vibrant aromas, lively acidity, and distinct mineral nuances. From the structured and age-worthy Aglianico-based reds to the aromatic and refreshing whites, these wines offer a rich tapestry of flavors that reflect the region's volcanic origins and ancient winemaking traditions.
Campania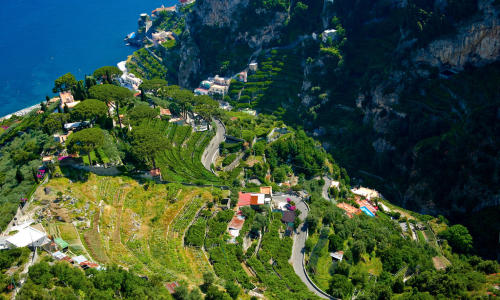 产品名
地区
数量
分数
价格

坎帕尼亚
5
-

保税价格

¥ 1,695.00

坎帕尼亚
1
-

保税价格

¥ 1,535.00

坎帕尼亚
2
-

保税价格

¥ 2,185.00

坎帕尼亚
3
-

保税价格

¥ 2,000.00

坎帕尼亚
1
90 (VN)

保税价格

¥ 1,400.00

Vinous (90)

One of the many very successful 100% merlot wines made in Italy today, this wine created an unbelievable stink a few years ago when it won a major award, and then someone pointed out that it couldn't legally have been made in that part of Campania as merlot wasn't an allowed grape variety there. All the controversy has since cleared up, leaving us with a monumental merlot that is held in high esteem everywhere. Almost black in color. Redolent of licorice, coffee liqueur, dark chocolate, overripe plum and red and bing cherry jam. Supple and silky enough to be enjoyable already; shows dark chocolate and roasted coffee bean notes as well as an attractive smokiness. Finishes extremely long, with massive tannins. A bit more finesse would only add to the pleasure of the experience.

More Info

坎帕尼亚
2
97 (WA)

保税价格

¥ 2,555.00

Wine Advocate (97)

I tasted this wine twice over the course of six months, in advance of its commercial release. The 2016 Pàtrimo is quite a wine and needs all the extra bottle time it can get. Indeed, I would suggest putting it at the back of your cellar for another 5 years (at least). It opens to a black and impenetrable appearance. This is an elaborate and beautifully constructed wine that is put together piece by piece like a jigsaw puzzle. When viewed as a whole, all those tiny pieces create a beautiful portrait of a grape as the protagonist and of a region as its context. This full-bodied Merlot has made important strides since I first tasted it. Today, it is more expansive and exuberant. It shows lots of volume and depth with elegance and finesse.

More Info

坎帕尼亚
2
92+ (WA)

保税价格

¥ 2,850.00

Wine Advocate (92+)

The 2003 is a fascinating Serpico. The wine boasts impressive concentration in its dark, rich fruit. This is an incredibly primary Serpico, with little in the way of tertiary development. Ideally, it is best left alone for another few years, but readers fortunate enough to own this are in for a thrilling ride once the wine opens up a bit. Today it remains tightly coiled but full of potential. Anticipated maturity: 2013-2023.

More Info

坎帕尼亚
1
-

保税价格

¥ 1,175.00

坎帕尼亚
40
-

保税价格

¥ 1,785.00

坎帕尼亚
1
94 (VN)

保税价格

¥ 1,370.00

Vinous (94)

The 2000 Terra di Lavoro is one of the most open, showy wines in this tasting. This is a sexy, voluptuous Terra di Lavoro bursting with dark red fruit, flowers and minerals. The 2000 is quite pleasurable today for its sheer opulence, but readers will have to wait another five years or so for the aromas and flavors to move into a more tertiary stage. As delicious as the 2000 is, it remains a relatively simple Terra di Lavoro when tasted alongside the most profound vintages.

More Info

坎帕尼亚
2
94 (WA)

保税价格

¥ 2,720.00

Wine Advocate (94)

Galardi did a fabulous job with the 2003 Terra di Lavoro in this torrid, challenging vintage. This is a dark, muscular Terra di Lavoro loaded with imposing dark fruit wrapped around a frame of sheer muscle. The 2003 turns more elegant in the glass as the aromatics reluctantly begin to emerge, but the hard 2003 tannins never fully soften. Anticipated maturity: 2013-2028.

More Info

坎帕尼亚
3
97 (VN)

保税价格

¥ 2,785.00

Vinous (97)

I am thrilled with the 2006 Terra di Lavoro, which easily lives up to the praise I bestowed upon it last year. This wasn't an easy vintage for Galardi. The weather was uneven, and a drastic selection was necessary in the cellar. Overall production was even lower in 2006 than in 2005, but the estate's commitment to quality paid off in a big way. The 2006 Terra di Lavoro presents an intriguing combination of compelling inner sweetness wrapped around a firm, imposing frame. This is a very Barolo-like Terra di Lavoro that gradually opens up to reveal is pedigree, with endless layers of fruit and an eternal finish. Readers who own the 2006 are fortunate, but significant patience is required. This is a majestic Terra di Lavoro.

More Info

坎帕尼亚
1
97+ (WA)

保税价格

¥ 5,470.00

Wine Advocate (97+)

I hope one day to have another chance to taste a vertical of Roccamonfina Terra di Lavoro because I have a strong feeling the 2010 will occupy a place among the very finest vintages produced on this tiny vineyard on the slopes of the Roccamonfina volcano. An exotic melange of tar, smoke, graphite, blackberry jam and savory herbs explode from the glass. The 2010 is intense and full-bodied, yet also incredibly elegant. A big, breathtaking wine, the 2010 continues to build all the way through to a deeply resonant, expressive finish. I would choose to leave this uttterly beguiling Campanian red alone for the better part of a decade, but readers are going to have a very hard time excercising that patience. This is a fabulous effort from proprietors Arturo and Dora Celentano, and their long-time winemaker Riccardo Cotarella. Anticipated maturity: 2020-2040.

More Info

坎帕尼亚
2
97 (JS)

保税价格

¥ 3,035.00

James Suckling (97)

Complex aromas of blackberry, stones, cracked black pepper and tar. Full body with soft, round tannins and a juicy, fruity finish. Soulful and refined from this estate. This is a magical wine from Southern Italy.

More Info

坎帕尼亚
1
96 (JS)

保税价格

¥ 1,755.00

James Suckling (96)

A powerful yet balanced red with glorious dark fruits, sweet tobacco, dark mushroom and flowers. Full body, chewy and rich tannins and a long and powerful finish. Drink in 2019 but already a star.

More Info

坎帕尼亚
5
-

保税价格

¥ 3,115.00

坎帕尼亚
1
96 (JS)

保税价格

¥ 2,380.00

James Suckling (96)

Super-elegant but really tight aglianico here with lightly peppery black fruit, colored with inky and spicy notes. With aeration, you move into the herbal zone, with fresh bay-leaf, chai and light rosemary. The palate is medium-to full-bodied and you feel all the aromas pent-up, ready to burst out. The tension here is palpable and this will need several more years before the firm tannins soften, allowing the wine to open up and flood your palate. Still be patient. Try from 2024.

More Info

坎帕尼亚
22
92 (WA)

保税价格

¥ 1,815.00

Wine Advocate (92)

The 2002 Montevetrano is another of the surprises in this tasting. The vintage was cold and damp, as it was throughout Italy, leading to a late September harvest, which is unusual here. There is a wild, unrestrained quality to the 2002 I find very appealing. Grilled herbs, blackberries, leather and spices flow from the glass. This is likely to always remain a rather firm wine, but it also has the freshness to age beautifully in the coming years. In this context the 2002 suffers a bit from the surrounding vintages, but it will be wonderful on its own, especially at the dinner table. Anticipated maturity: 2012-2022.

More Info

坎帕尼亚
8
94+ (VN)

保税价格

¥ 1,830.00

Vinous (94+)

Deep ruby-red color. Extremely elegant aromas of ripe red fruits, plum, cinnamon, nutmeg, licorice and blond tobacco, with a strong mineral streak. Silky-sweet in the mouth, with beautifully ripe fruit that's still young and wound tight. Finishes with textbook fine-grained tannins and superb subtle persistence. In style, this is not unlike a top-notch Bordeaux or a more elegantly styled Napa cabernet.

More Info

坎帕尼亚
6
93 (VN)

保税价格

¥ 1,510.00

Vinous (93)

Readers looking for a recent Montevetrano that is ready or close to ready to drink should consider the 2005. Early tertiary notes of tobacco and smoke have begun to develop. The fruit is round, soft and harmonious all the way through to the long, polished finish. This is a relatively simple, accessible Montevetrano in this context, but it should drink well reasonably early. The balance and overall sense of harmony remain that of a first class red.

More Info

坎帕尼亚
1
96 (JS)

保税价格

¥ 2,335.00

James Suckling (96)

Aromas and flavors of blackberries and blueberries with licorice and black-pepper. Medium to full body. Chewy, yet refined and balance. Another two or three years of bottle age would bring it more together. Try after 2021 to soften.

More Info

坎帕尼亚
1
97 (JS)

保税价格

¥ 1,165.00

James Suckling (97)

A red with plum and cherry character with hints of bark, mushroom and clove. It's full-bodied with layers of fruit and a long, flavorful finish. Needs time to soften, but structured and beautiful. Such finesse with strength. Really impressive. Try after 2022.

More Info

坎帕尼亚
1
97 (JS)

保税价格

¥ 2,395.00

James Suckling (97)

A red with plum and cherry character with hints of bark, mushroom and clove. It's full-bodied with layers of fruit and a long, flavorful finish. Needs time to soften, but structured and beautiful. Such finesse with strength. Really impressive. Try after 2022.

More Info

坎帕尼亚
10
-

保税价格

¥ 2,700.00