Spirits
Spirits are the highest ABV products of the alcohol family and as a result have the greatest capability to age, far beyond most fine wines. Cognac and other types of Brandy have long been collectible, with a bottle from the 1762 vintage selling at auction in 2020 for $1,500,000, and rare, aged Rums have started breaking into the mainstream but fine whisky is certainly the most desirable spirit on the world right now.
Whisky can be made in a variety of styles and is mostly produced in Japan, Ireland, the United States and most prominently, Scotland. Single malt Scotch Whisky is extremely collectible and is one of the most sought-after in the world, with the The Macallan's top releases being the pinnacle.
Fortified wines are not categorised as spirits, yet they contain a distilled spirit, usually brandy, to stop fermentation and "fortify" the wine. Port and Sherry are two of the most well-known and popular examples of fortified wines.
Spirits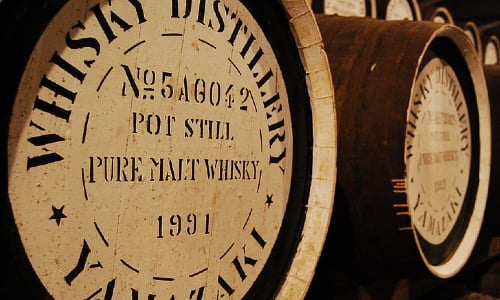 产品名
地区
数量
分数
价格

苏格兰
3
-

保税价格

¥ 1,240.00

苏格兰
1
-

保税价格

¥ 5,465.00

苏格兰
1
-

保税价格

¥ 1,690.00

From a deeply underrated distillery, this Allt-a-Bhainne bottled by the Stewart Whisky Company under their Stiùbhart Single Cask label is a glorious example of what happens when a cask is simply allowed to mature as it should. A natural cask strength of just 44.9% after 24 years makes it clear that this was maturing at an accelerated rate, losing a lot of alcohol and water but the phenolic oils that remain have led to an extremely concentrated whisky; a masterclass in bourbon-wood maturation.

Appearance: Showing a brilliant old-brass colour courtesy of the bourbon wood and that unique concentration through the ageing process.

Nose: this whisky jumps out of the glass with notes almost reminiscent of a great White Burgundy. Crushed river stones and struck flint alongside golden delicious apple and herbes de provence come across on the nose.

Palate: The palate is gentle as one would expect from the lower ABV but it is oily and viscous with a sensation of scented candle followed by sea salt, delicate earthy peat and a return of that golden delicious apple note.

Finish: Extremely long and gentle with the initial notes of crushed stones mingling with sea salt and stewed orchard fruit.

More Info

苏格兰
1
-

保税价格

¥ 4,005.00

安达卢西亚
1
98 (WA)

保税价格

¥ 1,545.00

Wine Advocate (98)

The NV Pedro Ximenez Solera 1927 is non-vintage, but does have some 1927 material in it. This is totally dark brown/amber with notes of figs, toffee, caramel syrup, molasses and coffee. It is dense, super sweet, intense, rich and an amazingly, unctuously textured, thick beverage to consume slowly and introspectively after a meal. Drink now through 2050, or even longer.

More Info

苏格兰
1
-

保税价格

¥ 13,655.00

苏格兰
3
-

保税价格

¥ 2,290.00

On the nose, faint ripples of sweet wood smoke and tart crème fraîche flow gently into bold notes of savoury fennel, celeriac and roasted tea leaves. Plunge further and discover alluring aromas of charcoal and lightly burnt toast. A splash of water releases a gust of fresh sea spray, followed by eucalyptus oil and pine. Finally, this irresistible nose ends with an unmistakable top note of saddle soap and leather. An intensely salty mouthfeel shifts like the tides into soothing medicinal notes, followed by salted peanut brittle, smoked pineapple and lime juice. Waves of aniseed lap over the palate, before rich fudge, birch tar and peat smoke crash down wildly. This is a dram that coaxes you in, and all assumptions are best left behind. Simply let this alluring spirit surprise and delight. Savoury and smoky notes collide in a sharp, intense, yet satisfyingly long finish

More Info

苏格兰
8
-

保税价格

¥ 1,570.00

This 1997-vintage Ardmore has been matured in a single refill hogshead for 21 years, before being bottled in February 2019 for Gordon & MacPhail's Connoisseurs Choice series. Soft, smoky aromas of camphor mingle with brown sugar and honey-roasted peanuts, while the palate initially offers sweet apricot jam and lemon zest notes. The peat smoke returns in gentle, rolling waves, while notes of cloudy apple juice and a salty edge linger in the finish. 248 bottles produced. Cask No. 19/021.

More Info

干邑
1
-

保税价格

¥ 911.00

苏格兰
1
-

保税价格

¥ 4,550.00

苏格兰
1
-

保税价格

¥ 2,895.00

苏格兰
1
-

保税价格

¥ 879.00

This twelve-year-old Highland Single Malt was distilled in 2008 at the Blair Athol Distillery along the banks of the River Tummel. Drawn from a single, undersized 1st Fill Bourbon Barrel previously used by the Koval Distillery, it is a youthful pale golden colour with bright aromatics of red apple and pear as well as fine vanilla and warm baking spices. A generous, well-balanced highlander from one of the oldest distilleries in Scotland dating back to 1798, this is a personal favourite and a fitting first bottling of the Stiùbhart Single Cask Selection. Bottled at a natural cask strength of 58.9% without chill filtration or added colouring.

This is the first bottling to be released by the Stewart Whisky Company.

More Info

苏格兰
1
-

保税价格

¥ 145,200.00

Blair Athol is one of the oldest distilleries in Scotland, tracing its foundation back to 1798 when it was originally set up as the Aldour Distillery, in reference to its water source, the Allt Dour - or Burn of the Otter. Located on the outskirts of the Victorian spa town of Pitlochry in Highland Perthshire, Blair Athol, along with neighbouring Edradour are two of the final vestiges of Perthshire's long lost farm distilleries.

In addition to its proud heritage, Blair Athol is also one of the most visually striking distilleries with many of the original buildings as well as an impressive dunnage where the finest casks slumber patiently waiting to be bottled. Only two official bottlings have ever hit the market; the standard, heavily sherried 12 year old and a limited edition 23 which shows the longevity of Blair Athol's spirit.

A key component of the Bell's blend of whiskies, Blair Athol is praised for its fruit-driven style with subtle earthy - not smokey - peat influence courtesy of the ancient moorlands over which its water flows. A mellow malt; the quintessential old highland gentleman, Blair Athol has as much of a bright future as it does a storied past. It is only a matter of time before the reputation of this much loved distillery catches up with the ineffable quality of their whisky.

More Info

苏格兰
1
-

保税价格

¥ 7,100.00

苏格兰
1
-

保税价格

¥ 9,105.00

苏格兰
1
-

保税价格

¥ 5,920.00

1
-

保税价格

¥ 17,750.00

苏格兰
1
-

保税价格

¥ 2,765.00

苏格兰
6
-

保税价格

¥ 3,230.00

A youthful, vibrant whisky matured in refill Bourbon hogsheads, this comes from the legendary run of spirit that made the impossible-to-find Port Charlotte PC1, which is presently unavailable anywhere in the world. The nose is loaded with waves of gentle but generous smoke, coastal sea breeze, boat oil and a touch of tarred ropes. Some touches of fresh, tart fruit crop up to contribute to the overall balance, making this a majestic Islay par excellence. No colour added, natural cask strength - 63.5%.

More Info

苏格兰
1
-

保税价格

¥ 3,945.00

苏格兰
1
-

保税价格

¥ 8,965.00

Bunnahabhain is a truly special distillery and there are few independent bottlers who have managed to secure more impressive casks from this unique Islay distillery than Signatory. Also trust them to exercise such supreme patience as to wait until this reached perfection at 42 years of age! Very few distilleries can hit such an advanced age without falling apart but Bunnahabhain's finely honed spirit is uniquely balanced and perfect for extensive maturation. Matured in a refill sherry butt and bottled at natural cask strength of 47.9% with incredible finesse, dried fruit flavours and an elegant spiciness. 427 bottles filled in 2016.

More Info

苏格兰
1
-

保税价格

¥ 13,035.00

This must be considered the absolute pinnacle of Bunnahabhain's achievements in recent years. A composition of several exceptionally aged casks, the youngest of which is 40 years old, rigorously selected based on their expression of Bunnahabhain's iconic rich, maritime style, this is Islay as you've never seen it before. A magical dram, a finessed yet hedonistic display of dried sultana, raisin and toffee apple with cinnamon spice, salted dark chocolate and burned orange peel, this wraps up with an unmistakably coastal flourish to finish dry on the palate and leave you always wanting more. Bottled at natural cask strength of 41.8% in a run of just 1,000 bottles. Released in 2018 and now exceedingly rare on the market.

More Info

苏格兰
1
-

保税价格

¥ 4,550.00

苏格兰
1
-

保税价格

¥ 8,070.00

The very high quality of ageing vessel gives an elegant interpretation of Caol Ila's classic peat. Medicinal and iodine are the predominant scents that fit well into the whole aromatic structure that supports and accompanies it. Tones of medicinal herbs, vanilla, leather in the background and licorice complete it and make it complex enough to let us fly with imagination. Just 161 bottles filled from a single cask at 45% ABV.

More Info

苏格兰
2
-

保税价格

¥ 1,170.00

A single cask Islay malt matured in undersized ex-Bourbon barrels previously used to mature Bourbon whiskey at the Koval Distillery, showcasing Caol Ila's classic oily maritime qualities with aromas of sweet, earthy peat, sea breeze and iodine alongside pungent, warming spices evoking cinnamon, cumin, smoked pepper and cardamom. A finish laced with eucalyptus and dried mint makes for a restrained, finessed Islay with a long, dynamic finish. Bottled at a natural cask strength of 58.1% without colouring or filtration.

The second bottling from the Stewart Whisky Company in their Stiùbhart Single Cask selection, released in March 2021 at 13 years of age in a limited run of just 132 bottles.

More Info

皮尔蒙特
1
-

保税价格

¥ 1,980.00

皮尔蒙特
5
-

保税价格

¥ 2,450.00

NA
1
-

保税价格

¥ 7,740.00

Chichibu
1
-

保税价格

¥ 11,125.00

Chichibu
1
-

保税价格

¥ 26,580.00