France - All Rosé Wines
France holds a special place in the world of rosé wines. The country's dedication to craftsmanship and terroir-driven winemaking has resulted in the creation of exceptional rosé wines that continue to captivate enthusiasts around the globe. Today, let us embark on a journey through the best rosé wines that France has to offer, exploring the renowned vineyards and the diverse regions that give birth to these exquisite pink elixirs.

In Provence, the birthplace of French rosé, vineyards such as Château d'Esclans, Domaines Ott, and Château Miraval craft some of the most sought-after rosé wines in the world. These vineyards are revered for their commitment to quality and their ability to capture the essence of Provence in each bottle. Provence rosés are known for their pale pink color, delicate aromas, and refreshing flavors of red fruits, citrus, and herbs.

Moving to the Rhône Valley, the region of Tavel shines as the home of exceptional rosé wines. Domaine de la Mordorée, Domaine de la Vieille Julienne, and Château d'Aquéria are among the renowned vineyards that produce rich and expressive Tavel rosés. These wines exhibit a deeper color and a more robust structure, showcasing flavors of ripe berries, floral notes, and a touch of spice.

In the Loire Valley, the vineyards of Sancerre and Anjou offer distinctive expressions of rosé. Domaine Vacheron and Domaine Guiberteau are known for their vibrant and mineral-driven Sancerre rosés, while Château de Brézé and Domaine des Roches Neuves produce elegant and complex Anjou rosés.

The region of Bandol in Provence is synonymous with powerful and age-worthy rosé wines. Domaine Tempier, Château Pibarnon, and Domaine de la Tour du Bon are celebrated for their structured and deeply flavored Bandol rosés, characterized by their depth, intensity, and ability to age gracefully.

France's rosé wines are celebrated for their versatility and ability to complement a wide range of cuisines. From fresh seafood and Mediterranean dishes to summer salads and light appetizers, these wines offer a harmonious marriage of flavors that enhance any culinary experience.
France - All Rosé Wines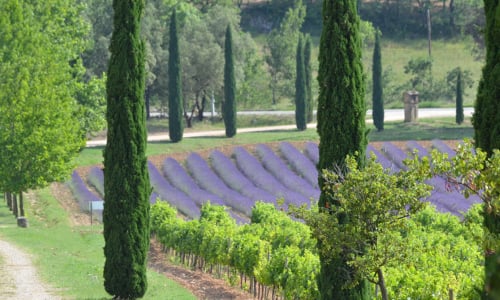 产品名
地区
数量
分数
价格

普罗旺斯
2
90 (VN)

保税价格

¥ 1,185.00

Vinous (90)

Pale, shimmering orange. Bright and focused on the nose, displaying fresh red berry, nectarine and orange zest aromas, with floral and mineral overtones. Strawberry and nectarine flavors show good depth and a bracing jolt of juicy acidity. The floral note repeats on the lively finish, which lingers with very good tenacity. - Josh Raynolds

More Info

普罗旺斯
5
-

保税价格

¥ 1,710.00

香槟
1
-

保税价格

¥ 12,420.00

香槟
3
92 (WS)

保税价格

¥ 5,825.00

Wine Spectator (92)

Well-spiced and finely knit, this harmonious rosé is framed by firm acidity wrapped in a creamy mousse and flavors of dried apricot, wild strawberry and almond skin. Smoke, floral and orange peel notes linger on the finish.

More Info

香槟
3
-

保税价格

¥ 1,785.00

香槟
7
-

保税价格

¥ 3,060.00

香槟
28
-

保税价格

¥ 1,655.00

香槟
1
-

保税价格

¥ 1,720.00

香槟
1
-

保税价格

¥ 1,870.00

香槟
2
93 (JS)

保税价格

¥ 2,865.00

James Suckling (93)

Cinnamon and dried nutmeg add to the experience of bread dough and rose petals. Flavorful on the medium-bodied palate and finely poised with bright acidity. Medium-long on the finish. Drink now.

More Info

香槟
5
93 (JS)

保税价格

¥ 3,395.00

James Suckling (93)

Cinnamon and dried nutmeg add to the experience of bread dough and rose petals. Flavorful on the medium-bodied palate and finely poised with bright acidity. Medium-long on the finish. Drink now.

More Info

香槟
1
94+ (VN)

保税价格

¥ 9,565.00

Vinous (94+)

The 2006 Rosé Cuvée Elisabeth Salmon is powerful, intense and also classically austere in its make up. Crushed flowers, mint, red berries and cranberries are all finely sketched. The 2006 finishes with striking mineral-driven precision, and while it doesn't have the opulence or exuberance of the 2002, it is still a very pretty and appealing Champagne. The Elisabeth Salmon is 50% Pinot Noir and 50% Chardonnay, with about 8% still Pinot Noir. Dosage is 6 grams per liter.

More Info

香槟
1
96 (VN)

保税价格

¥ 10,580.00

Vinous (96)

The 2007 Brut Rosé Cuvée Elisabeth Salmon is even better than the last time I tasted it. A total pleasure bomb, the 2007 drinks well right out of the gate. Soft curves push a core of sweet red berry fruit, rose petal and cinnamon into the foreground. Readers will have a very hard time keeping their hands off the 2007. Why wait? The 2007 is so alluring today.

More Info

香槟
4
19+ (MJ)

保税价格

¥ 4,485.00

Matthew Jukes (19+)

Created in 1988 as a tribute to Elisabeth Salmon, one of the House's founders, this is the latest release and it has already benefitted from a remarkable ten years on its lees, because my sample was disgorged in October 2020. Made from 76% Grands Crus and 24% Premiers Crus, 55% Pinot Noir comes from Bouzy, Ambonnay, Verzy, Verzenay, Mareuil-sur-Äy and Äy and 45% Chardonnay comes from Chouilly, Cramant and Mesnil-sur-Oger. 9% red wine was added from Valofroy, a parcel of particularly old vines (60+ years old in 2008) situated high up on the hill above the winery in Mareuil. And 17% of the wine was vinified at low temperature in oak barrels which are, on average, 15 years old. The dosage is 7g/L. For the very first time, Elisabeth is available in magnums. I enjoyed an energetic tasting with Mathieu Roland-Billecart and he explained that this 2008 vintage seems like it has stolen the finest parts of each of the 1996 (tension), 2002 (layers of flavour) and the 2007 (refinement) and rolled them all into one wine! In a way, this is a fabulous analogy, but there is more to this vintage than meets the eye. The freshness and acidity here are both spectacular. These notes underpin the refined flavour with jolts of electricity which gather to form bolts of lightning. This is a young wine and yet the tenderness of the fruit is perfectly counterpointed by the shocking youthfulness on the finish. I cannot believe that 13 years have passed in the blink of an eye and so this means that 2008 Elisabeth might well be one of the slowest to age and longest-lived wines under this label to date. Having said this, the fruit is already magnificent. Mathieu asked me if I was familiar with the great French dessert clafoutis! At once a cherry clafoutis aroma arose from the glass, with faint notes of ginger blossom, saffron and white pepper. This is a crystalline and yet kaleidoscopic wine with fractals of flavour which splinter and shiver on the palate. It is high-tensile at the same time as being fragile and demure. It is everything Elisabeth would have wanted in her namesake wine.

More Info

香槟
1
19+ (MJ)

保税价格

¥ 10,120.00

Matthew Jukes (19+)

Created in 1988 as a tribute to Elisabeth Salmon, one of the House's founders, this is the latest release and it has already benefitted from a remarkable ten years on its lees, because my sample was disgorged in October 2020. Made from 76% Grands Crus and 24% Premiers Crus, 55% Pinot Noir comes from Bouzy, Ambonnay, Verzy, Verzenay, Mareuil-sur-Äy and Äy and 45% Chardonnay comes from Chouilly, Cramant and Mesnil-sur-Oger. 9% red wine was added from Valofroy, a parcel of particularly old vines (60+ years old in 2008) situated high up on the hill above the winery in Mareuil. And 17% of the wine was vinified at low temperature in oak barrels which are, on average, 15 years old. The dosage is 7g/L. For the very first time, Elisabeth is available in magnums. I enjoyed an energetic tasting with Mathieu Roland-Billecart and he explained that this 2008 vintage seems like it has stolen the finest parts of each of the 1996 (tension), 2002 (layers of flavour) and the 2007 (refinement) and rolled them all into one wine! In a way, this is a fabulous analogy, but there is more to this vintage than meets the eye. The freshness and acidity here are both spectacular. These notes underpin the refined flavour with jolts of electricity which gather to form bolts of lightning. This is a young wine and yet the tenderness of the fruit is perfectly counterpointed by the shocking youthfulness on the finish. I cannot believe that 13 years have passed in the blink of an eye and so this means that 2008 Elisabeth might well be one of the slowest to age and longest-lived wines under this label to date. Having said this, the fruit is already magnificent. Mathieu asked me if I was familiar with the great French dessert clafoutis! At once a cherry clafoutis aroma arose from the glass, with faint notes of ginger blossom, saffron and white pepper. This is a crystalline and yet kaleidoscopic wine with fractals of flavour which splinter and shiver on the palate. It is high-tensile at the same time as being fragile and demure. It is everything Elisabeth would have wanted in her namesake wine.

More Info

香槟
1
19+ (MJ)

保税价格

¥ 8,045.00

Matthew Jukes (19+)

Created in 1988 as a tribute to Elisabeth Salmon, one of the House's founders, this is the latest release and it has already benefitted from a remarkable ten years on its lees, because my sample was disgorged in October 2020. Made from 76% Grands Crus and 24% Premiers Crus, 55% Pinot Noir comes from Bouzy, Ambonnay, Verzy, Verzenay, Mareuil-sur-Äy and Äy and 45% Chardonnay comes from Chouilly, Cramant and Mesnil-sur-Oger. 9% red wine was added from Valofroy, a parcel of particularly old vines (60+ years old in 2008) situated high up on the hill above the winery in Mareuil. And 17% of the wine was vinified at low temperature in oak barrels which are, on average, 15 years old. The dosage is 7g/L. For the very first time, Elisabeth is available in magnums. I enjoyed an energetic tasting with Mathieu Roland-Billecart and he explained that this 2008 vintage seems like it has stolen the finest parts of each of the 1996 (tension), 2002 (layers of flavour) and the 2007 (refinement) and rolled them all into one wine! In a way, this is a fabulous analogy, but there is more to this vintage than meets the eye. The freshness and acidity here are both spectacular. These notes underpin the refined flavour with jolts of electricity which gather to form bolts of lightning. This is a young wine and yet the tenderness of the fruit is perfectly counterpointed by the shocking youthfulness on the finish. I cannot believe that 13 years have passed in the blink of an eye and so this means that 2008 Elisabeth might well be one of the slowest to age and longest-lived wines under this label to date. Having said this, the fruit is already magnificent. Mathieu asked me if I was familiar with the great French dessert clafoutis! At once a cherry clafoutis aroma arose from the glass, with faint notes of ginger blossom, saffron and white pepper. This is a crystalline and yet kaleidoscopic wine with fractals of flavour which splinter and shiver on the palate. It is high-tensile at the same time as being fragile and demure. It is everything Elisabeth would have wanted in her namesake wine.

More Info

香槟
1
98 (DC)

保税价格

¥ 7,100.00

Decanter (98)

A slightly flinty and vibrant bouquet alongside complex aromas of red berries, herbs and lemon, with fresh menthol notes coming through with some air. The palate is wonderful and elegant, with a vinous texture and a superb, calcareous finish. A blend of 45% Chardonnay and 55% Pinot Noir (including 9% vinified as red wine), this Champagne, which has a dosage of 7g/L, is made for ageing.

More Info

香槟
1
96 (VN)

保税价格

¥ 6,860.00

Vinous (96)

The 2004 Brut Rosé La Grande Année is a beautifully focused, vibrant wine endowed with striking minerality and fabulous overall balance. Clean veins of chalkiness run through the fruit in this energetic, taut Rosé, while seductive floral notes linger on the finish. The 2004 is 68% Pinot Noir (including 5% still Pinot) and 32% Chardonnay, 89% from Grand Cru villages and 11% from Premier Crus. The 2004 is very young, but it is going to be nearly impossible to resist. It is a dazzling effort from Bollinger. Disgorged September 2011.

More Info

香槟
1
96 (JS)

保税价格

¥ 2,425.00

James Suckling (96)

A good rest on lees in the cellar through to May 2015 has seen this salmon-colored rosé develop a wealth of dried porcini mushroom aromas that really make a savory statement. It's gently smoky and shows some dried cherry fruits too – a gastronomic dream! The palate's smoothly cut with creamy red-cherry-fruit flavors and hints of pink grapefruit. It freshens into the finish. Thanks especially to a complex layered structure, this really is a brilliant rosé. Drink now.

More Info

香槟
1
96 (JS)

保税价格

¥ 8,825.00

James Suckling (96)

A good rest on lees in the cellar through to May 2015 has seen this salmon-colored rosé develop a wealth of dried porcini mushroom aromas that really make a savory statement. It's gently smoky and shows some dried cherry fruits too – a gastronomic dream! The palate's smoothly cut with creamy red-cherry-fruit flavors and hints of pink grapefruit. It freshens into the finish. Thanks especially to a complex layered structure, this really is a brilliant rosé. Drink now.

More Info

香槟
1
97 (DC)

保税价格

¥ 6,365.00

Decanter (97)

An enticingly rewarding nose of apricot, flint and toast leads to a palate that's just as good and even more developed, with honey, brioche marzipan and bruised apple notes. It has super tension and drive. Compelling, delicious and distinctive.

More Info

香槟
1
97 (DC)

保税价格

¥ 5,920.00

Decanter (97)

An enticingly rewarding nose of apricot, flint and toast leads to a palate that's just as good and even more developed, with honey, brioche marzipan and bruised apple notes. It has super tension and drive. Compelling, delicious and distinctive.

More Info

香槟
1
96-98 (MW)

保税价格

¥ 1,400.00

Essi Avellan (96-98)

At this point of youthfulness the pink colour is rather rich and bright. Lovely clean and fruit-forward nose with fresh red berry aromas mixing with spice and orange notes. Quite shyly evolved with much more to surface on the complexity front. Today there is attractive exuberant fruitiness and perfect creamy freshness. Promising palate with power and persistence where an overall harmony enhances the feeling of sophistication.

More Info

香槟
1
96-98 (MW)

保税价格

¥ 5,695.00

Essi Avellan (96-98)

At this point of youthfulness the pink colour is rather rich and bright. Lovely clean and fruit-forward nose with fresh red berry aromas mixing with spice and orange notes. Quite shyly evolved with much more to surface on the complexity front. Today there is attractive exuberant fruitiness and perfect creamy freshness. Promising palate with power and persistence where an overall harmony enhances the feeling of sophistication.

More Info

香槟
2
97 (VN)

保税价格

¥ 1,815.00

Vinous (97)

The 2014 Rosé La Grande Année is airy, gracious and full of energy. Crushed rocks, white pepper, red berry, mint and blood orange lend striking aromatic intensity and presence. Finely cut and taut, the Rosé is a nervy Champagne that needs time to come together. The Rosé is blended from a base of the Blanc plus 5% still red Pinot from Bollinger's Coteaux des Enfants vineyard in Aÿ. Perhaps because of its later disgorgement vis-à-vis the Blanc, the Rosé is a bit tight today. Disgorged: August, 2021. Dosage: 8 grams per liter.

More Info

香槟
37
97 (VN)

保税价格

¥ 5,867.00

Vinous (97)

The 2014 Rosé La Grande Année is airy, gracious and full of energy. Crushed rocks, white pepper, red berry, mint and blood orange lend striking aromatic intensity and presence. Finely cut and taut, the Rosé is a nervy Champagne that needs time to come together. The Rosé is blended from a base of the Blanc plus 5% still red Pinot from Bollinger's Coteaux des Enfants vineyard in Aÿ. Perhaps because of its later disgorgement vis-à-vis the Blanc, the Rosé is a bit tight today. Disgorged: August, 2021. Dosage: 8 grams per liter.

More Info

香槟
2
17 (JR)

保税价格

¥ 3,235.00

Jancis Robinson (17)

Mid to pale salmon. Definitely lots of orange in there. But this, unlike 90% of pink champagnes, is real wine! Lots of development on the nose and a breadiness. Tastes dry and has a beginning, middle and end. Relatively low acid but not sickly. Just on the (most attractive) edge of decay. Surely oak and age have played a part here.

More Info

香槟
20
95 (DC)

保税价格

¥ 2,795.00

Decanter (95)

Based on the terrific Pinot Noir from the 2012 vintage, this is a top-dollar pink at a reasonable price. Fresh, intense and opulent, but also refined and of great class. All sorts of sensuous fruits, including black cherry, plum and even prunes, are checked by freshness and vigour. Dosage 11g/l. Disgorged in 2017 Read more at http://www.decanter.com/wine-reviews/france/champagne/charles-heidsieck-brut-reserve-rose-champagne-france-17347#d6DldfRV3Wui3eXB.99

More Info

香槟
2
98 (JS)

保税价格

¥ 4,510.00

James Suckling (98)

An amazing 2008 rosé Champagne that has all the structure and aromatic complexity - sushi ginger, oolong tea and caramelized mandarin orange - we associate with this vintage, but also has more charm than most. On the palate, this has stunning concentration, yet is diamond bright. The interplay of creaminess, fine tannins and mineral acidity builds and builds at the breathtaking finish. The color comes from about 7% pinot noir red wine, partly from the little-known Les Riceys in the far south of Champagne. Drink or hold.

More Info

香槟
40
94-96 (Essie Avellan MW)

保税价格

¥ 4,680.00

Essie Avellan MW (94-96)

The sumptuously fruity yet fresh and immediately impressive character of the 2012 vintage perfectly fits the Charles Heidsieck house style. This vintage rosé is a blend of 11 Grands and Premiers Crus (Oger, Vertus, Chouilly, Cuis, Verzy, Aÿ, Ludes, Ambonnay, Tauxières, Avenay and Les Riceys) with 9% of Pinot Noir red wine giving it its medium-deep salmon colour with copper tones. The lush fruit profile is ripe with sweet, vanilla-coated peach and dried apricot layers. A charmingly airy and lacey palate carries the wine to its long, intensely fruity, spice-complexed finish. A stylish wine of morish quality to it. Drinking perfectly well already but with lots more to come.

More Info