Champagne
Champagne, the epitome of elegance and celebration, is widely regarded as the pinnacle of sparkling wines. As one of the most prestigious wine regions in the world, Champagne has captured the hearts of wine enthusiasts and connoisseurs with its exceptional quality, refined craftsmanship, and iconic vineyards.

Historically, Champagne has been dominated by some world-acclaimed Champagne House, which source grapes and harvest from Champagne growers. These famous Grandes Marques include Louis Roederer (Cristal), Dom Pérignon, Krug, Moët & Chandon, Veuve Clicquot, and Bollinger, all of them are revered for their notable names that display unrivalled winemaking prestige and pedigree.

In the recent decade, the emerging Grower Champagne trend in Champagne is shaking up the industry by challenging the dominance of the big Champagne houses. These small-scale producers, also known as "Récoltant-Manipulant" or RM, grow their own grapes and produce their own Champagne, showcasing the unique terroir and character of their vineyards. Jacques Selosse, Ulysse Collin, and Champagne Vilmart & Cie are among the most prominent names in this trend, producing some truly artisanal and terroir-driven Champagnes.

Champagne is primarily made from three main grape varieties: Chardonnay, Pinot Noir, and Pinot Meunier. These grapes are carefully selected and blended to create a harmonious and complex flavour profile. Chardonnay contributes elegance, freshness, and finesse, while Pinot Noir adds structure, depth, and fruitiness. Pinot Meunier brings a touch of roundness and vibrancy to the blend.

The region of Champagne is divided into several distinct sub-regions, including Montagne de Reims, Côte des Blancs, and Vallée de la Marne. Each sub-region has its unique terroir, characterized by variations in soil composition and microclimates, which influence the style and character of the wines produced.

Champagne offers various styles, from non-vintage blends to vintage cuvées and prestigious prestige cuvées. While Non-vintage Champagnes typically epitomise the house style, the vintage Champagnes are made from grapes harvested in one particular year (top vintages such as 1996, 2002, 2008 etc), in which these wines showcase the unique characteristics of the specific vintage.

The prestige cuvées, often the flagship wines of the renowned Champagne houses, are the pinnacle of excellence. These exceptional Champagnes are created using the finest grapes, the most meticulous winemaking techniques and often benefit from extended ageing to achieve unparalleled complexity and finesse.

Champagne is synonymous with celebration, elegance, and luxury. Its effervescent charm and timeless appeal have made it the drink of choice for countless special occasions and memorable moments. With its rich history, iconic vineyards, and unrivalled quality, Champagne continues to captivate wine enthusiasts and connoisseurs alike.
Champagne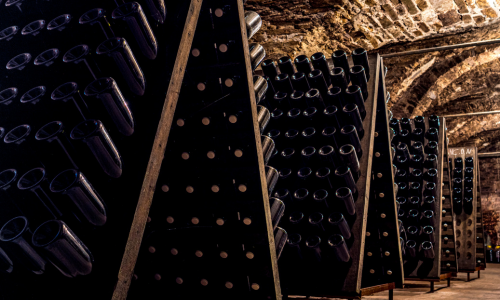 产品名
地区
数量
分数
价格

香槟
1
94 (VN (AG))

保税价格

¥ 5,280.00

Vinous - Antonio Galloni (94)

The NV (2017) Brut Nature Amplitude is 100% Chardonnay from old vines in Vrigny and Janvry. It is also one of the most impressive wines I have tasted from Lamblot. There's terrific energy and plenty of cut, not to mention tons of character. Readers should find a powerful, broad Champagne built on textural richness and saline-infused vibrancy. The 2017 finishes with real palate-staining intensity. The style is a bit rustic and assertive, but it all works. Disgorged: February 7, 2022.

More Info

香槟
1
-

保税价格

¥ 4,685.00

香槟
2
-

保税价格

¥ 2,350.00

香槟
1
94 (VN)

保税价格

¥ 2,870.00

Vinous (94)

The NV Extra Brut Grand Cru Complantée emerges from a parcel in Avize interplanted with Pinot Noir, Pinot Meunier, Pinot Blanc, Arbane, Petit Meslier and Chardonnay. Exotic and beguiling in the glass, the Complantée is absolutely gorgeous. Kirsch, red plum, rose petal and spice give the wine striking aromatic intensity and lovely inner perfume. The red grapes seem especially expressive in this release. The Complantée is not an obvious wine, rather it is a Champagne of translucent finesse. This release is a blend of equal parts 2017 and 2016, vinified in neutral oak. Dosage is 5 grams per liter. Disgorged: April, 2020.

More Info

香槟
1
95 (VN)

保税价格

¥ 9,565.00

Vinous (95)

The NV (2014) Blanc de Blancs Experience is another very beautiful and expressive Champagne from Agrapart. Silky and nuanced, the Experience is quite vinous, with a very subtle mousse and tons of freshness. Experience is a blend of fruit from Les Robards and Les Bionnes. Pascal Agrapart added unfermented 2015 juice to a base of 2014 wine for the secondary fermentation, an approach that yields a Champagne that is both unique and compelling. Non-dosé. Disgorged: July 2018.

More Info

香槟
1
95 (VN)

保税价格

¥ 11,975.00

Vinous (95)

The NV (2015) Brut Nature Exp. '15 is another highly intriguing release. The Exp. is a 2015 wine, all Chardonnay, from the Robards and Bionnes lieux-dits in Avize. Pascal Agrapart uses unfermented juice from the following harvest, in this case 2016 (rather than sugar), to create the secondary fermentation in bottle, also known as prise de mousse, in which still wine becomes Champagne. The Exp. '15 is done entirely without sulfur and is bottled with no dosage. It is one of the most unique and distinctive wines in Champagne. Disgorged: April, 2020.

More Info

香槟
1
-

保税价格

¥ 10,925.00

香槟
1
-

保税价格

¥ 11,635.00

香槟
2
94 (WA)

保税价格

¥ 3,365.00

Wine Advocate (94)

Agraparts' NV Brut Blanc de Blancs Terroirs F13 is – as usual for this cuvee – sourced roughly half-each from two vintages (here, complementary 2009 and 2008); grown entirely in Avize, Cramant, Oger and Oiry; vinified roughly one-quarter in demi-muid; and aged one year longer sur latte than their "7 Crus." Effusively sweet and musky floral perfume suggesting heliotrope, narcissus, and lily-of-the-valley along with sourdough-like, pungent yeastiness and malted grain are allied in the nose to intimations of chalk dust, sea breeze and white peach. Lusciously juicy, fresh white peach and grapefruit are threaded on the polished palate with piquant peach kernel, pungent suggestions of sprouting grains, chalk, and salt. The sense of tension and vivacity here managing to harmonize with textural richness and caress is quite remarkable, especially considering that we're only on the second rung of Agrapart's portfolio. The finish engages imagination, salivary glands, and olfactors in equally strong measure, a suggestion of chewing peach fuzz and germinating sprouts compounding the sheer invigoration conveyed by this sensational value. (And bear in mind that this tasting note was made from a bottle that had only been disgorged a week before!) Plan to follow it for at least 4-5 years. Pascal and Fabrice Agrapart farm 24 acres morsellated into more than 60 parcels the length of the Cote des Blancs, overwhelmingly planted with selections massales (principally of the family's own, generations-long devising) rather than clones. Viticulture is clearly a meticulous concern, and while this estate doesn't subscribe to any labels, it has a lot in common – including absence of herbicides or pesticides; generally minimalist cellar protocol; manual- and in some instances horse-plowing – with soil-conscious growers of officially organic or biodynamic persuasion. "It's in warm, dry vintages with low acidity that you most see the effect of working the soil and making the roots go deep," opines Pascal Agrapart, adding "I recently had a wonderful experience with a 1976 that was still full of vivacity." Vinification is majority in tank for the two least expensive bottlings, but otherwise in old demi-muids in which primary fermentation is spontaneous and generally leisurely, with malo-lactic conversion initiated via a vinous starter to insure steady completion. Agrapart's 2012 vins clairs and 2011 reserves, incidentally – wine isn't assembled and bottled here until the end of the summer – were delightful and fascinating when tasted from barrel this June. There was noteworthy clarity, vibrancy and complexity to every wine I tasted here in June and thereafter, so it would have broken my heart not to be able to report on the non-vintage wines, but to do so, I must confess I'm walking close to the line of the conventions I established for my reports, because neither disgorgement dates nor lots are actually indicated on the label or bottle here, but rather on the top of the cork, with the months assigned consecutive capital letters, followed by the last two digits of the year in which the wine was disgorged. This means you'll either need to buy and remove the cage from the first bottle or get some cooperation from your merchant if you want to know when the wine was disgorged (and as at other addresses, this won't always be a reliable indicator as to the base wines in question, because Agraparts disgorge their "7 Crus" and "Terroirs" bottlings monthly).

More Info

香槟
1
94 (VN)

保税价格

¥ 7,560.00

Vinous (94)

All of the natural power and breath of Avize come through in the 2013 Extra Brut Blanc de Blancs Grand Cru L'Avizoise. Graphite, crushed rocks and dried flowers are woven throughout a core of rich, super-expressive Chardonnay fruit. The 2013 is ample, savory and intensely mineral, but it will be even better in another few years, once all the elements have time to fully meld together. The 2013 is such a gorgeous and expressive Champagne. These 50+ year-old vines in the Les Robards and La Voie d'Epernay confer real depth and pedigree. Dosage: 5 gr/L. Disgorged: May, 2019.

More Info

香槟
1
95 (VN)

保税价格

¥ 5,970.00

Vinous (95)

The 2014 Extra Brut Blanc de Blancs Grand Cru L'Avizoise, from old vines in the Les Robards and Voie d'Epernay lieux-dits, is a wonderfully complex wine. Rich, ample and mineral but also intensely perfumed, the Avizoise has so much going on. Vinification in oak and aging on the cork seems to really bring out soft contours to match the wine's sculpted, translucent feel. This is an especially refined, aromatic expression of Avize, and also one of the most sublime, elegant wines I have tasted from Pascal Agrapart. Dosage is 3 grams per liter. Disgorged: April, 2020.

More Info

香槟
1
93 (VN)

保税价格

¥ 7,375.00

Vinous (93)

The 2015 Extra Brut Blanc de Blancs L'Avizoise Grand Cru stands out in this range for its breadth and power. Lemon peel, savory herbs, dried flowers, grapefruit and mint lend a bit of upper register and aromatic presence. Slight vegetal notes, a characteristic of any 2015s, lurk beneath, while texturally the Avizoise is on the lighter side. For those reasons, I would not push my luck on aging. Dosage is 3 grams per liter. Disgorged: May, 2021.

More Info

香槟
1
-

保税价格

¥ 7,035.00

香槟
2
93 (WA)

保税价格

¥ 2,450.00

Wine Advocate (93)

Based on the 2019 vintage and disgorged in April 2022, Agrapart's NV Brut 7 Crus wafts from the glass with scents of crisp green apple, freshly baked bread, white flowers and buttery pastry. Medium to full-bodied, fleshy and enveloping, it's an ample, incisive wine, with racy acids and a saline finish. When the range begins like this, you know you're in the presence of one of Champagne's greatest producers.

More Info

香槟
1
93+ (WA)

保税价格

¥ 8,600.00

Wine Advocate (93+)

From 40+ year old Chardonnay vines grown in nearby terroirs of Cramant and Avize on very chalky soils, fermented 50% in oak barrels (the Avize part) and bottled unfiltered in May 2009, the 2008 Extra Brut Blanc de Blancs Grand Cru Minéral was disgorged manually after five years. This is pure, dry and very elegant Champagne expressing the chalky terroir of its origin in a very straightforward and mineral way. Ripe and cooked apples, along with raisin and flavors on the chalky-fruity nose, lead to a firmly structured Champagne with a great purity of fruit and a persistent minerality in the complex finish. However, the finish is also somewhat drying and rough from this bottle, but it gets better with aeration and should be served in glasses that are not too small.

More Info

香槟
1
95 (WA)

保税价格

¥ 7,175.00

Wine Advocate (95)

Disgorged in April 2019 with three grams per liter dosage, the 2012 Blanc de Blancs Grand Cru Extra Brut Minéral is showing brilliantly, bursting from the glass with aromas of ripe citrus fruit, warm bread, green apples and crushed chalk. On the palate, it's medium to full-bodied, chiseled and incisive, with a tensile, chalky core that displays considerable concentration and structuring dry extract, as well as a racy spine of acidity. This comes warmly recommended.

More Info

香槟
1
94 (VN)

保税价格

¥ 4,575.00

Vinous (94)

The 2013 Extra Brut Blanc de Blancs Grand Cru Minéral is powerful, ample and generous. All of the natural richness of 2013 comes through in this striking, layered exquisitely beautiful Champagne that melds together the essence of top sites in Avize (Les Champboutons) and Cramant (Les Bionnes). Dried citrus, lemon oil, almond and savory herbs add striking shades of nuance throughout, but what is most remarkable about the Minéral is the interplay of textural richness and energy. A Champagne of total seduction, the 2013 simply has it all. Dosage: 5 gr/L. Disgorged: May, 2019.

More Info

香槟
1
94 (VN)

保税价格

¥ 5,420.00

Vinous (94)

The 2014 Extra Brut Blanc de Blancs Grand Cru Minéral is a powerful, intense Champagne that captures all of the natural power of these old vines in Avize and Cramant. Aptly named, the Minéral is infused with tremendous mineral and soil inflections that give a real feeling of gravitas. Crushed rocks, slate, chalk and citrus accents are some of the many nuances that emerge with a bit of time in the glass. This release is fabulous. It is also a reticent wine, though, so at least a year or two in bottle will help soften. Dosage is 3 grams per liter. Disgorged: April, 2020.

More Info

香槟
1
94 (VN)

保税价格

¥ 6,805.00

Vinous (94)

The 2015 Extra Brut Blanc de Blancs Minéral Grand Cru is bracing, taut and wiry. Crushed rocks, mint, white pepper and lemon peel drive this blend. The Minéral is especially fine in 2015. There is a bit of youthful austerity, but nothing a few years in bottle can"t take care of. The Minéral is one of the finer 2015s I have come across so far. Dosage is 3 grams per liter. Disgorged: May, 2021.

More Info

香槟
1
96 (JS)

保税价格

¥ 5,915.00

James Suckling (96)

Sharp and focused with very fine bubbles. Precise. Lots of almonds, lemon peel, crushed stones, white pepper and apricot stones, as well as white pears. This has captured so much energy, with a long and refined finish. 100% chardonnay. 3g/L dosage. Disgorged May 2022. Drink or hold.

More Info

香槟
2
96 (JS)

保税价格

¥ 5,345.00

James Suckling (96)

Sharp and focused with very fine bubbles. Precise. Lots of almonds, lemon peel, crushed stones, white pepper and apricot stones, as well as white pears. This has captured so much energy, with a long and refined finish. 100% chardonnay. 3g/L dosage. Disgorged May 2022. Drink or hold.

More Info

香槟
2
-

保税价格

¥ 6,055.00

香槟
3
-

保税价格

¥ 5,260.00

香槟
1
94+ (VN)

保税价格

¥ 14,390.00

Vinous (94+)

The 2008 Blanc de Blancs Vénus, the most vibrant and nuanced of the 2008s at Agrapart, is endowed with a real sense of vertical cut. White flowers, chamomile, almonds and white orchard fruit open up in the glass, but only with reluctance, as the wine remains tense and tightly wound. The perfumed, highly expressive finish is incredibly tempting, but readers who can wait another year or two will find the extra time in bottle rewarding. The Vénus is made from a single parcel in the La Fosse lieu-dit that is worked entirely manually and plowed by horse. Disgorged March 2013, non-dosé.

More Info

香槟
1
95 (VN)

保税价格

¥ 11,635.00

Vinous (95)

The 2012 Extra Brut Blanc de Blancs Grand Cru Vénus is ethereal, elusive and eccentric. It is also mesmerizingly beautiful. The expression of fruit is a bit richer and riper than in the other 2012s, with orchard fruit and tropical overtones that give the wine a sense of inner perfume and raciness. Soft curves and striking aromatics make for a stunning Champagne, an impression that is reinforced by the super-refined mousse. Persistent, racy and over, the Vénus is simply fabulous in 2012. Old vines planted in 1959 in the La Fosse lieu-dit inform the Vénus. Non-dosé. Disgorged: July 2018.

More Info

香槟
1
96 (VN)

保税价格

¥ 8,035.00

Vinous (96)

The 2013 Extra Brut Blanc de Blancs Grand Cru Vénus is a gorgeous and eccentric wine. Sweet floral and minty overtones give the Vénus its distinctive high-toned profile. The richness and depth of this Chardonnay from a parcel planted in 1959 that has always been manually farmed, comes alive with a bit of time in the glass. The Vénus is such a special Champagne, as it is elusive and constantly changing in the glass as it shows a different side of its personality with each taste. I very much admire the sense of precision here. Vénus remains one of the most distinctive wines in all of Champagne. No dosage. Disgorged: May, 2019.

More Info

香槟
1
95 (VN)

保税价格

¥ 8,515.00

Vinous (95)

The 2015 Extra Brut Blanc de Blancs Vénus Grand Cru is sublime. Lemon confit, menthol, dried herbs and white pepper all meld together in the glass. More of a wine than Champagne, the Vénus is creamy and open-knit, with lovely freshness and plenty of character. No dosage. Disgorged: May, 2021.

More Info

香槟
1
98 (WA)

保税价格

¥ 8,610.00

Wine Advocate (98)

From old vines in lieu-dit La Fosse that are planted at somewhat lower density (1.2 meters apart) but where there are consequently very few missing vines or replants, Agrapart's striking 2016 Extra-Brut Blanc de Blancs Grand Cru Vénus unwinds in the glass with scents of citrus oil, crisp stone fruit, toasted almonds, warm biscuits, orange zest and iodine. Full-bodied, concentrated and tightly wound, with terrific depth at the core, racy acids and a long, intensely saline finish, it's another brilliant wine from this benchmark grower-bottler.

More Info

香槟
1
-

保税价格

¥ 9,795.00

香槟
22
92.0

保税价格

¥ 1,348.00

"A lifted nose of ripe citrus with almonds and brioche that is extremely open and inviting. The palate treads the line between richness and refreshment perfectly. Round & generous fruit with a decent slug of dosage is balanced out with a super-fresh finish and spray of mineral at the last. 100% Grand Cru Chardonnay here meaning this Blanc de Blancs really over-delivers at the price point. An excellent house pour. " - Will Trotman, Head of UK Sales

More Info