White
North and South America are home to some of the most exciting and innovative white wine producers in the world. From crisp and refreshing Sauvignon Blancs to rich and complex Chardonnays, these regions have a diverse range of terroirs and climates that produce exceptional white wines.

In North America, some of the most famous vineyards producing white wines include Napa Valley's Robert Mondavi Winery, known for their full-bodied and rich Chardonnays. Another renowned producer is Washington State's Chateau Ste. Michelle, which produces a range of white wines including Riesling, Sauvignon Blanc, and Chardonnay.

In South America, Chile's Casablanca Valley is known for producing some of the best white wines in the region, with renowned vineyards such as Viña Casablanca and Matetic Vineyards. These vineyards produce delicious Chardonnays, Sauvignon Blancs, and even lesser-known varietals such as Gewürztraminer and Riesling.

Argentina's Mendoza region is also gaining a reputation for its white wines, particularly its Torrontés, which is a floral and aromatic white wine that pairs well with spicy foods.

Other notable white wine regions in North America include Canada's Niagara Peninsula, which produces crisp and refreshing Rieslings and Sauvignon Blancs, and Oregon's Willamette Valley, which is known for its crisp and acidic Pinot Gris.

In South America, Uruguay's coastal region of Canelones is emerging as a producer of elegant and mineral-driven white wines made from grapes such as Albariño and Chardonnay.

Overall, the white wines of North and South America offer a wide range of styles and flavors, from crisp and refreshing to rich and complex. With their commitment to quality and innovation, these regions are sure to continue producing exceptional white wines that can compete with the best in the world.
White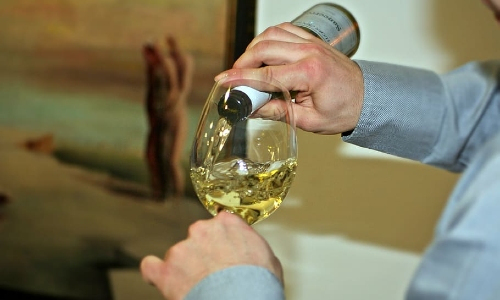 产品名
地区
数量
分数
价格

俄勒冈州
1
97 (JS)

保税价格

¥ 5,550.00

James Suckling (97)

This offers ripe-pineapple and lime-juice aromas, as well as white peaches and wet stones, in a very expressive mode. The palate has a very smooth core of mellow, cashew nuts and white peaches with some very assertive and dense, fleshy-peach and praline notes to close. Drink or hold.

More Info

俄勒冈州
1
-

保税价格

¥ 10,625.00

加利福尼亚州
1
86 (VN)

保税价格

¥ 4,060.00

Vinous (86)

The 2020 Chardonnay Watson Ranch is light and lacking in both flavor development and depth. With fires advancing, this fruit was brought in five days earlier than normal. The 2020 was also bottled about six months earlier than is typical here. It will be interesting to see if time in bottle helps the 2020 come together a bit more. Today, it is decidedly awkward.

More Info

加利福尼亚州
1
-

保税价格

¥ 3,395.00

加利福尼亚州
3
94 (VN)

保税价格

¥ 5,270.00

Vinous (94)

The 2018 Chardonnay Sanford & Benedict Vineyard Santa Barbara Historic Vineyards Collection is creamy and ample, with pretty floral notes that lend complexity. This is one of the richer, creamier wines readers will find from this part of the old-vine section of Sanford & Benedict. A few hours of aeration brings out gorgeous textural richness to play off the wine's natural brilliance.

More Info

加利福尼亚州
2
-

保税价格

¥ 1,695.00

加利福尼亚州
1
97-99 (WA)

保税价格

¥ 11,955.00

Wine Advocate (97-99)

One of the last vineyards picked, this section of Hyde vineyard in Carneros is planted to Corton Charlemagne clone on St. George rootstock. The 2018 Chardonnay Larry Hyde & Sons leaps from the glass with vivacious fresh grapefruit, lemon peel, orange blossoms and lime cordial notes with nuances of fresh ginger, hay, sea spray and chalk dust. The full-bodied mouth explodes with the whole citrus-fruit flavor spectrum—lemons, limes, oranges and grapefruit on steroids—complemented by loads of spicy sparks and lifted by amazing freshness, sporting a provocatively creamy texture and finishing long.

More Info

加利福尼亚州
1
-

保税价格

¥ 19,820.00

加利福尼亚州
1
-

保税价格

¥ 4,500.00

加利福尼亚州
2
-

保税价格

¥ 4,500.00

加利福尼亚州
6
94-96 (VN)

保税价格

¥ 2,385.00

Vinous (94-96)

The 2021 Chardonnay Sugar Shack is a classic Mark Aubert wine. Creamy and ample in feel, the 2021 is super-expressive right out of the gate. Soft, silky contours frame lemon confit, white flowers, tangerine oil and lightly honeyed overtones that appear with aeration. All the elements are so well balanced. The Sugar Shack is one of the more immediate wines in this range and will drink well pretty much upon release.

More Info

加利福尼亚州
1
96-98 (WA)

保税价格

¥ 5,130.00

Wine Advocate (96-98)

A barrel sample, the 2019 Chardonnay CIX Estate comes bounding out of the glass with grapefruit, green mango and orange peel notes backed up by wafts of talc, chopped nuts and a lifted, aromatic, floral perfume. It is full-bodied and intensely flavored in the mouth with a lively backbone cutting through the taut, dense citrus and tropical fruit flavors, finishing long and fragrant.

More Info

加利福尼亚州
2
97-100 (VN)

保税价格

¥ 4,695.00

Vinous (97-100)

The 2021 Chardonnay CIX Estate is the wine where it all comes together. Aromatics, fruit, structure and acidity all meld together in a seamless, layered Chardonnay that opens beautifully in the glass. Nothing sticks out, instead the CIX Chardonnay, like the Pinot, is endowed with mind-blowing finesse. It is a super-classic wine from Mark Aubert. Magnificent.

More Info

加利福尼亚州
1
-

保税价格

¥ 4,115.00

加利福尼亚州
1
97-99 (WA)

保税价格

¥ 4,300.00

Wine Advoctate (97-99)

A relatively new vineyard label for Aubert (the third vintage to be produced), the 2019 Chardonnay Powder House comes from eight acres of what are now estate-owned vines planted in 2013 to Hyde Old Wente and Mt. Eden clones on Goldridge soils. It prances out of the glass with showy scents of fresh nectarines, pink grapefruit, lime leaves and preserved lemons plus hints of struck flint and wet pebbles. The full-bodied palate possesses an almost electric intensity with bags of nervy citrusy flavors and a very lively backbone, finishing with great length and oodles of minerals. This should age fantastically!

More Info

加利福尼亚州
1
90-92 (VN)

保税价格

¥ 4,640.00

Vinous (90-92)

The 2020 Chardonnay Powder House is ethereal and gracious in feel. Effusive aromatics give the Powder House its lifted personality. White pepper, chalk, mint and lemon oil add quite a bit of brightness. The balance here is driven by energy and vibrancy more than by volume.

More Info

加利福尼亚州
3
90-92 (VN)

保税价格

¥ 2,450.00

Vinous (90-92)

The 2020 Chardonnay Powder House is ethereal and gracious in feel. Effusive aromatics give the Powder House its lifted personality. White pepper, chalk, mint and lemon oil add quite a bit of brightness. The balance here is driven by energy and vibrancy more than by volume.

More Info

加利福尼亚州
2
94-96 (VN)

保税价格

¥ 4,640.00

Vinous (94-96)

The 2021 Chardonnay Powder House is elegant, polished and also a touch reticent. That won't be an issue in time, but the Powder House is decidedly reticent today. Strong mineral accents are front and center, while the fruit feels pushed into the background. Mark Aubert's Chardonnays have historically aged quite well. I expect that will be the case here as well.

More Info

加利福尼亚州
2
94-96 (VN)

保税价格

¥ 2,385.00

Vinous (94-96)

The 2021 Chardonnay Powder House is elegant, polished and also a touch reticent. That won't be an issue in time, but the Powder House is decidedly reticent today. Strong mineral accents are front and center, while the fruit feels pushed into the background. Mark Aubert's Chardonnays have historically aged quite well. I expect that will be the case here as well.

More Info

加利福尼亚州
1
-

保税价格

¥ 4,300.00

加利福尼亚州
1
-

保税价格

¥ 4,695.00

加利福尼亚州
1
97-99 (WA)

保税价格

¥ 11,370.00

Wine Advocate (97-99)

Produced from Montrachet Clone vines (what Mark Aubert calls "the citrus circus clone") grown in Rutherford AVA, the 2018 Chardonnay Sugar Shack comes bounding out of the glass with a sit-up-and-beg nose of candied lemon peel, green mango, guava and lime leaves plus hints of honeysuckle, toasted almonds, crushed stones and nutmeg. Full-bodied, the palate is electric with concentrated citrus and tropical fruits and the most amazing tension, featuring a satiny texture and very long, pristine finish.

More Info

加利福尼亚州
1
88-90 (VN)

保税价格

¥ 4,500.00

Vinous (88-90)

The 2020 Chardonnay UV-SL Vineyard is bright and nicely focused, with terrific energy driving the citrus flavors. There is a bit of edginess at the moment. It is hard to know how and if that will resolve, but I think it is worth noting the hardness at present.

More Info

Sur
2
98 (WA)

保税价格

¥ 4,685.00

Wine Advocate (98)

The austere and tight 2021 Selección de Parcelas Los Primos Chardonnay feels very young. It was harvested the second week of April, keeping very good freshness and acidity, with 13% alcohol, and there was part of the wine that he did not add any sulfur. He used 35% new 400-liter barrels, and the used ones are still 228-liter ones that eventually will be replaced with the used 400-liter ones in future years. There is great purity and symmetry; the oak is neatly integrated; and there's nuance, detail and a superb juiciness in the palate and citrus acidity that makes you salivate. The palate is dry and mineral, serious, less Meursault and more Chablis... It's persistent and long and has all the ingredients and balance between them to develop nicely in bottle. There was some frost, and only 3,480 bottles were produced. It was bottled in August 2022.

More Info

门多萨
8
-

保税价格

¥ 1,510.00

加利福尼亚州
20
89 (VN)

保税价格

¥ 2,830.00

Vinous (89)

The 2020 Chardonnay (Central Coast) is a delicious, appellation-level wine. Citrus peel, orchard fruit, spice and light tropical accents all grace this understated, classy Chardonnay from Calera.

More Info

中央山谷
10
-

保税价格

¥ 1,325.00

中央山谷
10
-

保税价格

¥ 1,415.00

门多萨
1
98 (JS)

保税价格

¥ 2,245.00

James Suckling (98)

A dense and bright chardonnay that shows incredible depth and freshness with dried pineapple, licorice, aniseed and lemongrass. Full-bodied, layered and very, very long. Linear and exciting. Goes on for minutes. Release in October 2018. Drink or hold.

More Info

门多萨
2
98 (JS)

保税价格

¥ 1,705.00

James Suckling (98)

Honeysuckle, ripe pear and some dried apple. So perfumed. Full-bodied with incredible intensity and length. So much green-apple character and lots of flowers. Dried mango, too. The touch of flor growth in the barrel gives this unique character. Goes on for minutes on the finish. Endless, vibrant acidity. Minerally texture. Drink now or hold.

More Info