Aconcagua
Aconcagua is a wine region located in Chile, known for producing high-quality wines that reflect the unique character of the region.

One of the most famous vineyards in Aconcagua is the Errazuriz Winery, which produces a range of exceptional red and white wines, including the Don Maximiano Founder's Reserve, the Aconcagua Costa Chardonnay, and the Max Reserva Carmenere. The estate is committed to sustainable farming practices and is known for its focus on traditional winemaking techniques.

Other well-known vineyards in Aconcagua include Sena (a joint venture between Errazuriz and Robert Mondavi) and Errazuriz itself.

In Aconcagua, there is also a strong focus on organic and biodynamic farming, with vineyards such as the Viña Ventisquero and the Casa Marin Winery using these practices to produce exceptional wines that reflect the unique terroir of the region.

Overall, Aconcagua is a region known for producing exceptional wines, with famous vineyards such as the Errazuriz Winery, Viña San Esteban, Viña Ventisquero, and Casa Marin Winery. With a focus on sustainable and organic farming practices, and a commitment to traditional winemaking techniques, wines from Aconcagua are gaining increasing recognition and popularity among wine enthusiasts worldwide.
Aconcagua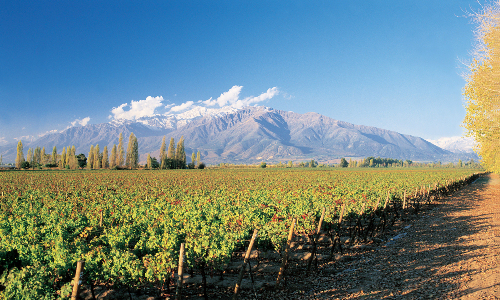 产品名
地区
数量
分数
价格

科金博大区
1
97 (TA)

保税价格

¥ 2,100.00

Tim Atkin (97)

Right up there with the best Chardonnays Chile, and South America, has ever produced. This stunning wine comes from five specific blocks within the Quebrada Secain Limarí. Tangy, chiselled and refined, with very stylish oak. It's the kind of thing that could embarrass a range of Puligny-Montrachet Premiers Crus in a blind tasting. Simply stunning

More Info

科金博大区
3
96 (DC)

保税价格

¥ 1,965.00

Decanter (96)

Elegant perfume of lavender, wet stones and jasmine haunt the nose of this expressive and vibrant wine. With the chalky minerality and tangy finish that are trademarks of Limarí, this shows great regional typicity and is a mouthwatering wine with subtle oak integration. A complex yet elegant style.

More Info

阿空加瓜山大区
1
-

保税价格

¥ 718.00

阿空加瓜山大区
1
92 (VN)

保税价格

¥ 2,710.00

Vinous (92)

The 2018 Don Maximiano is 70% Cabernet, 15% Malbec, 7% Carménère, 5% Petit Verdot and 3% Cabernet Franc from Panquehue, Aconcagua. Intense purple in the glass, it delivers a nose of red fruit with plum, a little jam, black currant, mint, balsamic notes and rose over secondary woody aromas. Ample and juicy on the palate with good energy; the tannins are fine and the flavors intense. A wine that might be described as the missing link between the past and the present.

More Info

阿空加瓜山大区
1
-

保税价格

¥ 1,640.00

阿空加瓜山大区
1
-

保税价格

¥ 1,750.00

阿空加瓜山大区
1
-

保税价格

¥ 3,825.00

阿空加瓜山大区
2
95 (WA)

保税价格

¥ 3,190.00

Wine Advocate (95)

I had the luck of tasting two vintages of the Chardonnay from slate/schist soils side by side, including the 2016 Aconcagua Costa Las Pizarras Chardonnay. The juice from the whole clusters decanted for 24 hours, fermented in oak barrels with indigenous yeasts and then aged in barriques for 14 months. It's a little more compressed than the 2017 and has good, vibrant flavors with some floral notes and some gentler flavors, perhaps more similar to the 2014, with the austere schist minerality but with more volume and juicy fruit. There is a little more malolactic in this year. If people have the idea that 2015 is warmer than 2016 and that 2017 is again warmer, the character of these Aconcagua Costa bottlings is the opposite: 2015 and 2017 are fresher, and 2016 is a little warmer. This sometimes happens, as the cooler years are harvested later and the warmer ones see an earlier harvest, so that the wines are exactly the opposite of what you expect. This is great, and its only problem is being tasted next to the 2017, which is otherworldly. 5,000 bottles were filled in May 2017.

More Info

阿空加瓜山大区
1
98 (WA)

保税价格

¥ 2,420.00

Wine Advocate (98)

The 2017 Aconcagua Costa Las Pizarras Chardonnay is really fascinating, and it's even sharper, more restrained and with higher acidity than the 2016 that I tasted next to it. Winemaker Francisco Pancho Baettig is really pushing the wine to the limits—harvesting early and with more concentration and structure achieved through lower yields, which provides depth and complexity. The origin is the same as for 2016, and so is the vinification and aging in French barriques for almost 13 months. This is really young and austere, and it took some time in the glass to open up. It has Chablis-like definition, austerity and crispness; it's pure, mineral, long, precise like a laser cut, symmetric and chiseled. Even if it's sharp and citrusy, the palate has more volume and depth, and some nutty notes appear after some time. It's more like a Meursault than a Chablis this time, with great length, and I couldn't help but think of the whites from Jean-Marc Roulot when tasting this. It's a monumental mineral white, with the coastal freshness and the slate tastiness. This is hands down the best vintage of Las Pizarras and the best Chardonnay I've ever tasted from Chile. It's amazing how this wine has developed in only four vintages. As an American friend of mine would say, it's awesome beyond belief! 7,000 bottles were filled in March 2018.

More Info

阿空加瓜山大区
1
99 (JS)

保税价格

¥ 2,200.00

James Suckling (99)

I love the aromas of lavender, sandalwood, sliced apples and pears. Some gunpowder and slate undertones. Full-bodied, yet formed and tight with minerality and brightness. Vivid acidity gives this energy and depth. Drinkable, but will age beautifully.

More Info

阿空加瓜山大区
1
97 (JS)

保税价格

¥ 3,095.00

James Suckling (97)

Real depth for a chardonnay, with lots of limey, smoky green fruit, chalky, flinty citrus, stones and oyster shells. Pure, full-bodied and mouthwatering, with laser beams of acidity cutting through the taut, textured palate. Bright, long and pure with a delicious, austere edge. Drink or hold.

More Info

阿空加瓜山大区
5
98 (JS)

保税价格

¥ 3,005.00

James Suckling (98)

Punchy minerals cut through the creamy lemon and limey citrus, almost like licking wet stones! Some green apples, too. Steely, with a hint of white flowers and white almond. Very transparent and vertical but this is not a typical full-bodied chardonnay, it is rather linear, tense and electric. Sharpened minerality lingers in a lengthy, mineral finish. An extremely gastronomic and mouthwatering chardonnay. Drink now or hold.

More Info

阿空加瓜山大区
1
97.0

保税价格

¥ 3,225.00

阿空加瓜山大区
1
-

保税价格

¥ 3,225.00

阿空加瓜山大区
1
-

保税价格

¥ 3,445.00

阿空加瓜山大区
6
95 (WA)

保税价格

¥ 5,140.00

Wine Advocate (95)

I also tasted two consecutive vintages of the slate Pinot Noir, and the oldest of the two is the 2016 Aconcagua Costa Las Pizarras Pinot Noir, which fermented with 18% full clusters in open vats after a cold soak and had a 20-day maceration. It matured for some 14 months in French barriques, 33% of them new. It has that iodine-like or fresh blood note I associate with schist and iron soils. This seems fresher and more precise than the previous 2015, unlike what I saw in the Chardonnay bottlings. It's nicely textured, with ultra refined tannins that provide some grip and stick to your teeth. 6,500 bottles were filled in May 2017.

More Info

阿空加瓜山大区
1
98-99 (JS)

保税价格

¥ 2,720.00

James Suckling (98-99)

I love the aromas of smoked meat, dried strawberries and spices. Some resin and pine-needle undertones. Full-bodied, layered and rich with plenty of fruit and linear tannins running through the middle of the wine. Juicy and refined. Purity and greatness. Drink on release or hold.

More Info

阿空加瓜山大区
1
-

保税价格

¥ 2,915.00

阿空加瓜山大区
5
-

保税价格

¥ 3,170.00

阿空加瓜山大区
1
94 (JS)

保税价格

¥ 1,345.00

James Suckling (94)

A smoky syrah with blackberry leaf, dark chocolate, earth, black olives, tobacco and blackberry compote. Full-bodied and intense with chewy tannins, but showing edgy acidity and a long finish.

More Info

阿空加瓜山大区
1
18 (JR)

保税价格

¥ 1,080.00

Jancis Robinson (18)

100% Sauvignon Blanc. The only vineyard that exists in DO Zapallar and located just 7 km from the coast. Clayey enriched soils and a dry steppe climate. Hand-harvested bunches are destemmed, cold-soaked for 12–24 hours, the must is settled for 24 h, then inoculated with Saccharomyces cerevisiae and Torulaspora yeasts. Fermentation at low temperature. Aged on its lees for 6–8 months. How much pleasure! A wine with a lot of aroma, with endless layers of aromatic complexity. It has a great mouth-coating texture triggering a herbal memory. The palate is full, rich, pleasant, although with sharp acidity above the rich texture. It is very well delineated, fresh, rich, deep and concentrated. A complete Sauvignon Blanc that will make you salivate. Delicious!

More Info

阿空加瓜山大区
7
96 (JS)

保税价格

¥ 2,785.00

James Suckling (96)

Focused nose, showing fresh red chili chocolate with cigar, truffle, mint, olive and grilled meat. This is a medium-to full-bodied red with incredibly juicy and bright fruit and fine, caressing tannins that linger in the long, creamy but precise finish. Elegant and extremely drinkable with complexity. on top of 38% malbec, 25% syrah, 15% cabernet sauvignon, 14% grenache and 8% petit verdot. The real deal. Second wine of Seña. Drink or hold.

More Info

阿空加瓜山大区
1
90 (VN)

保税价格

¥ 5,490.00

Vinous (90)

Dark red. Ripe cherry and blackcurrant on the nose, with a seductive array of resinous herbal and floral qualities adding complexity. Deeply concentrated red fruit flavors are brightened by tangy minerals and firmed by solid tannins, with the finish showing excellent chewy persistence. The rather Old World structure of this Bordeaux blend suggests that cellaring will be rewarded.

More Info

阿空加瓜山大区
1
92 (VN)

保税价格

¥ 5,435.00

Vinous (92)

(57% cabernet sauvignon, 20% carmenere, 10% merlot, 8% petit verdot and 5% cabernet franc) Ruby-red. Musky redcurrant, cherry, spicecake and rose oil on the seductively perfumed nose. Silky, suave and fine-grained, in a distinctly elegant style. Red fruit and spice notes are complemented by a touch of bitter chocolate. The racy, dry, palate-staining finish shows full ripeness yet the wine comes off weightless. I'd bet on it rewarding at least another six or seven years of cellaring.

More Info

阿空加瓜山大区
2
96 (DC)

保税价格

¥ 4,710.00

Decanter (96)

Such incredible aromatics on this wine, so much going on. Wildly perfumed, like wild meadow flowers with cherry, leather, coffee and blackcurrant. Smooth and coursing, this is evocative - pulsing with life and energy. The fruit is bright yet rich with mint-edged tannins that support the fruit and overall structure. You get these lovely mature tertiary aromas on the nose but then such youth still on the palate. Feels like a great time to drink this to enjoy the plump and still lively fruit with the tannins that are supportive, smooth and slightly grippy. I love it. A decadent wine, there's power here, but shining brightly right now. Just gorgeous. The first ex-chateau back vintage release, just a few thousand bottles.

More Info

阿空加瓜山大区
1
99 (JS)

保税价格

¥ 4,630.00

James Suckling (99)

Superb aromas of black currants, rose petal and mint. Lavender and stones too. Full body with incredible fruit density. Complex, yet it's agile and bright. Tannins are perfectly polished. It builds on the palate and shows the structure of a first growth Bordeaux but remains so Chilean. A blend of 58% cabernet sauvignon, 15% carmenere, 12% malbec, 10% merlot, and 5% petit verdot. From biodynamically grown grapes. This is a joy to taste now but it will show itself in 2019. Even better than the amazing 2012.

More Info

阿空加瓜山大区
2
99 (JS)

保税价格

¥ 4,615.00

James Suckling (99)

Superb aromas of black currants, rose petal and mint. Lavender and stones too. Full body with incredible fruit density. Complex, yet it's agile and bright. Tannins are perfectly polished. It builds on the palate and shows the structure of a first growth Bordeaux but remains so Chilean. A blend of 58% cabernet sauvignon, 15% carmenere, 12% malbec, 10% merlot, and 5% petit verdot. From biodynamically grown grapes. This is a joy to taste now but it will show itself in 2019. Even better than the amazing 2012.

More Info

阿空加瓜山大区
3
100 (JS)

保税价格

¥ 4,005.00

James Suckling (100)

Stunning aromas of blackcurrant, stone, blueberry and licorice. Also iodine. Floral. Perfumed. Full body, fantastic density of fruit and ripe tannins. It goes on for minutes on the palate with such energy and focus. Touch of chewiness on the finish. A complex and complete wine that delivers a generosity with firmness. Drink in 2021 but already a classic to drink.

More Info

阿空加瓜山大区
2
100 (JS)

保税价格

¥ 4,685.00

James Suckling (100)

Stunning aromas of blackcurrant, stone, blueberry and licorice. Also iodine. Floral. Perfumed. Full body, fantastic density of fruit and ripe tannins. It goes on for minutes on the palate with such energy and focus. Touch of chewiness on the finish. A complex and complete wine that delivers a generosity with firmness. Drink in 2021 but already a classic to drink.

More Info

阿空加瓜山大区
1
100 (JS)

保税价格

¥ 4,520.00

James Suckling (100)

Stunning aromas of blackcurrant, stone, blueberry and licorice. Also iodine. Floral. Perfumed. Full body, fantastic density of fruit and ripe tannins. It goes on for minutes on the palate with such energy and focus. Touch of chewiness on the finish. A complex and complete wine that delivers a generosity with firmness. Drink in 2021 but already a classic to drink.

More Info