Taylor
For over three centuries, Taylor's has captivated the hearts of enthusiasts with their unwavering commitment to crafting extraordinary ports. Established in 1692, Taylor's has remained steadfast in preserving the traditions and techniques that define the art of port production.

At the core of Taylor's collection lies their renowned range of Vintage Ports, celebrated for their exceptional aging potential and remarkable depth of character. Crafted from carefully selected grapes grown in the finest vineyards of the Douro Valley, Taylor's Vintage Ports showcase a harmonious marriage of fruit purity, complexity, and structure. With their robust tannins, exquisite balance, and extraordinary longevity, these Vintage Ports are a testament to the artistry and expertise of the Taylor's winemaking team.

In addition to their esteemed Vintage Ports, Taylor's offers an exquisite selection of Tawny Ports. Aged in oak casks, these ports develop a captivating array of flavours, ranging from the rich fruit notes to the delicate nuances of caramel, nuts, and spices. Taylor's Tawny Ports embody the perfect harmony between tradition and innovation, capturing the essence of the Douro Valley terroir in each bottle.

While Taylor's shines brightly in the world of port wines, they are not alone in their pursuit of perfection. Other revered producers such as Graham's, Fonseca, Dow's, and Croft's share the stage, each contributing their unique expressions of this revered fortified wine.

As you indulge in the finest Taylor's ports, you will be transported to the enchanting landscapes of the Douro Valley, where time-honoured techniques and unparalleled craftsmanship converge to create wines of extraordinary character and distinction. Each sip tells a story, revealing the passion, dedication, and mastery that have made Taylor's a true icon in the world of port wines.
Taylor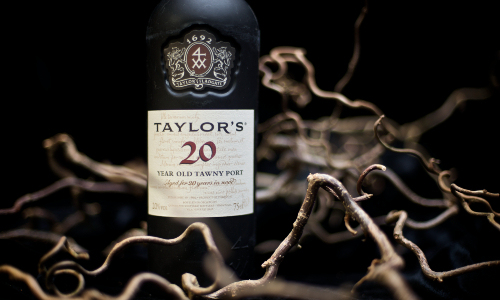 产品名
地区
数量
分数
价格

波特
1
96 (VN)

保税价格

¥ 3,220.00

Vinous (96)

The 1963 Taylor's Vintage Port is lucid in colour, very well defined with wild strawberry, Clementine, leather and tobacco scents, one of the few to contain a floral element. The palate has a cashmere texture with wild strawberry, cherry and a touch of liquorice, leading to a dense and structured finish. Over several bottles encountered, the palate always seems to offer more than the aromatics. Tasted in the Factory House in Porto for Taylor's - The Story of a Classic Port House book.

More Info

波特
1
97 (WE)

保税价格

¥ 2,920.00

Wine Enthusiast (97)

Inky purple in color, this youngest Taylor vintage Port boasts a floral, wonderfully open and appealing bouquet, backed by layers of rich fruit. What makes this wine extra special is the seductive texture—somewhere between creamy and syrupy—and ample length. Hold.

More Info

波特
1
19.5 (JR)

保税价格

¥ 3,135.00

Jancis Robinson (19.5)

This wine was placed immediately after the super-opulent Fonseca in the BFT tasting which may have been a mistake. This is restrained. Well mannered, discreet, keeps its powder very dry. But on the palate it opens out in the most superb, burgundian peacock's tail sort of way. Another wonderful wine from The Fladgate Partnership. Utterly different from the Fonseca. Upright and straight backed. But irreproachable. My gums are virtually impervious to sugar and acid but this wine set them vibrating a bit. Dried prunes ground up with rocks.

More Info

波特
1
97+ (WA)

保税价格

¥ 5,545.00

Wine Advocate (97+)

The 2011 Quinta de Vargellas Vinha Velha Vintage Port is a typical field blend aged in used French oak vats. It comes in with 105 grams per liter of residual sugar. The youngest, fleshiest and fullest (perhaps because it is the youngest) of this vertical except for the unbottled 2017, this is also one of the most delicious. The fruit is so delectable that, at first, you don't notice how much pure power it has. Then, it's gorgeously textured, precise, focused and penetrating.

More Info

波特
1
100 (WA)

保税价格

¥ 4,260.00

Wine Advocate (100)

The 2017 Quinta de Vargellas Vinha Velha Vintage Port is a field blend of typical grapes (like Touriga Nacional, Touriga Francesca, Tinta Roriz, Tinta Barroca) aged for 20 months in French wood. It comes in with 105 grams of residual sugar. When last seen, this was only a tank sample. A darker flavor profile than the regular Taylor's, more leaning to plums and blackberries, this shows all that great Taylor's fruit and welds it to a serious backbone. The regular Taylor's seems a bit brighter, while this seems a bit sterner and richer, but at this point in their very young lives, I am not sure there is a lot to choose from qualitatively. That may change, in favor of this, I think, as they go further into their very long lives. Today, there isn't much to separate them except style and price. I'd take this, both for the style and the upside potential, but the price spike is certainly worth noting for many, while the qualitative difference is nominal.

More Info

波特
2
96 (WS)

保税价格

¥ 3,180.00

Wine Spectator (96)

Very elegant, with notes of tobacco and cedar to the lush butter cream, ripe pear and dried apricot flavors. Seductive tropical fruit and spice notes linger on the endless finish, revealing citrusy hints.

More Info

波特
1
-

保税价格

¥ 11,690.00

波特
2
-

保税价格

¥ 2,330.00

波特
1
17.5 (JR)

保税价格

¥ 2,335.00

Jancis Robinson (17.5)

Blackish crimson with medium rim. Heady and ripe on the nose. Subtle and savoury. Satin-smooth palate entry and a very dry end but really exciting and herbal in the middle. Very much in the Taylor's idiom. Neat and ambitious.

More Info