Sardinia
Welcome to the captivating island of Sardinia, a hidden treasure in the Mediterranean known for its stunning landscapes and exceptional wines. As an expert with a discerning palate, you possess a deep appreciation for the rich viticultural heritage, diverse terroir, and exceptional quality that define Sardinian wines. Join us on a journey to explore the finest expressions of this remarkable island, where ancient vineyards, indigenous grape varieties, and winemaking expertise converge.

Sardinia is home to a plethora of esteemed vineyards that have garnered international acclaim for their exceptional wines. Among the most renowned estates is Argiolas, a family-owned winery that has been producing exceptional wines for generations. Argiolas is celebrated for its Cannonau wines, crafted from the indigenous Grenache grape, which showcase the unique character and terroir of Sardinia.

Another prominent vineyard in Sardinia is Cantina di Santadi, known for its exceptional Carignano del Sulcis wines. With a deep respect for tradition and a commitment to sustainable winemaking practices, Cantina di Santadi creates wines that beautifully reflect the island's terroir and capture the essence of Sardinian viticulture.

Other notable vineyards in Sardinia include Pala, renowned for its Vermentino and Nuragus wines, and Tenute Olbios, celebrated for its complex and age-worthy Cannonau wines. Capichera and Sella & Mosca are also esteemed estates, recognized for their dedication to crafting high-quality wines that showcase the unique terroir and grape varieties of Sardinia.

Sardinia's diverse terroir, characterized by its rocky hills, sandy coastal plains, and a warm Mediterranean climate, provides an ideal environment for cultivating a range of grape varieties. Cannonau, Vermentino, Carignano, and Nuragus are among the region's iconic grapes, each contributing to the unique character and personality of Sardinian wines.

Sardinian wines captivate the senses with their intensity, complexity, and rich flavors. From the full-bodied and robust Cannonau reds to the vibrant and aromatic Vermentino whites, these wines offer a captivating journey through the terroir and winemaking traditions of Sardinia.
Sardinia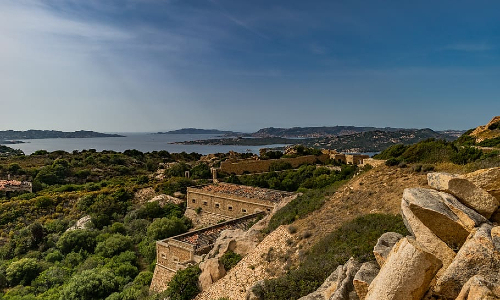 产品名
地区
数量
分数
价格

Sardinia
1
-

保税价格

¥ 2,100.00

Sardinia
3
-

保税价格

¥ 924.00

Sardinia
16
-

保税价格

¥ 2,795.00

Sardinia
18
-

保税价格

¥ 1,885.00

Sardinia
4
-

保税价格

¥ 536.00

Sardinia
43
-

保税价格

¥ 1,640.00

Sardinia
16
-

保税价格

¥ 2,795.00

Sardinia
1
-

保税价格

¥ 2,775.00

Sardinia
2
-

保税价格

¥ 1,925.00