Friuli-Venezia Giulia
Friuli-Venezia Giulia, located in north-eastern Italy, is a captivating region known for producing exceptional fine wines. With its unique terroir and favourable climate, Friuli-Venezia Giulia is renowned for its white wines, though it also produces notable reds. The region boasts a rich winemaking tradition and is home to several esteemed vineyards that have gained international acclaim.

One of the most famous vineyards in Friuli-Venezia Giulia is Livio Felluga, a winery renowned for its elegant and expressive wines. Their flagship white wine, Terre Alte, is a blend of Friulano, Pinot Bianco, and Sauvignon Blanc, offering a harmonious balance of flavours and a remarkable aging potential. Another prominent vineyard is Jermann, known for its crisp and aromatic white wines, including the iconic Vintage Tunina, which combines native and international grape varieties to create a complex and captivating wine.

The region is particularly celebrated for its white grape varietals. Friulano, Ribolla Gialla, and Malvasia Istriana are indigenous grapes that thrive in Friuli-Venezia Giulia's terroir, producing wines with vibrant acidity, mineral character, and distinct aromatics. Producers such as Marco Felluga, Russiz Superiore, and Schiopetto excel in crafting exceptional wines from these local varieties.

Friuli-Venezia Giulia is also recognized for its red wines, notably the elegant and age-worthy wines made from the native grape variety, Refosco dal Peduncolo Rosso. Renowned vineyards such as Le Vigne di Zamo and Ronchi di Cialla showcase the potential of this grape, offering complex and structured red wines that are a true expression of the region.

The region's commitment to quality and innovation has positioned Friuli-Venezia Giulia as a must-visit destination for wine enthusiasts. Whether you're exploring the crisp and aromatic white wines or the elegant and refined reds, Friuli-Venezia Giulia's fine wines capture the essence of Italian winemaking excellence.
Friuli-Venezia Giulia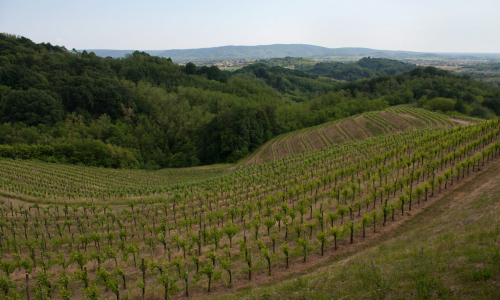 产品名
地区
数量
分数
价格

弗留利-威尼斯-朱利亚
10
-

保税价格

¥ 1,620.00

弗留利-威尼斯-朱利亚
8
-

保税价格

¥ 1,970.00

弗留利-威尼斯-朱利亚
21
-

保税价格

¥ 1,720.00

弗留利-威尼斯-朱利亚
10
-

保税价格

¥ 1,750.00

弗留利-威尼斯-朱利亚
15
-

保税价格

¥ 1,655.00

弗留利-威尼斯-朱利亚
10
-

保税价格

¥ 1,710.00

弗留利-威尼斯-朱利亚
13
-

保税价格

¥ 1,795.00

弗留利-威尼斯-朱利亚
8
-

保税价格

¥ 1,620.00

弗留利-威尼斯-朱利亚
1
-

保税价格

¥ 2,470.00

弗留利-威尼斯-朱利亚
4
-

保税价格

¥ 1,945.00

弗留利-威尼斯-朱利亚
1
-

保税价格

¥ 2,275.00

弗留利-威尼斯-朱利亚
5
-

保税价格

¥ 8,215.00

弗留利-威尼斯-朱利亚
5
18 (JR)

保税价格

¥ 1,360.00

Jancis Robinson (18)

Sample 1: from the Gravner glass. Just a touch paler than the 2013. Pale golden amber. Seductive and deep, yet cool. Acacia honey with dried-apricot and chamomile hints and a layer of crushed wet stones and lapsang oolong. On the palate, a richer impression with enormous depth, yet contained, and with fantastic, tactile acidity that seamlessly ties in the fruit. Very fine tannic tail on the finish. Sample 2: from a conventional wine glass. A layered, deep, savoury nose that tends towards dried-apricot fruit with hints of salt in which capers were preserved. Orange, honey and hints of fruit mostarda. It is almost perfumed and rises out of the glass like a cloud. Long, tightly stitched together with a super-fine, sandpapery texture. (WS)

More Info

弗留利-威尼斯-朱利亚
1
-

保税价格

¥ 2,145.00

弗留利-威尼斯-朱利亚
2
93 (VN)

保税价格

¥ 2,145.00

Vinous (93)

The 2004 Rosso Gravner emerges from the glass with layers of silky, textured fruit that caress the palate form start to finish. The sweetness of the tannins makes the wine immensely enjoyable even today, while the sheer concentration of the fruit argues for at least a few years of cellaring. Either way, the 2004 Rosso is a beautiful, elegant wine. Gravner had originally intended to release the Rosso with his top label, Rujno, but changed his mind at the last minute. The only thing the Rosso lacks is a little more depth on the finish. Other than that, it is a totally fabulous, convincing wine. My suggestion is to drink the wine relatively early, as Friuli's reds rarely develop the nobility of tertiary aromas found in most top-flight Italian reds.

More Info

弗留利-威尼斯-朱利亚
2
-

保税价格

¥ 12,995.00

弗留利-威尼斯-朱利亚
4
-

保税价格

¥ 3,060.00

弗留利-威尼斯-朱利亚
11
-

保税价格

¥ 2,405.00

弗留利-威尼斯-朱利亚
2
-

保税价格

¥ 1,655.00

弗留利-威尼斯-朱利亚
3
-

保税价格

¥ 1,655.00

弗留利-威尼斯-朱利亚
1
96 (DC)

保税价格

¥ 1,320.00

Decanter (96)

Edi Kante is a pioneer when it comes to the indigenous grape Vitovska, which is grown just across the border in Slovenia. The soil here in the Carso is ferrous-rich and chalky. 2016 was a balanced vintage for these 20-year-old vines, and the wine was fermented and aged in oak for 12 months to create a delicate and silky wine with lime, lemon juice and gypsum powder on the nose and a light and super- refreshing acidity in the mouth.

More Info

弗留利-威尼斯-朱利亚
1
98 (JS)

保税价格

¥ 3,095.00

James Suckling (98)

Intense aromas of cherry blossom, violets and acacia with lemon grass and citrus, as well as hints of white peaches. Flint, too. Full-bodied, layered and flavorful. Extremely long and textured. Round and fine tannins. Flinty and creamy. Beautifully subtle. Drink now.

More Info

弗留利-威尼斯-朱利亚
1
-

保税价格

¥ 5,915.00

弗留利-威尼斯-朱利亚
2
-

保税价格

¥ 4,225.00

弗留利-威尼斯-朱利亚
1
-

保税价格

¥ 3,340.00

弗留利-威尼斯-朱利亚
1
-

保税价格

¥ 8,760.00

弗留利-威尼斯-朱利亚
1
-

保税价格

¥ 2,860.00

弗留利-威尼斯-朱利亚
2
-

保税价格

¥ 2,210.00

弗留利-威尼斯-朱利亚
1
-

保税价格

¥ 4,760.00

弗留利-威尼斯-朱利亚
1
-

保税价格

¥ 5,835.00