Global Icons 2023
September has evolved into an incredibly thrilling month for wine enthusiasts. Anticipation is building as we prepare for an abundance of remarkable releases in the weeks ahead, featuring some of the most sought-after and exquisite wines on the planet.
Imagine an En Primeur campaign that surpasses all expectations—the Global Icons Releases 2023. This collection showcases a myriad of international powerhouses, each garnering exceptional ratings within their respective categories.
Starting from the 1st of September, a slew of extraordinary new wines will hit the shelves, boasting top scores and an undeniable allure that cannot be overlooked.
Global Icons 2023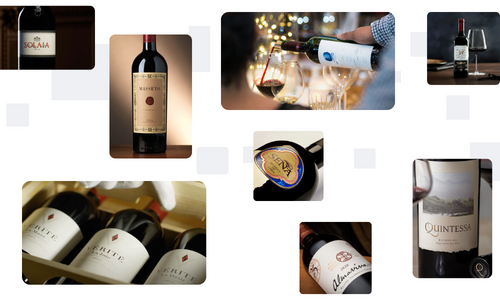 产品名
地区
数量
分数
价格

加利西亚
-
-

保税价格

¥ 9,321.69

威尼托
4
100 (DC)

保税价格

¥ 4,935.00

Decanter (100)

Another astounding wine from Allegrini, if you didn't buy Fiermonte last year here's a chance to buy something just as good. The most gorgeous nose; full of flowers, chocolate truffles, red fruits and dried berries - fragranced and just so inviting, also so pure. The texture and mouthfeel are just perfect - round, enveloping, the perfect weight to give structure and body with intensity and fleshiness yet nothing is over the top or too much. Delicious crunchy and fleshy fruit, wonderful minty freshness with accents of incense fragrance, wood spice and exotic spices before a lingering chalky finish with an underlying saltiness. Pure, precise, clearly defined, juicy, totally moreish. What more can you ask for? A little less friendly and overtly charming than the 2015 at the same time last year, this carries more muscle, opulence, power and boldness but it has exceptional forward motion and freshness. It delights and enthralls in equal measure from the first sip! Just wow! A blend of 45% Corvina, 45% Corvinone, 5% Rondinella and 5% Oseleta.

More Info

罗纳河
-
93-95 (VN)

Expected Price Range

¥ 3,299 - ¥ 3,959

Vinous (93-95)

The 2022 Châteauneuf-du-Pape Blanc has the potential to outperform the preceding four vintages. This 2022 white stuns with hauntingly fragrant aromas of spring blossom, lime and lemon flesh, pear, white peach, quince and a tropical splash of melon. Coming in at 14% alcohol, it carries a terrific freshness, delivering juicy ripe fruits along with outstanding flavor definition. The sapid finish continues for well over a minute.

More Info

罗纳河
-
94-96 (VN)

Expected Price Range

¥ 2,749 - ¥ 3,299

Vinous (94-96)

Coming in at 14.5% alcohol, the 2022 Châteauneuf-du-Pape Blanc Roussanne Vieilles Vignes is shaping up to be a worthy successor to the delicious 2021 and 2020 vintages. Well-defined aromas of jasmine, honeysuckle, yellow apple, lemon and lime zest, ripe pear, quince, and verbena tea mingle with a tropical twist of melon. Full-bodied, concentrated and refined, it carries bright acidity contributing to a great sense of freshness. Only 7,000 bottles produced.

More Info

罗纳河
10
99 (DC)

保税价格

¥ 6,870.00

Decanter (99)

Very darkly coloured indeed. An extraordinarily deep and Mourvèdre-heavy fug of a scent; deep, but so fresh and searching. It's not overly full-bodied or heavy. Great surging acidity. It's tannic and will take a long time to soften, but promises great freshness and a long life - don't open too young. Around 60% of the blend comes from old-vine Mourvèdre from the Courrieux vineyard. Grapes are destemmed, fermented in tronconic wooden vats using natural yeasts after a brief cold maceration with regular punching down.

More Info

加利福尼亚州
-
96 (JA)

保税价格

¥ 9,165.56

Jane Anson Inside Bordeaux (96)

As with most Napa estates in 2020, BV Private Reserve was low yielding after a dry year, and is knitted down with black pepper, crayon, earth, cassis and grilled cocoa bean flavours, full of spiced pleasure. There is a luscious underpinning of acidity also, with muscular tannins that allow the juice to flow through them while holding everything in place. A 2020 vintage that has been carefully handled, where all wine lots were treated separately for the entire winemaking process and kept in stainless steel tanks to be able to fully track flavours before putting in 95% French oak. Trevor Durling winemaker.

More Info

俄勒冈州
-
-

Expected Price Range

¥ 4,353 - ¥ 5,224

托斯卡纳
2
100 (JA)

保税价格

¥ 3,715.00

Jane Anson Inside Bordeaux (100)

Just love this wine, the lyricism and the generosity of it, and its always vivid depiction of fruits and stones. So juicy, so drawn out, works with the vintage, leans into its low yields, with greengages, raspberry, plum, gentle spices, lemongrass, minerality studded with mandarin peel and sage. Translucent and yet full of flavour, once again it begs you to draw up a chair, gather friends, and enjoy. What a brilliant wine and a brilliant winemaker in Bibi Graetz. From a 58ha estate, Colore comes from the oldest vineyards of Sangiovese that range up to 135 years old.

More Info

托斯卡纳
-
100 (JA)

保税价格

¥ 376,435.00

Jane Anson Inside Bordeaux (100)

Just love this wine, the lyricism and the generosity of it, and its always vivid depiction of fruits and stones. So juicy, so drawn out, works with the vintage, leans into its low yields, with greengages, raspberry, plum, gentle spices, lemongrass, minerality studded with mandarin peel and sage. Translucent and yet full of flavour, once again it begs you to draw up a chair, gather friends, and enjoy. What a brilliant wine and a brilliant winemaker in Bibi Graetz. From a 58ha estate, Colore comes from the oldest vineyards of Sangiovese that range up to 135 years old.

More Info

托斯卡纳
8
98 (JS)

保税价格

¥ 3,235.00

James Suckling (98)

Fabulous aromas of strawberries, orange zest and orange blossom. So pure on the nose. Very perfumed. Medium-bodied with intense linear tannins that are ultra-fine in texture. It's fresh and salty with a brightness and focus. Minerally and crisp. pH is 3.4 highlighting the strength of the acidity. Crunchy. Salty. So delicious now but this will age incredibly well.

More Info

托斯卡纳
-
98 (JS)

保税价格

¥ 142,508.00

James Suckling (98)

Fabulous aromas of strawberries, orange zest and orange blossom. So pure on the nose. Very perfumed. Medium-bodied with intense linear tannins that are ultra-fine in texture. It's fresh and salty with a brightness and focus. Minerally and crisp. pH is 3.4 highlighting the strength of the acidity. Crunchy. Salty. So delicious now but this will age incredibly well.

More Info

托斯卡纳
-
95 (VN (AG))

保税价格

¥ 9,165.56

Vinous - Antonio Galloni (95)

The 2020 Caiarossa is the best wine I have tasted off this property in some time, perhaps ever. Rich, deep and yet not at all heavy, the 2020 offers up an exotic mélange of dark cherry/plum fruit, mocha, licorice, new leather and incense. All the elements are so nicely balanced.

More Info

加利福尼亚州
-
-

Expected Price Range

¥ 8,184 - ¥ 9,821

门多萨
-
96 (WI)

保税价格

¥ 9,165.56

The Wine Independent (96)

The 2021 CARO, 79% Malbec and 21% Cabernet Sauvignon, is deep garnet-purple in color. It soars from the glass with expressive notes of plum preserves, blueberry compote, and licorice with hints of candied violets and spice cake. The full-bodied palate is jam packed with perfumed black fruits, framed by super-ripe, super-plush tannins and tantalizing freshness, finishing very long and fragrant. This is an impressive showing for this joint venture between Lafite Rothschild and Nicolas Catena.

More Info

门多萨
-
98 (JA)

保税价格

¥ 8,864.82

Jane Anson Inside Bordeaux (98)

Always a pleasure to taste this wine, from 1.4ha of limestone soils at 1,390m elevation, and once again it delivers at the top of its category. It has a reticence at first, with an austere opening that punches through to fragrant dried and freshly cut sage and fennel herbs, rich with incense, black tea, crushed flowers, blackcurrant, cassis and raspberry fruits, spiced pear, chalk, graphite, white truffle. It's hard to stop when it comes to naming the flavours, so drawn out and precisely crafted is the construction. 475 cases from winemaker Alejandro Vigil, Fermentation in concrete with 50% whole cluster, followed by ageing in 75% French oak barrels, 25% in large oak casks.

More Info

门多萨
-
98 (JS)

保税价格

¥ 3,185.03

James Suckling (98)

Cassis, tobacco, wet stones, iron and baking spices to the nose, showing class, restraint and complexity. Medium- to full-bodied on the palate with super fine tannins. Dry, super elegant and silky with a lengthy, polished finish. Really Bordeaux-like. Juicy and long. 54% cabernet sauvignon from Gualtallary, 25% cabernet franc from Altamira and 21% malbec from both areas. The highest portion of cabernet franc this year helped retain its nervy freshness! This is classy and beautiful. Harvested on March 12th and 13th. Drink or hold.

More Info

加利福尼亚州
-
99 (JA)

保税价格

¥ 5,865.67

Jane Anson Inside Bordeaux (99)

This is a great example of mountain fruit Cabernet, from celebrated winemaker Philip Corallo-Titus and director David Frankie. Glass-staining ruby in colour; intense and concentrated, with inky waves of blueberry and cassis fruits, blocks of bitter black chocolate, velvety tannins that take their time to let the fruit out. This is a tiny production wine from the wonderful 2019 vintage (for me, flying against some of the American critics). Delicious. First time on the Place de Bordeaux, and a standout in the year's wines. 100% new French oak.

More Info

加利福尼亚州
-
96 (DC)

保税价格

¥ 3,094.80

Decanter (96)

Heady and ripe, floral and open on the nose with aromas of cedar, sweet strawberries, spiced plum and herbal-edged raspberries. Crisp and juicy, tight and tense - the tannins have a firm aspect to them really giving this a coiled, concentrated, knitted texture and frame where the dark, ripe fruit drives through the centre but there's lots of liquorice, dark chocolate and clove spice giving the angles and nuance, almost overtaking the fruit. Still, it's well constructed, smooth and long with lovely integrity of juiciness. Lots of Petit Verdot character also gives the singularity and signature. A fine wine with lots to like. Stylish, sophisticated and suave. 3% Merlot completes the blend. Winemaker Phillip Corallo-Titus. 3.78pH.

More Info

门多萨
1
98 (WA)

保税价格

¥ 3,765.00

Wine Advocate (98)

The 2020 Cheval des Andes was harvested from the last of February for the first time ever. It was Gabillet's second vintage at Cheval des Andes, and that year, he had to start without waiting for Pierre Olivier Clouet and Pierre Lurton from Cheval Blanc; when they arrived, they had finished picking the Malbec, which surprisingly was fresher in Las Compuertas (because of the higher percentage of clay?) than in Altamira (where the vines suffered more stress), saving the freshness. They now harvest using cold trucks (for the first time), and they also started earlier in the morning (six in the morning, impossible earlier in Mendoza...), which he reckons was very good for the precision of the wine. They used 40% 225-liter barrels, 40% 400-liter oak barrels and 20% 2,500-liter foudres, half of them new and with an élevage of 15 months on average, depending on the lots and varieties from 12 to 18 months. The final blend was 49% Cabernet Sauvignon, 29% Malbec and 2% Petit Verdot, which makes a comeback as it was not used since 2016. The key was to finish the fermentation of the Petit Verdot without skins, and that way, they have been able to use it in the blends of 2021, 2022 and 2023 in small but increasing percentages. This is slightly riper than 2019, with a little more alcohol (14.5%) and with very good structural tannins but saving the freshness, and it has the spicy side from the Petit Verdot (Gabillet talks about white pepper). The wine has the ultra sleek and polished texture and the elegance and the balance that is the signature here; the wine is very clean and precise. I see very good regularity across the three vintages I tasted next to each other—this 2020 and the 2018 and 2019. Overall, this is a triumph over the adverse conditions of the vintage. They produced their usual 100,000 bottles (since 2018), as they are renewing their vineyards and want to keep the volume stable. They produce this volume from the 36 productive hectares they have in Las Compuertas and Altamira. There are some more changes: in 2020, they went for a lighter bottle, weighing 100 grams less than the one they used in 2018 and 2019, but close to 300 grams less than the bottle from before. It's also a slimmer bottle, always thinking about the environment. They are very focused on agroecology, accelerating the regenerative viticulture and using cover crops; they have planted 1,900 trees in the last three years, creating small clusters of biodiversity for birds. They have transplanted some centenary olive trees and keep their sheep and lamas on the property. Very green-minded.

More Info

中央山谷
-
99 (JS)

保税价格

¥ 9,165.56

James Suckling (99)

A really refined, expressive and layered Clos Apalta with fine olives, incense, cigar box, cocoa powder, Spanish chocolate, pencil shavings, graphite and fine spices. Juicy, bright and full-bodied palate with a fine saline, savory twist. Very long and juicy. 64% carmenere, 19% cabernet sauvignon, 15% merlot and 2% petit verdot. Real finesse from 2020. Drink from 2024.

More Info

中央山谷
-
95 (JS)

Expected Price Range

¥ 1,283 - ¥ 1,539

James Suckling (95)

A beautiful delivery of Petit Clos with spiced black cherries, cassis, olives and some red capsicums to the nose. Chalky tannins are densely packed on the medium- to full-bodied palate. Tight, structured and fine-grained. Very long. Drink or hold.

More Info

加利福尼亚州
-
99 (DC)

保税价格

¥ 9,165.56

Decanter (99)

Fragrant and so scented on the nose, inviting and cool. The classic blend of 60% Cabernet Sauvignon and 40% Cabernet Franc is smooth and supple on the palate, crisp and crunchy yet smooth and silky and also slightly chewy and bouncy. A lovey combination of power and focus, this has drive and sculpt, nuance and detail. Excellent presentation, really fills the palate with juice, energy brightness. Lovely length and overall structure, fels well worked, full but not overpowering, rich but not overly alcoholic - a wonderful presentation and totally delicious. Winemakers Naoko Dalla Valle and Andy Erickson.

More Info

罗纳河
-
96 (JS)

Expected Price Range

¥ 6,654 - ¥ 7,985

James Suckling (96)

Incredibly deep and complex nose for the 2021 vintage with masses of forest berry, licorice and autumn trumpet mushroom aromas, with an enormous tannin structure that's very refined. The classic power of Hermitage comes through at the extremely long finish. Although the tannins are anything but aggressive, the aromas will need considerable time to fully unfurl. From parcels on the western side of the Hermitage hill with predominantly granite soils, the largest parcel being in Le Meal. From organically grown grapes. Drinkable now, but best from 2026.

More Info

西西里岛
-
94 (DC)

保税价格

¥ 9,321.69

Decanter (94)

Fresh and clean on the nose, thick and wide, but with such clarity and juiciness - really lovely pink grapefruit, lemon and apple with crushed stone minerality and a touch of spice around the edges. Feels accessible and friendly, almost with a butteriness that gives a slightly thick texture. Round and forward, lots of life to this with gorgeous juicy acidity that really lifts the expression. Great stuff, have chilled with seafood! Ageing in stainless steel tanks for five months on the lees with regular batonnages every week. From 5.5 hectares planted in 1975 in Solicchiata - Montedolce. Davide Rosso direction, Andrea Delpiano winemaker.

More Info

西西里岛
-
94 (JA)

保税价格

¥ 9,321.69

Jane Anson Inside Bordeaux (94)

Soft red, beautifully pale jewel-like colour, brings you right into the heart of Etna, transparent and yet intense. Fresh acidity, orange peel, brushed leather, redcurrant. This is distinctive, with subtle intensity that builds slowly, never anything other than easy to love. The oyster shell salinity on the finish speaks of the limestone and volcanic soils. Clings on, sappy and mouthwatering. Harvest mid October, fermented in stainless steel vats, ageing in large sized oak vats. 5.5ha estate, vines planted 1975. Winemaker Andrea Delpiano.

More Info

加利福尼亚州
-
97 (JA)

保税价格

¥ 9,165.56

Jane Anson Inside Bordeaux (97)

Dark ruby velvet in colour, earthy and concentrated, showing concentrated and muscular Cabernet typicity with its cassis and bilberry fruits, ink, graphite and tar, softened by violet flowers, grilled sandalwood and cedar. Great quality, delicious, intense and drawn out, give it a few years to fully open up. 95ha, director Todd Devincenzi, winemaker Philippe Bascaules.

More Info

加利福尼亚州
-
97 (JA)

保税价格

¥ 9,165.56

Jane Anson Inside Bordeaux (97)

Austere on the opening beats, still closed down at this point, allow it to take a few breaths before the tannic frame opens up. The concentration and spice of the vintage see the black Cabernet fruits shot through with grilled sandalwood, cocoa bean, tea, cigar box and cloves, emphasising the concentration and power of this magical site. The winemaking team with director Philippe Bascaules have teased nuance and freshness alongside, with pomegranate and oyster shell adding a rising curve of juice through the finish. As ever it is hard to resist. Francis Ford Coppola owner. All aged in French oak barrels, 75% new.

More Info

南澳大利亚
-
98 (JA)

保税价格

¥ 8,996.00

Jane Anson Inside Bordeaux (98)

Powerful, with smoked earth, juicy damson fruit, bitter black chocolate, pomegranate, luscious and enticing, with fragrant spice of anis and fennel. This was a warm vintage with low yield of around 15hl/h, but the tannins were clearly extremely well handled, giving a gentle insistence to this wine that refuses to go away, and yet never overpowers. Aged entirely French oak (as it had been from the 2017 vintage) with vines that at this point were more than 50 years old. Tom Barry winemaker, bottled unfiltered and unfined.

More Info

加利福尼亚州
-
93 (JS)

Expected Price Range

¥ 8,725 - ¥ 10,470

James Suckling (93)

Aromas of blueberries, chocolate and licorice follow through to a full body, with soft tannins and a fresh finish. This is a luscious, delicious JP Insignia. Harmonies and forward now. Drink now or hold.

More Info

海岸产区
-
96 (TA)

保税价格

¥ 9,165.56

Tim Atkin MW (96)

The latest Vin de Constance is a very good rather than truly great iteration of this famous sweet wine, but that still makes it pretty special. Made with 28 different batches of Muscat de Frontignan, picked over the space of only three weeks because of the hotter vintage, it has honey, barley sugar, guava and apricot flavours, scented oak spices and a finish that combines glycerol with bright acidity.

More Info