USA
The United States is a well-established wine region known for producing a wide range of exceptional fine wines that reflect the unique terroir of the country.

The American wine industry dates back to the early 17th century when European settlers brought grapevines to the country. Today, the United States is one of the world's largest wine producers, with California leading the way.

Some of the most famous vineyards in the USA include Napa Valley's Harlan Estate, Dominus, Opus One, Silver Oak, and Screaming Eagle, Sonoma's Kistler and Ridge Vineyards, and Oregon's Domaine Serene and Sokol Blosser. These vineyards are known for their commitment to sustainable and organic farming practices, as well as their use of traditional winemaking techniques.

Opus One, for example, is a renowned producer of Cabernet Sauvignon, one of California's signature grape varieties. The vineyard produces a range of high-quality wines, including the Opus One Cabernet Sauvignon, the Overture by Opus One, and the Opus One Napa Valley Red Wine.

With a focus on unique terroir, sustainable farming practices, and traditional winemaking techniques, the United States produces exceptional fine wines that are sure to impress even the most discerning wine connoisseurs. From the bold and robust Cabernet Sauvignon to the elegant and complex Pinot Noir, American wines are a must-try for any wine enthusiast.
USA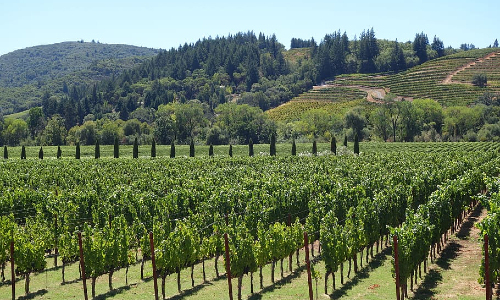 产品名
地区
数量
分数
价格

华盛顿
1
97 (JD)

保税价格

¥ 13,310.00

Jeb Dunnuck (97)

The 2015 Palengat is a Cabernet Sauvignon-heavy blend that includes 13% Merlot and 6% Cabernet Franc. This gorgeous red offers a deep, rich, opulent style in its blackcurrants, baking spice, tobacco leaf, and graphite aromas and flavors. Possessing beautiful purity, ultra-fine tannin, a big, rich, concentrated style that somehow stays light and graceful, it's a sensational, elegant wine that will keep for 15-20 years.

More Info

俄勒冈州
1
97 (JS)

保税价格

¥ 5,550.00

James Suckling (97)

This offers ripe-pineapple and lime-juice aromas, as well as white peaches and wet stones, in a very expressive mode. The palate has a very smooth core of mellow, cashew nuts and white peaches with some very assertive and dense, fleshy-peach and praline notes to close. Drink or hold.

More Info

加利福尼亚州
1
98 (JD)

保税价格

¥ 9,770.00

Jeb Dunnuck (98)

Deeper, richer and more powerful, the 2014 Cappella incorporates the highest percentage of Cabernet Sauvignon in the lineup and is 72% Cabernet Sauvignon, 18% Cabernet Franc, 8% Petit Verdot, and 2% Malbec. It reveals classic minerality and earthiness to go with killer notes of blackberries, toasty oak, licorice, and spice. This seductive, opulent, full-bodied beauty has a stacked mid-palate, a deep, layered texture, ripe tannin, perfect balance, and a huge finish. It still plays in the more forward, sexy style of the vintage (it's actually one of the more drinkable releases today, despite having more Cabernet Sauvignon in the blend) yet will keep for two to three decades.

More Info

加利福尼亚州
1
98 (JD)

保税价格

¥ 12,505.00

Jeb Dunnuck (98)

One rocking wine, the 2015 Cappella is a powerful, rich effort that has badass levels of black, black fruits, graphite, licorice, and crushed rocks. From a site on the west side of St. Helena and a blend of 68% Cabernet Sauvignon, 19% Cabernet Franc, and 13% Petit Verdot, it has a layered, multi-dimensional, stacked profile and is just loaded with glycerin and opulence. Feel free to drink this thriller any time over the coming 3 decades or more.

More Info

加利福尼亚州
1
99 (JS)

保税价格

¥ 12,780.00

James Suckling (99)

Aromas of blackberries, graphite, and lead pencil. Fresh and dried flowers and iron shavings. Full bodied, layered, tight and solid. Beautiful and very poised and thoughtful. Hints of fresh herbs, from lavender to lemon grass. Compressed. Great length and focus. Drink after 2022.

More Info

加利福尼亚州
2
98 (JS)

保税价格

¥ 10,175.00

James Suckling (98)

This is tight and creamy with firm tannins. Extremely long and flavorful red with blackberries and sweet tobacco. Black tea. Dusty and juicy sensation from the tannin. Flavorful finish. Drink in 2022 or later.

More Info

加利福尼亚州
1
99 (WA)

保税价格

¥ 14,335.00

Wine Advocate (99)

The nearly perfect—perhaps it will get there in some subsequent tasting—2018 Cappella Proprietary Red seems more balanced and finely structured than the 2016 or 2017 versions, with hints of cedar and vanilla only serving to accent notes of ripe cherries and dusty earth. It's still full-bodied, rich and velvety, yet it shows incredible focus and length on the finish. Wow.

More Info

加利福尼亚州
1
98-100 (VN)

保税价格

¥ 5,105.00

Vinous (98-100)

The 2010 Proprietary Red Howell Mountain is endowed with serious depth and pure, sizzling minerality. A blast of blue and black fruit, melted road tar, graphite and licorice hits the palate, followed by the inescapable firm tannins of the year. The pointed, saline-infused finish leaves a deep, lasting impression. The 2010 is shaping up to be one of the wines of the vintage.

More Info

加利福尼亚州
1
96 (VN)

保税价格

¥ 13,595.00

Vinous (96)

The 2014 Las Posadas shows the strides this Howell Mountain site continues to make. Super-ripe black cherry, plum, bittersweet chocolate, lavender, juniper berry, mint and licorice abound. The pungent aromas and piercing tannins scream of Howell Mountain. Vivid and intense, the 2014 has so much to offer. Even better, the 2014 is surprisingly accessible for a young Howell Mountain Cabernet-based wine. It should drink with minimal cellaring.

More Info

加利福尼亚州
1
99 (JS)

保税价格

¥ 12,955.00

James Suckling (99)

The aromas are perfect with black olives, blueberries, fresh mushrooms, rose petals and mint undertones, all following through to a full-bodied palate. Round yet tightly grained tannins and an incredibly persistent finish. Gorgeous. Drink in 2022.

More Info

加利福尼亚州
1
100 (VN)

保税价格

¥ 13,205.00

Vinous (100)

The 2016 Las Posadas is a stunning Howell Mountain wine. Inky, rich and hedonistically beautiful, the 2016 is simply magnificent. Crème de cassis, chocolate, menthol, licorice, lavender, cloves, mint, graphite and crushed rocks are all amped up in the glass. Unctuous, creamy and super-expressive, the Posadas captures the opulence of Howell Mountain. It is simply magnificent in every way.

More Info

加利福尼亚州
1
100 (JS)

保税价格

¥ 11,885.00

James Suckling (100)

Wow. Blackberries, lead pencil, dried flowers, black olives and purple fruit. Full body and super polished and refined tannins. Creamy and well defined. So polished. Nutmeg, clove and other dried spices. It goes on for minutes. Superb. Drink after 2024.

More Info

加利福尼亚州
1
-

保税价格

¥ 17,180.00

加利福尼亚州
1
96 (VN)

保税价格

¥ 11,985.00

Vinous (96)

The 2011 Madrona Ranch is another impressive wine in this range from David Abreu and Brad Grimes. It shows the typical Madrona Ranch profile of dried herbs, leather, tobacco, cedar and earthiness, with terrific fruit density and impeccable balance. This gorgeous St. Helena Cabernet will drink well for another 10-15 years. It's in great shape today. All the Madrona Ranch signatures are there, just with less volume than is typically the case.

More Info

加利福尼亚州
1
100 (WA)

保税价格

¥ 20,395.00

Wine Advocate (100)

The perfect 2012 Madrona Ranch displays notes of roasted coffee, forest floor, incense, Christmas fruitcake, blackcurrants and blackberry fruit in an incredibly fragrant, full-bodied, opulent style. Far more dramatic and open-knit Capella, the 2012 Madrona is super-intense, with incredibly velvety tannins. This is a sublime wine of the highest order, a fabulous example of the vintage, and a tribute to the craftsmanship of David Abreu and Brad Grimes. It should drink well for 30+ years.

More Info

加利福尼亚州
1
100 (WA)

保税价格

¥ 25,855.00

Wine Advocate (100)

The 2013 Madrona Ranch hits the magic three-digit score. It is literally a 30- to 45-year wine in itself. It behaves like a ripe, complex first growth Pauillac, with blackberry and crème de cassis, a touch of licorice, black truffle, pen ink and graphite. Incredibly fragrant, extremely full-bodied, with abundant tannin but also enormous fruit extract and richness, it is an amazing wine and a profound effort from Abreu and Grimes.

More Info

加利福尼亚州
1
99 (WA)

保税价格

¥ 13,575.00

Wine Advocate (99)

The 2014 Madrona Ranch Proprietary Red is deep garnet-purple in color and sings of crushed blackcurrants, warm plums and black raspberries with menthol, potpourri, chocolate box and licorice nuances—compelling. The palate is full-bodied, firm and grainy with great freshness, finishing very long with mineral notions. This will be extremely long lived!

More Info

加利福尼亚州
1
100 (JD)

保税价格

¥ 12,830.00

Jeb Dunnuck (100)

Pure perfection in a glass, the 2015 Madrona Ranch is more elegant and finesse-driven than the Cappella, yet doesn't give an inch with regard to power, richness, and length. Coming from a site just outside of St. Helena at the base of Spring Mountain, this beauty is a blend of 57% Cabernet Sauvignon, 30% Cabernet Franc, 11% Petit Verdot, and 2% Merlot. Insane notes of blackcurrant and blueberry fruits, truffle, gravelly minerality, forest floor, and exotic flowers all emerge from this full-bodied wine that has everything you could want from a glass of wine. Full-bodied, thrillingly textured, seamless, and with incredible intensity, it one of those wines where you run out of adjectives trying to describe it. In short, this is a perfect, legendary wine from this awesome winemaker and vineyard.

More Info

加利福尼亚州
1
100 (JD)

保税价格

¥ 15,875.00

Jeb Dunnuck (100)

A perfect wine in every sense, the 2016 Madrona Ranch comes from a site at the base of Spring Mountain and is a mix of Cabernet Sauvignon and Cabernet Franc. It does everything right, with a magical bouquet of currants, ground herbs, licorice, graphite, spice, and who knows what else. These all carry to a massive 2016 that has a layered, multi-dimensional texture, building tannins, a colossal mid-palate, and a finish that won't quit. It's another heavenly wine from a great terroir and a great winemaker! Give bottles 2-4 years and enjoy over the following 30-40 years or more.

More Info

加利福尼亚州
1
99 (JS)

保税价格

¥ 11,885.00

James Suckling (99)

Fabulous aromas of sweet tobacco, flowers, wet earth and blackberries. Black olives, too. Full body and chewy yet polished tannins. Dusty texture. Extremely flavorful. Tight and polished. A sophisticated, intriguing wine. Drink in 2022.

More Info

加利福尼亚州
1
100 (WA)

保税价格

¥ 15,465.00

Wine Advocate (100)

Like the other vintages tasted on this occasion (2016 and 2017), the 2018 Madrona Ranch Proprietary Red is massively concentrated. But what sets it apart from those other great wines is its greater degree of integration and flow. From start to nearly infinite finish, the flavors of ripe cassis, dark chocolate and purple raspberries ease across the full-bodied palate in a seamless, velvety swell of lusciousness, without ever seeming heavy or overdone. Of all the amazing wines I tasted at Abreu this year, this one rises above the others.

More Info

加利福尼亚州
1
98 (VN)

保税价格

¥ 10,500.00

Vinous (98)

A rush of dark cherry, plum, new leather, cedar, coffee, graphite, lavender and menthol makes a strong opening impression in the 2009 Thorevilos. Powerful, dense and explosive, Thorevilos is the one 2009 in this range I would continue to cellar another few years. It is utterly magnificent today, but still has room to blossom. As always, Thorevilos is distinguished by its structure, depth of expression and overall intensity, all signatures of this evocative vineyard located at the end of Mund Road just outside of St. Helena.

More Info

加利福尼亚州
1
99+ (WA)

保税价格

¥ 13,190.00

Wine Advocate (99+)

The 2012 Thorevilos is flamboyant, phenomenally concentrated, full-bodied, majestic and totally prodigious. It can be drunk young, but most readers will probably prefer to give it a few years of bottle age and consume it over the following 30+ years.

More Info

加利福尼亚州
1
100 (VN)

保税价格

¥ 20,440.00

Vinous (100)

The 2013 Thorevilos is a real stunner. Deep, powerful and explosive, the 2013 possesses magnificent structure to match its vivid fruit. Deep and enveloping, the 2013 Thorevilos is an attention-grabbing wine. Crème de cassis, lavender, sage, violet, menthol, graphite, smoke and black cherry gradually flesh out in the glass, but the tannins are going to need much more time than that. Remarkably nuanced for such a big wine, the 2013 is spectacular from the very first taste. The 2013 has always been thrilling. It is all that and more today.

More Info

加利福尼亚州
1
98 (JD)

保税价格

¥ 10,305.00

Jeb Dunnuck (98)

One of the gems in the lineup is the 2014 Thorevilos and this awesome wine comes from a site on the eastern side of the valley, just behind the luxury Meadowood Estate, and is comprised of 52% Cabernet Sauvignon, 30% Cabernet Franc, 14% Petit Verdot, and 4% Malbec. Notes of crème de cassis and blue fruits intermixed with spicy oak, spring flowers, and graphite all emerge from the glass and this crazy good 2014 offers a full-bodied, powerful, yet graceful, elegant style on the palate. It's a gorgeous 2014 that shows the more sexy, approachable style of the vintage, yet has enough tannin to warrant hiding bottles for at least 4-5 years.

More Info

加利福尼亚州
1
98 (VN)

保税价格

¥ 10,970.00

Vinous (98)

The 2017 Thorevilos is one of those rare wines that conveys both power and elegance. Today, the tannins are a bit imposing, but that's Thorevilos. What impresses most is the wine's delineation and clarity. All the elements are so impeccably balanced. Inky dark fruit, mocha, licorice, spice and leather are some of the many notes that pulse through the 2017. Best of all, the 2017 is not as brooding as some other recent vintages, and it will be ready to deliver pleasure with just a few years in bottle. It is a mind-blowing wine in every way.

More Info

加利福尼亚州
1
100 (JD)

保税价格

¥ 15,465.00

Jeb Dunnuck (100)

One of the finest Napa Valley wines to pass my lips, the 2018 Thorevilos offers an incredible level of purity, concentration, and balance. Revealing plenty of creme de cassis, white flowers, spicy oak, and tobacco-like aromas and flavors, this beauty hits the palate with full-bodied richness, a multi-dimensional texture, ultra-fine tannins, and a great, great finish. Coming from a site just outside St. Helena and mostly Cabernet Sauvignon (with a good chunk of Cabernet Franc), this is pure perfection in red wine. Although it can be drunk today, it really needs to be forgotten for 4-5 years, but it's going to cruise for 30, 40, if not 50 years.

More Info

加利福尼亚州
5
-

保税价格

¥ 2,710.00

加利福尼亚州
1
-

保税价格

¥ 12,550.00

加利福尼亚州
1
-

保税价格

¥ 3,005.00